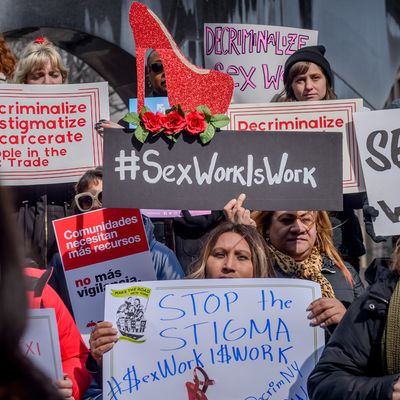 A Decrim NY protest in support of sex workers' rights.
Photo: LightRocket via Getty Images
The Manhattan district attorney's office says it will stop prosecuting people for engaging in consensual sex work and unlicensed massage and has already begun dismissing cases dating back to the 1970s. DA Cy Vance moved to drop 914 open cases while announcing the policy shift on Wednesday, explaining that "criminally prosecuting prostitution does not make us safer and too often achieves the opposite result by further marginalizing vulnerable New Yorkers.
"For years, rather than seeking criminal convictions, my Office has reformed its practice to offer services to individuals arrested for prostitution," Vance said. "Now, we will decline to prosecute these arrests outright, providing services and supports solely on a voluntary basis. By vacating warrants, dismissing cases, and erasing convictions for these charges, we are completing a paradigm shift in our approach."
Additionally, Vance said he would stop sending people faced with prostitution charges to mandatory counseling; going forward, that will be voluntary. He also asked a judge to dismiss 5,080 cases against people charged with loitering for the purposes of prostitution, under the "Walking While Trans" statute, which New York finally repealed in February. That law empowered police to stop and arrest anyone they claimed to suspect of sex work, on grounds as flimsy as being outdoors in a short skirt. The statute propped up discriminatory policing: In 2018, 49 percent of the 152 people arrested under this law were Black and 42 percent were Latinx; 80 percent were women. And while the NYPD has a record of misgendering trans people in its custody, ample anecdotal evidence points to a pattern of targeted abuse against trans women.
Declining to prosecute does not decriminalize consensual sex work as a whole. The DA will continue to prosecute sex trafficking and, notably, it will not stop pursuing charges against people for visiting sex workers. Going after customers "keeps the police in people's business," TS Candii, a sex worker, community organizer, and the founder of Black Trans Nation, told the Appeal. "Not only would the police continue to police our bodies, but in order for the police to get to the buyers, the police would still have to use surveillance, watch the sellers …. It would put the eyes on us from the police so that they can get to the johns." And according to an investigation by ProPublica, between 2017 and 2020, 93 percent of the 3,000 people the NYPD arrested for allegedly trying to buy sex were nonwhite, as were 89 percent of the 1,800 people charged with prostitution. Many of the candidates to replace Vance, who is not seeking another term in office, have said they would decline to prosecute both buyers and sellers, the Appeal notes.
Still, Abigail Swenstein — a staff attorney with the Legal Aid Society's Exploitation Intervention Project — told the New York Times that Vance's announcement marks a step in the right direction. Over the past two years, she said, most of the people she represents have been women arrested in massage businesses. Swenstein hopes that the decision to drop prosecutions here will "have reverberations for sex workers and trafficking survivors well outside of New York City in feeling less stigmatized."