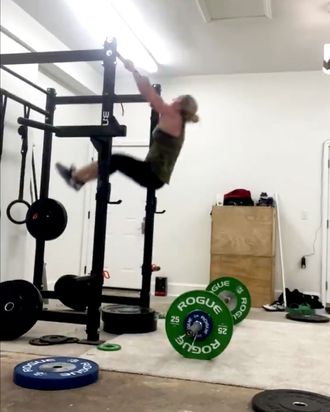 Marjorie Taylor Greene.
Photo: @mtgreenee/Twitter
Marjorie Taylor Greene, the QAnon-supporting Georgia representative best known as a vile bigot, has done something ghastly in what appears to be her personal gym. Yesterday, she shared a video of herself, seemingly possessed by the spirit of a gremlin who just ripped a line of cocaine, vigorously thrashing on a pull-up bar, not unlike a teenager enthusiastically humping their first pillow, or me, circa 2006, doing the worm on my best friend's bristly carpeted basement floor.
She captioned the unsettling video "This is my Covid protection." Watching it, it's hard to think of anything but: What kind of macabre shit is one of the QAnon congresswomen doing on that bar?
Well, apparently it is an actual exercise — something called a "kipping pull-up," born from the rich brain trust of CrossFit. Naturally, Greene used to own a gym affiliated with CrossFit and is still an absolute freak for the program, frequently posting videos of herself doing their workouts — evidently, even though CrossFit corporate finally disavowed the Georgia Republican over her odious views. But what is still difficult to process, for me and many others, is that this is a move that any vertebrate should be attempting on a regular basis — especially with as much fervor as Greene.
And according to the fitness community, it seems as if this is not a move you should be performing on any random Thursday morning. In the expert assessment of Casey Johnson, the writer behind the unrivaled "Ask a Swole Woman" column, "No reason to do kipping pullups unless you are competing, and actually competitive in, CrossFit," she tweeted. Another person wrote in a viral tweet, "Incredible showcasing of what we in the community like to refer to as 'snap city'. excellent routine if you've ever wanted to tear every tendon in your body and break your back."
A little shocking that this is what Greene would choose as her "Covid protection," in my opinion! Really thought she'd pick an AR-15.