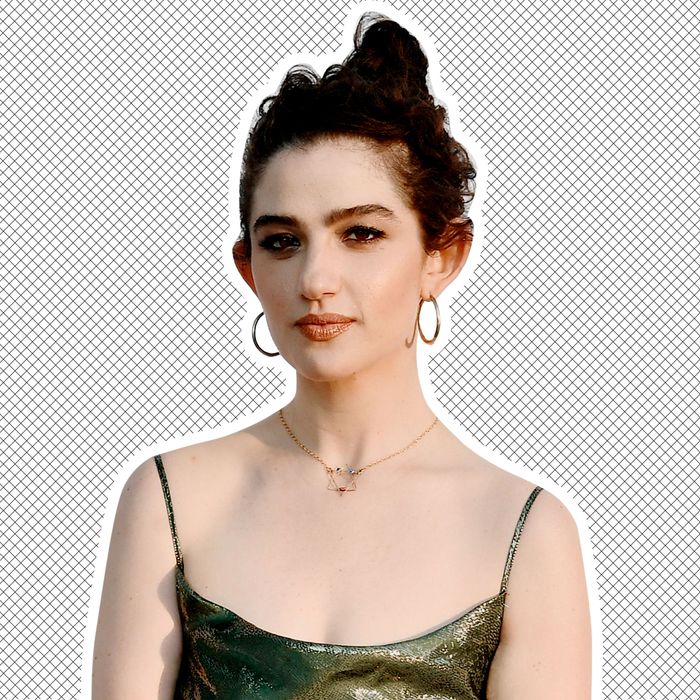 Photo-Illustration: by The Cut; Photos: Getty Images
At the start of her senior year at NYU, Emma Seligman turned in a dystopian script for the short film that would become her thesis. Her professor didn't understand a word of it. Frankly, neither did she. "Write what you know," he told her. Instead of a bleak look at a sci-fi world, out came a screwball psychodrama about a bisexual Jewish college student attending a shiva with her intrusive relatives where she isn't even sure who died and suddenly her sugar daddy shows up with the wife she didn't know he had.
Shiva Baby, newly available on VOD, is now a feature-length film. Starring Rachel Sennott as the titular funeralgoer and Polly Draper and Fred Melamed as her prying parents, the movie is a hilarious, claustrophobic coming-of-age lark that anoints 25-year-old Seligman as a bright new directing talent.
Seligman has always wanted to be a filmmaker. "I hope to be able to do all kinds of genres," she said. "This is much more of a classic sex comedy. I hope to be able to do darker stuff. I feel like female directors have been able to exist in the dramedy landscape for so long, which is wonderful, but I think there's a little bit more of a challenge when it comes to us doing other genres and being seen as auteurs."
The Cut talked to Seligman about what it was like to make Shiva Baby and how her own attempt at "sugaring" inspired the story.
I cannot think of another story that has a bisexual Jewish sex worker as the protagonist.
I thought you were going to stop at "bisexual and Jewish" and I was like, "OK, only two — Transparent and Schitt's Creek." That's it. But you added "sex worker," and yeah, I don't know about that.
It does sort of feel like new territory, and that's exciting.
I think so! I don't think I thought about it that way as I was writing it. First of all, I'm bisexual and Jewish, so I was like, "That's just me." And I had one date worth of experience with sex work, and sugaring is just such a huge part of going to school in New York. It's exciting that it feels like new territory, but I also feel like the steps were laid ahead for me. Transparent has Trace Lysette's character — she's not Jewish, but that show deals with sex and sex positivity and sex trauma and inherited trauma. And then Joey Soloway's first movie, Afternoon Delight, is so similar in the themes of Transparent. Juno Temple's character is a sex worker. Maybe this is the first time it's all been in one person.
When you were conceptualizing the story, which of the two threads came first: the shiva setting or the sugar-baby dynamic?
The shiva setting came first, because even when I tried to write short stories or in playwriting class in high school, I always gravitated towards writing scenes and events that took place at Jewish family functions, just because it felt so ingrained in my blood. My sister and I were the youngest of my generation in a very, very big extended family, so my social life up until I was 18 was middle-aged Jews. But I also was fresh off of that experience I had had, and I also was really interested in telling a sexual coming-of-age story.
When you say "that experience," are you referring to the date you went on?
The date, yes. My one sugar date.
Did you expect it could potentially last longer than one date?
Oh, I wanted it to. I was like, Yeah, I'm going to be a sugar baby. The SeekingArrangement website almost feels the same as going on Tinder — just creating a profile and seeing who's out there. So a lot of my friends had accounts or went on one date and said, "Hmm, maybe!" And then I was like, "Nope."
What was the biggest thing that produced the "no" for you?
I think it's the hardest job in the world. Pretending to be physically attracted to someone and selling that performance is so hard. I think sex workers deserve Oscars — on top of, you know, rights and protection. The "no" was me being like, I thought I was a good actor, but I can't fully fake it.
What were your first conversations with Polly Draper like?
Polly was originally supposed to play [the protagonist's ex-girlfriend] Maya's mom, because I was trying to hold out for a Jewish actress for the main mom role and Polly's not Jewish.
You wouldn't know it from the movie.
Well, she married into a Jewish family and she also played the Jewish mom in Obvious Child. My mom was rooting for her the whole time, though. She was like, "Polly needs to play me." And I was like, "First of all, it's not you." But I met up with Polly, and at the time we were really striking out with the mom role. Polly was like, "So what's going on with the mom role?" She just has a way about her. You asked me so politely about my sugaring experience earlier, but she was like, "So this happened? When? And how? And how much were you paid? And what went down?" And I was honest with her without even wanting to be. I was like, Okay, this woman unspooled all of my innards in this conversation. She basically strong-armed me into giving her the role for the mom. She's amazing. And then my producer and my casting director were furious because I just said yes to her, and we had an offer out to somebody else.
As a veteran, did Polly say or do anything before or during the shoot that directly influenced the movie?
All of it. She was gung-ho about making it clear that the mom was aware there was something going on with her daughter. I was so stubborn – I wanted the parents to remain oblivious. She ended up getting her way, but we met somewhere in the middle. She was constantly pushing for that motherly wisdom that I, as a 24-year-old at the time, could not relate to. Polly had a pretty big stamp on the film in terms of what she influenced.
The best line in the movie is Polly saying "You look like Gwyneth Paltrow on food stamps, but not in a good way." Where did that line come from?
That line was in the short film as well, and it got some laughs, so I kept it. I wanted a joke like "You look so thin" or "You look like Gwyneth Paltrow." And I was with my roommate on the couch, and I was like "Eh, the Holocaust joke's been done too many times" — like, "You look like a girl from Auschwitz." It's been done well, but it's been done too many times, so I needed something else. I was like, "In Auschwitz, Gwyneth Paltrow this" or "Gwyneth Paltrow that." My roommate said, "Gwyneth Paltrow on food stamps." Her name is Brittany Maldonado, and I will credit her whenever I'm asked about that quote. And then in the feature, I added "but not in a good way."
Is there a director, or a handful of directors, whose careers you admire and are interested in channeling?
A lot of my filmmaking references are white men from the 1980s, and then I have the career trajectories of female filmmakers or queer filmmakers that I also love but are less of my artistic thinking — other than Joey Soloway, who straddles the line between the two. But Desiree Akhavan I love and am so inspired by, and I also feel like she set the stage for bisexual representation and just so accurately portraying the intricacies of it. When it comes to my artistic references, it's more like Mike Nichols or Cassavetes or the Coen brothers. I'm really, year by year, more inspired by female filmmakers like Chloé Zhao. I think Marielle Heller in particular because her first film [The Diary of a Teenage Girl] was so wonderful and amazing. I sometimes forget about that movie being an influence on Shiva. It's a sexual coming-of-age story, and even though it's with the [protagonist's] mom's boyfriend, he just feels like every other douchebag that you have to deal with as your first sexual experience.