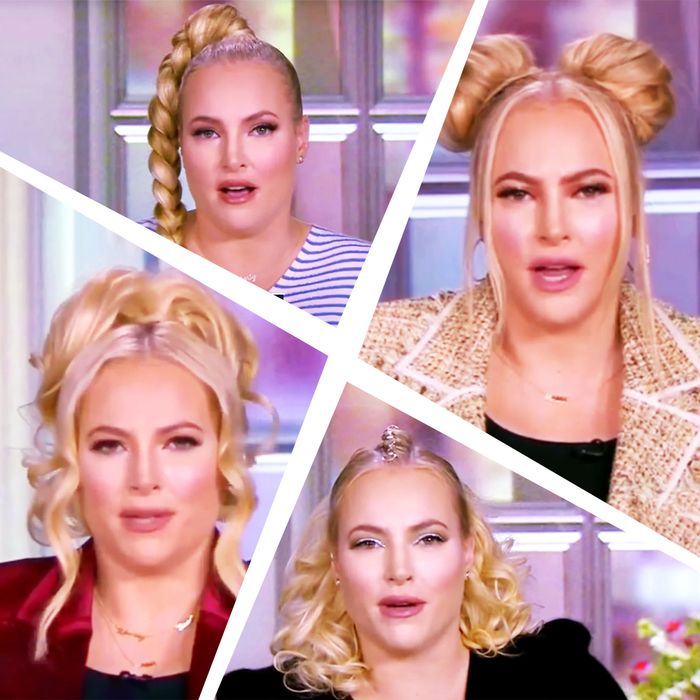 A sampling of Meghan McCain's hairstyles on
The View
, created by Carmen Currie.
Photo: by The Cut; Photos: The View/ABC
Weekdays at 11 a.m. ET, something mesmerizing happens on a little channel called ABC. The View airs, and all eyes find themselves unwillingly transfixed upon the head of Meghan McCain. There, instead of the typical broadcast down-do, you'll often find a variety of bleached blonde hairstyles that regularly elicit questions from the public (mainly, Pardon? Why? What is happening? and Who did this?).
Carmen Currie holds the answers. The Washington, D.C.–based model turned hairstylist and makeup artist is the creative mastermind behind the fascinating looks, Monday through Friday. Though the popular assumption online is that there's some sabotage via glam going on backstage, Currie assured the Cut that her intentions are pure and not at all passive-aggressive. "I'm not slapping something on her and being like, 'Take THAT!,'" Currie laughs over the phone. "I'm not telling her what to do all the time, it's not like that at all. I want her to feel comfortable, I want her to feel confident with what I'm doing, and I want her to like it overall, and she does. I think it shows, and that's part of what people are picking up on."
At the end of the day (or more literally, the start of it, from approximately 8:30 a.m. to 9:30 a.m.), Currie's just doing her job. "The View is under the Disney umbrella, and I was already with ABC News. I think that's the thing people don't know: She didn't seek me out the way you would do as an individual; we work for the same company, and the company hired me to work with Meghan," she clarifies, adding that this is her first season working with McCain, which is why the co-host's earlier looks previously flew under everyone's radar. "I'm on The View now, but I mostly work with people who are on the news," adds Currie, who's worked on House Speaker Nancy Pelosi and Representative Tulsi Gabbard. "There's no fun hair and fun makeup; it's very straightforward, and obviously more conservative. Working with Meghan and The View, I get to be more creative and more artistic with the looks."
In that vein, Currie has truly done us a great deal of service. Her tendriled space buns, braided swoopy bangs, and flippy genie ponytails look a little out of place on the pundit, but the punchy looks have filled the void left by a year of canceled celeb galas, glitchy virtual red carpets, and truncated Fashion Weeks — the places we'd typically get our dose of brow-raising, chin-stroking beauty looks to study. Better yet, she's delivered them on a regular basis, and in fun, surprise fashion. We honestly never know what we're going to get next, and oftentimes, Currie isn't sure until an hour or so before they air, either.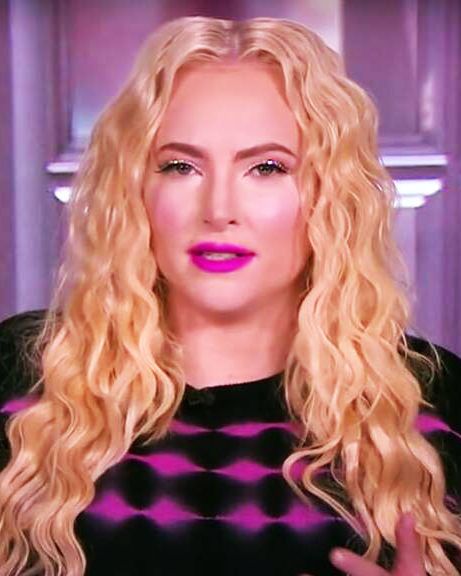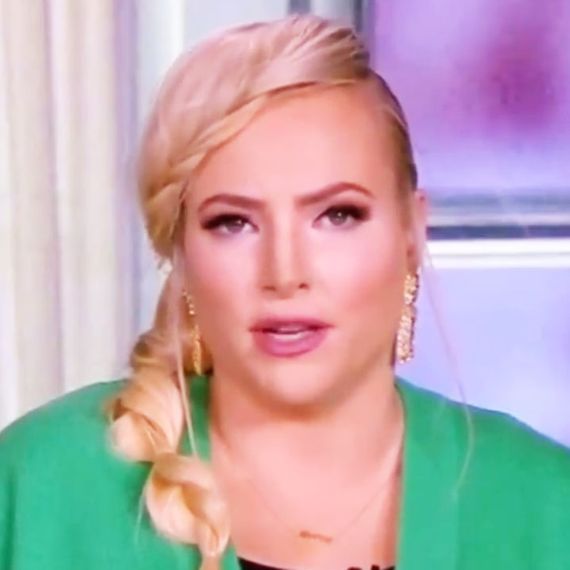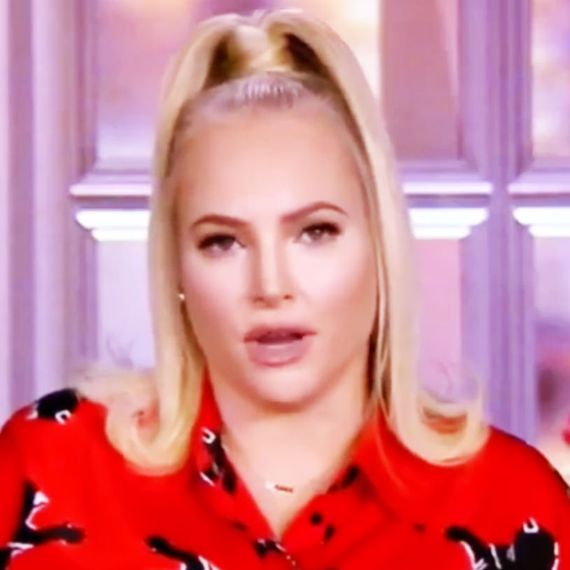 "I have certain things in my head that I want to do on her, but my looks revolve around what she's wearing, which I don't know every day. She might just have a black sweater on, or she might have something a little more fun, and that dictates the direction, which shapes and colors I emphasize." Though often spontaneous, the looks all have a few things in common: You've probably seen something kind of like them lately, and on people who aren't Meghan McCain. "I like to stay on-trend, but I like to put my own stamp on things, so it's never exactly what you see on Instagram or Snapchat or all these other platforms."
Her specialities include intricate braids — a nod to Currie's humble beginnings as that one talented teammate who braids everyone else's hair for volleyball games and basketball tournaments — and her personal favorite for McCain, tight top knots remixed with braids and twists, "to make it a little less traditional."
If gazing upon McCain's head gives you the sudden urge to watch a rich lady rationalize a public shouting match while sitting in a Bravo confessional, that's just Currie's skill shining through. "Sometimes [Meghan]'s inspired by a look that she saw, and she's like, 'Can we re-create this? Or something like this?,' and I'm always down. She gets her inspiration from the [Real] Housewives, but also magazines, fashion trends, and colors."
The glitter roots, however? That was all Currie. "That's a neat thing. I love anything that sparkles and shines, and I really like when we do a part right down the middle."