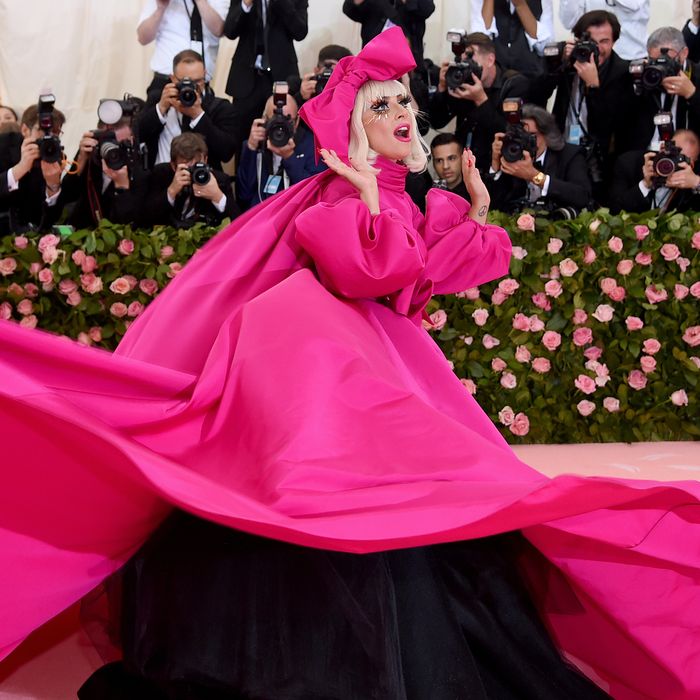 For years, the Met Gala has taken place on the first Monday in May. But the pandemic changed everyone's plans in 2020, and fashion's "biggest night," as it's so often described, was canceled. The Costume Institute's corresponding spring exhibit, "About Time: Fashion and Duration," never got its celebrity-driven theme party, although it did eventually open to the public in October — just fashionably late, and with limited capacity.
So what about this year? On Monday, the Metropolitan Museum of Art announced that Costume Institute is back in business. Its next major exhibition will have not one but two parts — something that's never been done before — and both will be … drumroll, please … Americana themed. Yeehaw!
Part one, "In America: A Lexicon of Fashion" will open in the Anna Wintour Costume Center on September 18, 2021. According to a press release, it will celebrate the Costume Institute's 75th anniversary and "explore a modern vocabulary of American fashion," meaning it will highlight more contemporary designers — something that has not been done to such an extent in the past — and put them in conversation with those who came before them. A specially commissioned film by director Melina Matsoukas will be projected throughout the galleries, as well.
Part two, "In America: An Anthology of Fashion," will open in the American Wing period rooms on May 5, 2022, and take a more historical perspective, surveying more than 300 years of American fashion through various narratives — some well known, like the Battle of Versailles, and others that have been overlooked, like the story of Elizabeth Keckley, a dressmaker to Mary Todd Lincoln. Each room will be visualized by a different American film director. Both parts will close simultaneously on September 5, 2022.
As for the Met Gala, a "more intimate" Costume Institute Benefit will take place on Monday, September 13, ahead of the part one opening, and a full-blown gala for part two is scheduled for the first Monday in May of 2022.
Why Americana? "We very consciously wanted this to be a celebration of the American fashion community, which suffered so much during the pandemic," curator Andrew Bolton told the Times, calling this moment a "renaissance" for American fashion. He added that he wanted to interrogate and expand upon historically narrow definitions of American fashion, both in terms of style (it's not just sweatpants and polos) and in terms of the largely white, elite designers that institutions like the Met have chosen to elevate in the past. According to the Times, the Costume Institute has hired a diverse group of collaborators for both parts of the exhibition, although its curators are currently all white.
The theme was a practical decision, too. Approximately 80 percent of the clothes in the show will reportedly come from the Met's own collection, so they don't have to worry about loans from abroad. Breaking the exhibit in two parts and having a smaller benefit event in September also allows the Costume Institute to get back on track financially. The Met Gala serves as the main fundraising event for the branch of the museum, which has to produce its own budget. (In May, 2019, the event reportedly raised more than $15 million.) So the absence of a gala last year was a financial blow, in addition to being a missed press opportunity.
Thankfully, Instagram has swooped in sponsor the exhibitions. Although, according to the Times, Mark Zuckerberg will not make an appearance in his signature hoodie.