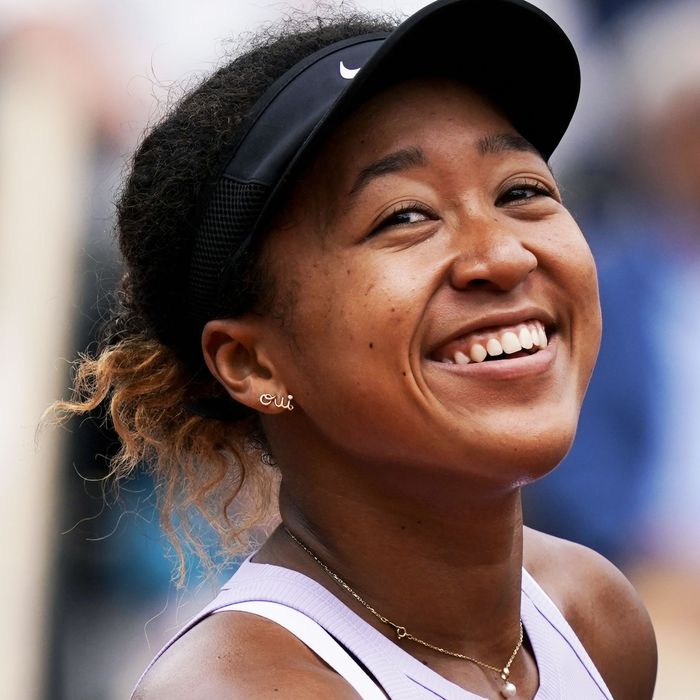 Naomi Osaka.
Photo: Kenzo Tribouillard/AFP via Getty Images
Another starry skin-care line is born. Business of Fashion reports that tennis champion Naomi Osaka is launching an SPF-focused skincare line specifically designed for people of color.
Named Kinló, a nod to her Japanese and Haitian roots ("kin" means "gold" in Japanese, "ló" means "gold" in Haitian Creole), the brand is expected to launch this fall and will debut with five products — a tinted SPF 40 moisturizer with blue-light protection for when you're sitting indoors, a tinted SPF 50 moisturizer for when you're doing stuff outdoors, a protective body spray, a restorative lip balm, and a restorative eye cream. Every product is priced under $20 and has been formulated to address the needs of people with more melanin in their skin, so rest assured that annoying white cast will not be in attendance.
According to the National Cancer Institute, 33 percent of Black Americans die from melanoma, the deadliest form of skin cancer, within five years of diagnosis, compared to 8 percent of non-hispanic white Americans. Like fellow pro athlete turned SPF entrepreneur Venus Williams, Osaka admits to skipping the SPF for years because of the misconceptions around darker skin tones. "What drew me toward this project is having memories of being a kid and not knowing how to protect my skin," she told BoF while revealing she "only started wearing sunscreen recently."
While Osaka has previously served as a beauty ambassador for Shiseido's sunscreen brand, Anessa, and clean-beauty brand BareMinerals, for this new venture, she will be in the CEO role. "For me, this project is something that requires more than just being a spokesperson," she told the publication. "This is a public-health need. I used to tell people that I didn't need to wear sunscreen — but even if you have melanin, you need to take care of your skin, and I am passionate about that."