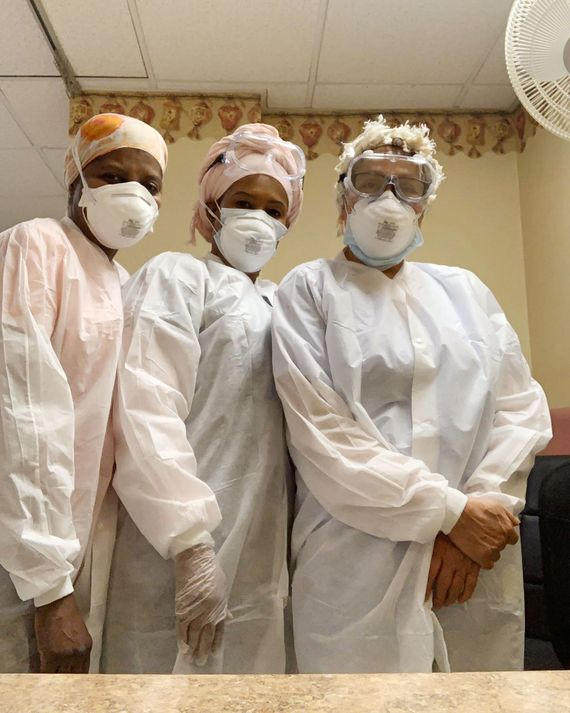 New York nursing home staff during the onset of the coronavirus pandemic.
Photo: Courtesy of SEIU 1199
For Audrey Campbell, a certified nursing assistant in Yonkers, the onset of the coronavirus pandemic felt like waking suddenly into a nightmare. She had heard about the virus on the news before work one morning, early in the year. Within weeks, just like that, it was in the building: The nursing home where she works, Yonkers Gardens, began bringing in COVID-19 patients from nearby hospitals, the result of a March 25 directive from the Cuomo administration meant to lighten the strain on hospital systems. "We had no idea what was going on, in the beginning," she says. "We didn't even know what was happening until people started getting sick."
Several staff members quit coming into work out of fear, leaving the remaining aides scrambling. In the beginning, they didn't have adequate PPE. Sometimes on weekends, Campbell and one other colleague were left to take care of around 30 elderly residents, many of whom became violently ill. "People were twisting and turning and moaning," Campbell remembers. She says some were throwing up and spitting blood. "We watched people die." Nineteen residents of Yonkers Gardens died at the facility from the virus, according to the New York State Department of Health.
In nursing facilities across the state, workers have similarly hellish memories. Kecia Wallace, who has worked for 24 years at Brookside Multicare, on Long Island, says she had to monitor 30 residents at once, eight or nine of whom could be sick at one time, literally sprinting from room to room to make sure they were still breathing, sweating through her makeshift PPE. She and her colleagues weren't given hospital gowns or masks at first — management said they were on the way — so they were given packing material like bubble wrap to wear. Every day when she got home from work, she would strip off her uniform and isolate herself, terrified of passing the virus to her family. (A spokesperson for Brookside said that the administration "worked diligently" to obtain necessary PPE, and that staff were provided with "disposable, plastic-based, waterproof isolation gowns.")
"I was just fighting a battle every day," Wallace recalled a few weeks ago, sitting in her car on a break. "And I was never going to win."
In Syracuse, at Bishop Rehabilitation and Nursing Center, COVID spread "like wildfire," according to Yolanda Blake, a nursing assistant with more than a decade of experience. Bishop was one of the first facilities in New York to take in COVID-19 patients from hospitals after the Cuomo order, devoting a whole sealed-off unit with separate staff for end-of-life care for some patients. (Bishop's administrator told New York, "Staff experts were able to utilize their clinical expertise to provide a viable option in the continuum of care for COVID-positive patients.") Sixty-one residents eventually died; the home only has 440 beds.
One year after the COVID pandemic first hit New York, a clearer picture has emerged of just how badly the Cuomo administration mishandled the crisis in the state's nursing homes, which became epicenters within the global epicenter. In just the first few weeks, 2,000 residents died. Cuomo's directive to send COVID-positive patients into facilities packed with vulnerable, high-risk people — the elderly and immunocompromised — has been heavily criticized, but it is just one aspect of his decision-making currently under scrutiny: After issuing that order, he slipped a provision into the state's budget that shielded corporate officials who run New York hospitals, nursing homes, and other health-care facilities from COVID-related liability. (It was drafted by industry lobbyists.) And after that, his administration covered up the nursing-home death toll of residents and employees, underreporting to the public the actual number — more than 15,000 — by half.
But the blame for what happened in New York's nursing homes extends far beyond the Cuomo administration. It is a huge crisis of neglect, decades in the making. Care workers who survived the pandemic say that the virus exposed preexisting gaps in funding and attention, compounding deficiencies that created the conditions for absolute disaster. Horrifying images of nurses dressed in black trash bags begging for PPE were shocking, but they were not a surprise to workers.
Though nursing homes are funded by billions of government dollars from Medicare and Medicaid, a majority in the United States are now owned by for-profit companies — in New York, it's 60 percent of facilities. They've become cash cows for executives and owners, snapped up at alarming rates by huge conglomerates or private-equity firms. For staff and residents, the consequences have been dire. For-profit homes statistically have leaner staffing, bad food, substandard conditions, and higher chances of abuse, though they are intended to service residents that need intensive levels of care. Some patients are in relatively good health, but others require help with almost every aspect of life. Many have little or no family visiting them, which can lead to behavioral issues. Residents with dementia can be a danger to themselves. These are the people living in New York's for-profit facilities, one in four of which have the state's lowest-star-quality ratings.
A dwindling workforce, composed largely of Black and brown nurses and nursing aides, has been left to pick up the pieces. Wallace, the LPN in Long Island, has seen at least three owners and even more administrators cycle through since the facility first became for-profit. Everything about her job has gotten worse. "It used to be different," she says, when there were more nurses and aides per resident, and more time to spend with individuals. "We did their hair, we painted their nails," she recalls. In the last few years, though, even before the pandemic, Brookside "already felt like an assembly line." Wallace barely has time to administer the treatments she needs to on a normal day. "You just gotta keep moving." ("Brookside Multicare has maintained sufficient staffing levels that meets NYS DOH and CMS guidelines," the spokesperson said.)
Ishma Marshall, a nursing assistant in Buffalo, has witnessed the same decline in staffing and resources in the facility where he works, Ellicott Center. Marshall takes care of what's known as ADL — the activities of daily living — which include bathing, feeding, and dressing the elderly. It is the most intimate care work in the nursing home, but carried out by some of the lowest-paid staff members. When he started, there were more staff, and "you could actually sit down and get to know your residents," Marshall says. "Because who doesn't want to be talked to? Who, after a nice bath, doesn't want to get a nice back rub, rub their feet? You can't do none of that stuff now."
In 2011, the facility was bought by Kenny Rozenberg, a billionaire who has made his fortune buying and operating dozens of nursing homes across the country. Before Rozenberg took over, and Marshall took a pay cut, he says there were five to six staff members on a floor in the mornings. Now, there are just two workers for up to 20 patients. "The soap is cheap, the lotion is cheap, the toothbrushes are cheap," Marshall says. The expectations can feel impossible; Marshall says he routinely cannot get to every resident, or that he has to "take shortcuts," given the careful work that goes into his job. Then, he is written up for neglecting patients, leaving them wet in their beds, for example — even though he is also penalized for failing to "chart on" all his residents, completing their Medicare and Medicaid documentation, which gets for-profit homes paid.
It's against this backdrop of scarcity and cutbacks that COVID-19 arrived. It is no wonder that Campbell had to beg her management for PPE, or Marshall had to fight for hazard pay. Andrew Cuomo's resignation, if it occurs, won't fix systemic failures. What will truly help, advocates say, is outlawing the exploitative, cost-cutting practices that have decimated the quality of care at nursing facilities in the first place. The Service Employees International Union 1199 is lobbying for a slate of policy changes at the state level to accomplish that; one would require nursing homes to spend a minimum of 70 percent of their revenue on direct patient care and 40 percent of that on paying staff. Another would set minimum hours that staff at nursing homes are required to spend with each resident (New York is one of only 12 states in the country that doesn't have minimum staffing requirements).
Throughout the pandemic, Marshall, Blake, Campbell, and Wallace have been honored as "essential workers." That's not how they've been treated by their employers. "I have my uniform on, I go to 7/11, Tim Hortons, and people buy me coffee," Marshall, on the phone from Buffalo, said, after a recent 97-hour workweek. "They tell me, 'Thank you for my service,' and stuff like that. Other people make you feel like a hero. But when you go to work, reality sets in. You're just an employee. You're dispensable." When asked for comment, a spokesperson for Centers Health Care, Rozenberg's corporation, told New York, that "Ellicott Center meets all of the NY State DOH mandates regarding staffing levels and the resources they have at their disposal, from PPE to all cleaning products." He added that, "With the shortage of good nurses throughout many parts of the country, including the Northeast, the company would never treat nurses as being expendable when they are hard to come by in the first place."
Not only have current labor conditions made Marshall lose passion for the industry he's been in for over a decade, he also worries about where he himself will get old, whether there will be anyone to take care of him. He says that it is getting harder and harder to convince young people to go into his line of work. "I don't want to take shortcuts [with my patients], because I'm going to be old one day," he says. "I want people to take care of me the right way."
His nursing home was one of many facilities to put up signage praising its workers, with photos of happy staff. He doesn't see himself in them. "You don't know who the people in those pictures are," Marshall says. "They don't represent me. You know why? Because they're smiling too much. The real heroes aren't smiling. We ain't happy."