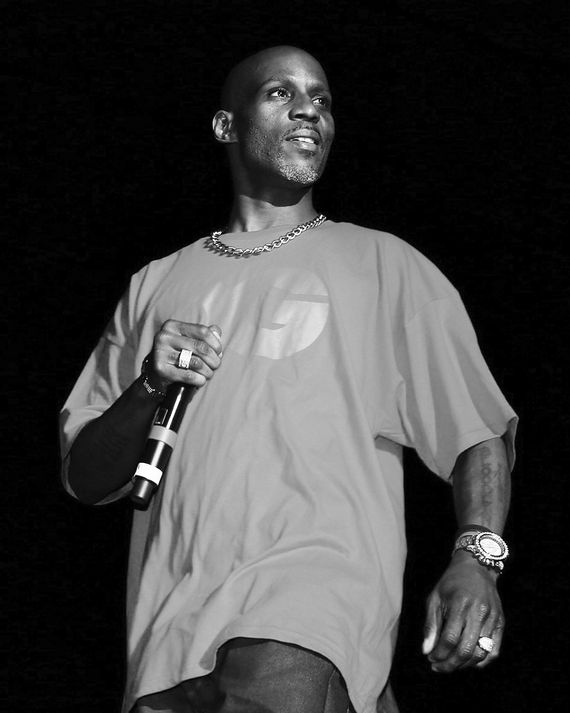 Photo: Shareif Ziyadat/Getty Images
I had never heard anything quite like it, and I wondered why what I was hearing was so melodic, so beautiful. It was the summer of 1998, and I was down in Rock Hill, South Carolina, riding around with my cousin Lisa — the same age as me, 11 at the time — as DMX's "How's It Goin' Down" played on every radio station, over and over. Today, it is a mainstay and love song to summer, reminding nostalgic 30-somethings of long, hazy days, ice-cream trucks, boy crushes, and the love story at the song's core that we once romanticized: a beautiful, otherwise-committed video vixen who falls for the lure of a captivating lyricist in a summer romance that became the ultimate hood love story.
Back at home, my mother would break her parental-advisory rule to play his iconic track "Prayer" — and some unedited songs too — placing him on her rap pedestal alongside Tupac. It was a big deal then for my mom to make exceptions to her rule against profanity unless the artist had a meaningful message to share. Tupac and DMX were her only exceptions. He would go on to become a chart-topping rapper during the glory days of rap, with everything from deep cuts and cult favorites like "Slippin'" and mainstream cultural touchstones like "Party Up (Up in Here)." He was known for his infamous bark, infectious stage presence, and his allegiance to the Ruff Ryders, the collective whose chart-topping hit he'd later put out on his record label.
We also knew him for his lifelong struggle with addiction and his hard family life growing up, which he often rapped about and discussed in interviews. His personal struggles are well-documented and a lasting part of his legacy. Yet, the resilience he showed — seemingly each time he fell off then had a strong comeback performance — his bounce-back story, was a testament to his fans. And as a Black woman who, post-pandemic virtual happy hours, began exploring the world of recovery, understanding its lifelong commitment, hearing new terms like "toolboxes" and relapses — it became a testament to me, too. After particularly challenging moments of self-reflection, I found myself listening to "Slippin'." On days where I'd practice morning affirmations, I'd play "What's My Name." And on days when I felt my best, I'd put my sunroof back and find joy — like on those summer days spent with family — and blast "How's It Going Down."
Like many, I grew up loving DMX because of his storytelling. I have always loved art that humanizes people with complicated pasts. I loved that in all of his pain, DMX found solace in his relationship with his grandmother and rapped about it on "I Miss You." But over the years, I also saw the not-so-good performances and they reminded me of people I'd grown up seeing and loving and humanizing. People with out-of-this-world talent are no less prone to addiction, a disease that doesn't discriminate.
One redemption moment I experienced IRL was when DMX showed up to P. Diddy's Bad Boy Family Reunion Tour, which stopped in my hometown back in 2016. There was a roster of artists having us recite word-for-word every single '90s rap or R&B lyric, but it was DMX's surprise appearance that caused the loudest screams among us in the audience (I had to hush my typically horrid concert voice to capture my only footage of him performing in person). He belted out "What's My Name" with the vigor of his 20-year-younger self, vibing with Diddy, rapping every word on-beat and into the mic with incredible energy.
Four years later, DMX faced off against Snoop Dogg in the pandemic-born Verzuz, a friendly yet competitive battle that emerged from an organic face-off between Swizz Beatz and Timbaland. It pitted some of our favorites against each other, like Lil Jon and T-Pain. DMX and Snoop Dogg getting together was a brotherhood, a meeting of our favorite uncles. It was a proud moment between iconic, talented rap royalty. But while we loved seeing both, it was DMX we rooted for as he and Snoop hyped each other up with every song. It was good to see him well after a few negative headlines. On Twitter we praised him for his healthy weight and always-incredible energy. It would be the last time we saw DMX so publicly.
When the news broke last weekend that he'd been hospitalized following a heart attack, at the age of 50, I thought that he would, yet again, pull through. He had the power to combat — time and time again — an addiction he'd had since he was a teen, when a mentor laced his marijuana with crack cocaine. I thought about his resilience to tell his story — unabashedly — time and time again, his ability to become a superstar in spite of his troubled early family life. We may have ultimately lost him today, but his determination to fight the good fight will forever live in hearts. I will remember him for many things — his honesty, bravery, truth, and love — but for his lyrics and legacy above all.