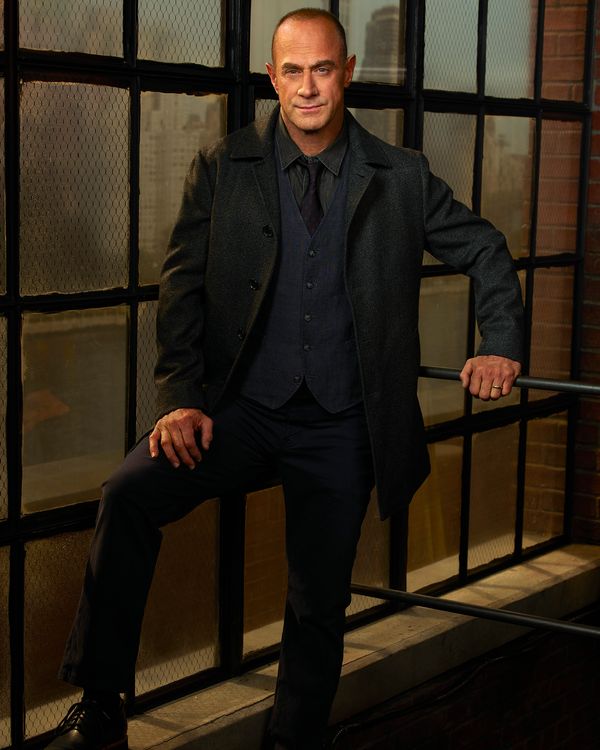 Photo: NBCU Photo Bank via Getty Images
Whenever my roommate is watching Law & Order: Special Victims Unit, I ask him if Chris Meloni is in the episode. Usually, he replies "No, it's one of the newer seasons," and I promptly exit the room. But now, at long last, Chris Meloni, arguably the best Chris of them all, has returned to the franchise in Law & Order: Organized Crime. He needed it, you needed it, and Lord knows I needed it.
The show premiered Thursday night, and apparently everyone on Twitter watched for all the wrong (right) reasons: Daddy is back. One person even suggested the show be renamed Law & Order: Daddies. Whether it's romantics gushing over the decades-long chemistry between the show's protagonists, Elliot Stabler (Meloni) and Olivia Benson (Mariska Hargitay), or horny people simply there to watch him stand up from a chair or roll up his sleeves, Meloni unites us all.
In honor of the show's premiere, and because I'll explode if I hold it in after all these years, I would like to publicly blow off steam about this objectively hot tree of a man. It all started amid my gay sexual awakening in the eighth grade. One fateful night when my parents left me at home by myself, I did what any pubescent teen would do: I turned off the lights, switched on the satellite TV, and … watched Nickelodeon. Instead of a new episode of iCarly or perhaps a rerun of Zoey 101, on the screen was a handsome, brawny man who really filled out his short shorts. My life was changed forever. It was Gym Teacher: The Movie, starring Christopher Meloni as Coach Dave and featuring a special appearance by Chris Meloni, Jr.
However, many people's first time with Meloni came not with Gym Teacher: The Movie but his portrayal of Chris Keller, a bisexual psychopathic killer on HBO's prison drama series Oz. His steamy scenes with fellow prisoners — including, but not limited to, flirty showers and erotic wrestling — also turned him into a gay man's fantasy.
In fact, Oz fans proposition Meloni to this day. On Conan, he said it happens in the shower at the gym, where men seem to stare and "lather a bit too long down in the nether regions" — which is either the "wrong place, wrong time" or "right place, right time," depending. I'd like to think that when he lays his piercing blue eyes upon me, he would see it as the latter. In my fantasy, it wouldn't happen in a gym shower — I'd simply be looking cute and clothed, which would leave him wanting more.
Perhaps his most famous role, though, is Detective Stabler on Law & Order: SVU, which he's reprising for Organized Crime. Both of Meloni's most famous characters ooze sexual energy that's simultaneously alluring and terrifying; you'd willingly let him crush you and enjoy it. Still, with great BDE comes great responsibility, and not even Meloni can handle his hotness. He's told the Today show that he feels "consumed" by the responsibilities of his unofficial title, "Best Butt in Prime
Time," and he shows off his bodacious derrière whenever possible. The man knows he's hot, and he loves it. We all love it.
Since that fateful night with Coach Dave, I've turned into a faux Law & Order stan who simply tunes in when I need quality time with Meloni. But when I don't have the emotional capacity to sit through an agonizing storyline, I'll check up on his Instagram and Twitter — this is starting to become an everyday habit — for his gracious selfies, which help me visualize what it'll be like when he whisks me away in those big arms while I nuzzle into his beefy bosom like a big baby.
Anyway, I'm so excited to watch more Law & Order: Organized Crime instead of seeking a therapist to sort out my daddy issues!