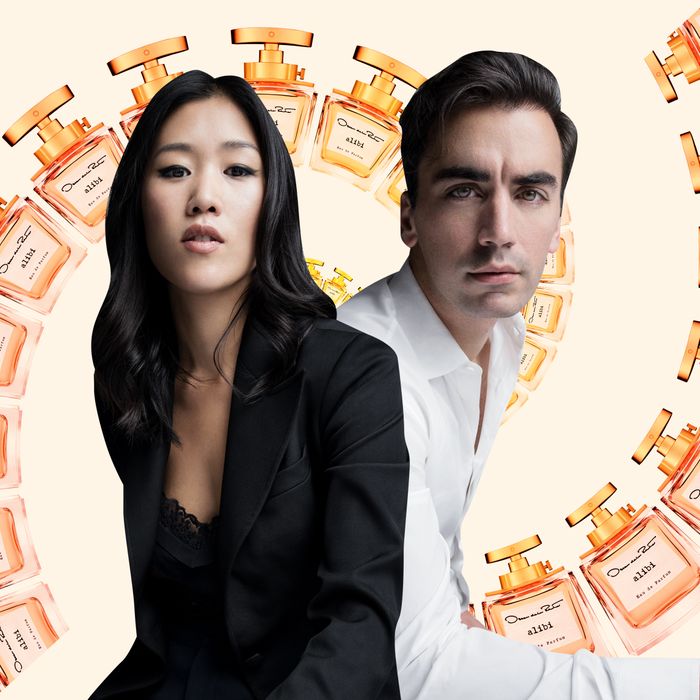 Laura Kim and Fernando Garcia.
Photo-Illustration: by The Cut; Photo by Tim Walker, Courtesy of Oscar de la Renta
Scientific studies confirm that, of all the senses, smell offers the best recall. In "Scent Memories," the Cut asks people about the scents they associate with different times in their lives.
Next up are Laura Kim and Fernando Garcia, co–creative directors of Oscar de la Renta. The brand recently launched Alibi, its newest eau de parfum and the first fragrance the duo has designed for the fashion house. An updated take on the modern Oscar de la Renta woman, the soft, floral, feminine musk features notes of mandarin, ginger blossom, vanilla, orchid, and praline; the bottle was inspired by the classic Oscar de la Renta handbag of the same name, and the campaign stars model Irina Shayk. The Cut caught up with Kim and Garcia to talk fresh handbags, Champagne mugs, and the best-smelling hotels.
My first scent memory:
Fernando Garcia: I think it's my father's car going to school. It's a very distinctive smell, and I think the reason I remember it is because I always gravitate towards leathery smells for myself, so I remember the seats of my father's car.
Laura Kim: It was a nice car, huh?
FG: It was a leather interior? I mean, that's as nice as you can go.
LK: My dad's car was cloth. But for my scent memory, well, I met someone who had this amazing perfume, and maybe it's because I fell in love with them, but I just remember that smell. I can't say what the fragrance is because then he'll know it's him, and I don't want him to know. We broke up, so … [Laughs]
FG: For the record, she's not speaking about me.
Happiness smells like:
FG: The smell of a baby.
LK: I know what Fernando's happiness smells like. We went to Disney World together, and the whole place smells like boiling maple syrup.
FG: Yes. The Grand Floridian specifically is a fragrance that should be sold for a lot of money, but it is a very specific smell and I think Laura is right in hinting that it has a lot of maple-y aromas to it.
LK: I always buy you maple-syrup candles whenever I go back to Canada. He loves that smell. A happy childhood smell.
FG: Tree bark and leather seats — everything I want in a fragrance for myself.
LK: And pancakes.
FG: Pancakes, Mary Poppins walking by — that's happiness.
Friendship smells like:
FG: Popcorn or chips or anything that means a social gathering is about to happen.
LK: What does our friendship smell like? Champagne? And coffee?
FG: Yes. A very balanced diet.
Regret smells like:
LK: Bad food, like I shouldn't have eaten that. Or tequila the morning after, like, Oh shit, I shouldn't have drunk that much.
FG: Regret also smells like money to me. Every time I spend it, for some reason, it becomes extra smelly. Like, Oh, I lost it, and there it goes.
Success smells like:
FG: Usually, and weirdly, I think of a fashion show backstage. It's a combination of a lot of hard work and everybody's anxiety and excitement.
LK: I think it smells like a vintage Champagne that we can barely afford.
FG: Or the inside of a first-class cabin anywhere.
LK: You really like leather seats.
FG: Or the inside of a brand-new bag. Whenever we get bag samples arriving from Italy, it just smells like glue and leather because it's so fresh.
The worst smell is:
LK: You know laundry, when you don't dry it right away? I hate that.
FG: Oh yeah, that's a terrible smell. I also hate not knowing where the smell is coming from in my apartment. That is more frustrating than the actual scent — not knowing how to get rid of it.
LK: Like you didn't change your flower water.
FG: Or something. Who knows. A dead rat? You will never know.
My ideal vacation smells like:
FG: The Faena Hotel in Miami, and I hope that you tag them and ask them for a free room.
LK: I don't know what it is, but the Faena really does have a specific smell.
FG: Is it patchouli? Hotel smells are definitely something that Laura and I love. Also the smell of the Shibui Spa in the Greenwich Hotel.
LK: Oh yeah, that spa smells nice.
FG: And also the smell of wrapping paper.
LK: Oh, I don't like that.
FG: I love Christmas, and to me, wrapping paper symbolizes the beginning of the fun week ahead.
My home smells like:
FG: Pine cones. Because I love Christmas, and I like the smell of it all around.
LK: I love incense from Japan, so I always have that burning.
The first thing I smell in the morning:
LK: Face wash. I use Tata Harper's. All her products smell so pretty.
FG: I do love the product that the Greenwich Hotel puts in its bathrooms.
LK: Red Flower. It's so good.
FG: I've stolen every bit of it that I can every time I go. I have a little left over, and it's that lavender soap. And their shampoo is actually really good for my hair, so I highly recommend it.
The last thing I smell before I go to bed:
LK: Champagne.
FG: Really. Falling asleep holding it. I don't even have Champagne glasses anymore. It's just like a cup. Like a coffee mug of Champagne.
A scent or smell I love that others usually don't:
FG: It's polarizing, but I love gasoline smell, like going into a 7-Eleven or a car stop.
LK: I'm Korean, so I have kimchee in my fridge all the time. Fernando hates the smell of it; a lot of people don't like it, but I don't mind it. It's such a strong smell, but to me, it's a yummy smell!
I smell like:
LK: Fernando, you have a specific smell — like not your perfume, but you smell ashy.
FG: Well, that's lovely.
LK: Not in a bad way! Like a little bit of burned wood. You don't look ashy.
FG: Laura always smells like beauty products. I literally just grabbed her hand to check. It's sort of like a fresh-out-of-the-spa smell always.