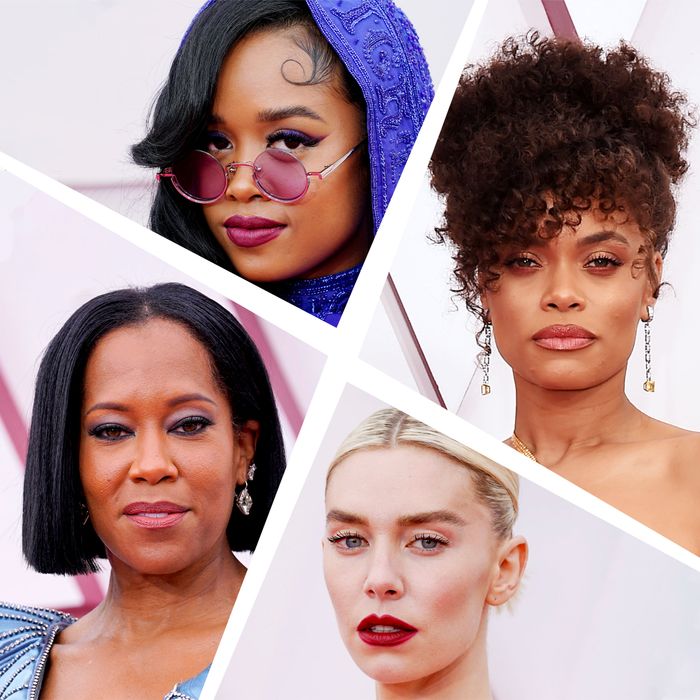 Photo-Illustration: by The Cut; Photos: Getty Images
Tonight's Academy Awards came with a formal-leaning dress code for all its in-person attendees, but thankfully, the beauty looks were free to live their best lives. The end result: everything from no-makeup makeup and lived-in waves to swoopy bangs meticulously set with half a bottle of hairspray and the smokiest set of eyes you've probably seen in a year. Here, the best hair and makeup accompanying all the glamorous looks at the 2021 Oscars.
Most Aspirational Curly Bangs
Curly bangs are notoriously hard to nail, and yet Andra Day's were practically perfect in every way.
Sharpest Bob
Every red carpet crowns a winner in this angular category, and this Oscars season, the prestigious award goes to Regina King.
Most Likely to End Up on Pinterest
Pin this pic of H.E.R. now; study the colorful winged liner, the berry lip, the swoop, the baby hair swirl, the strategic use of sunglasses, and the overall color palette later.
Glowiest Glow
Here, Zendaya, the artist behind the world's best selfie, embodies the meaning of the lyric "I woke up like this" in real time.
Friendliest Reminder That It's Spring
The floral gown helps, but Emerald Fennell's shimmery-lavender smoky eye is a nice little nudge, too.
Best Center Part
Allow Celeste Waite to make the best case for parting your hair right down the middle.
Best Side-Parted Swoop
Nothing says "this awards show has been going on since the 1920s" like the side-parted, swoopy wave-bang expertly worn here by Amanda Seyfried.
Smokiest Eyes
If the thought of navigating an eyeshadow palette seems overwhelming, follow Angela Basset's lead and just go big and go blue. It pairs especially well with a pair of chiseled cheekbones.
Coolest Red Lip
The cool undertones in Vanessa Kirby's red lip offer a refreshing change of pace from the typical reds.
Most Motivating Makeup
Nicolette Robinson's subtle glow, shaped brows, feathery lashes, and glossy lip all look so effortless, it almost makes you want to go back to wearing makeup again.
Newest Bangs
Welcome to the world, Halle Berry's baby bangs!