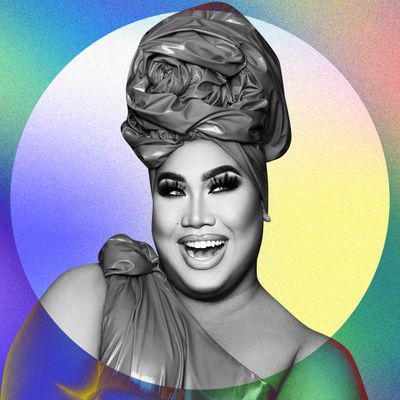 Photo-Illustration: by The Cut; Photos: Courtesy of Patrick Starrr
Beauty YouTube might thrive on drama, but Patrick Starrr isn't interested. His new influencer agency, The Beauty Coop, won't take people starting beef to get noticed. "Not my chickens, not in The Beauty Coop. There's zero tolerance in the agency," he told Refinery 29.
His new beauty brand, ONE/SIZE, also thrives on inclusion, not exclusion, with the tagline "Makeup is one size fits all." With the line, Filipino American Starrr celebrates makeup as an everything-neutral tool (free from the confines of gender, age, race, and sexual orientation). It will soon be carried at Sephoras worldwide, starting in America and Southeast Asia first. The Cut talked to Starrr about the importance of setting boundaries, owning yourself, and being kind.
I've read that the idea for ONE/SIZE was first-inspired by a tweet you wrote a few years ago.
In 2016, correct. I was shopping for clothing in a store that said it would have plus sizes, and there weren't any clothes there available in my size. And I literally had an epiphany. Unlike clothing, makeup is one-size-fits-all. I filed a trademark, but little did I know that four years later it would become our tagline. "ONE/SIZE fits all."
Where would you like to see the beauty industry go from here?
I'd love to see more women of color, and mature women and men of color, represented. I was in Clubhouse and in a room where mature women of color — age 40 and older — were talking about how they feel excluded in terms of representation. It is something I am considering taking to ONE/SIZE. ONE/SIZE stands for the unseen and unheard. I happen to make and develop extraordinary makeup with larger-than-life performances — I can make change for the unheard.
And I say this to so many people: Makeup is no different than what you wear and what you eat — it's a matter of taste. Do I want pizza or salad, do I want to be Patrick or Patrick Starrr? I challenge people to put that analogy in their brain. It's a way to express yourself and fulfill self-satisfaction. Being self-aware and owning who you are is the most powerful thing.
What's one fan experience that stood out to you?
I have been losing my hair, and it's been thinning ever since I was around 20 or 21. It put me in a place of insecurity. But, surprisingly, after doing a headscarf video about it, I heard from cancer patients — those who have lost their own hair through chemo, or those who have lost their parents due to the disease.
There was a young girl in Orlando, Florida. I was picking up an eyeliner in the mall, and she came up to me and said, 'This is so crazy, I don't want to bother you. My mom passed away from cancer, and we would watch your videos over and over again. I even had a headscarf made for her. One of the fondest memories we had was from watching your videos." I was with my own mom and she said, "She's watching over you." It was such a beautiful moment, and so touching.
What was the biggest "no" you heard in your career, and what did you learn from it?
When I was first in talks with MAC about my collaboration, it was meant to be something much smaller. My manager said, "We should pass, we shouldn't do it." That's a different version of a no and, in the end, I had to pass. I learned from Jen Atkin's book, Blowing My Way to The Top, that practicing no and practicing your boundaries is important, and there is something so powerful in trusting the people around you on your team.
Passing [on that first offer] eventually led me to do a year-long collaboration with MAC. It caught the attention of my partners with ONE/SIZE, and captured Sephora's attention. After that first "no," one thing led to another and into a million "yeses."
What do you wish more people understood about what you do?
There are a lot of different roles and demands, especially with the business side of Patrick Starrr. From having my beauty brand, my Say Yas to the Guest podcast which just launched, managing my social-media channels, partnership with Sephora, family life, and personal life, it's a lot to handle. A lot of people think that I am just an influencer, but I'm managing so many channels and expectations from brands and brand partners.
Do you think of beauty as self-care? Why or why not?
Of course. It's the best self-care. When I don't have work, I still find myself doing a beauty routine. I curl my lashes, do my skin care, a little mascara, and it lifts my spirits and makes me feel prepared in a way. It's sort of like a uniform and that is what I truly love about it. And it's fun to do it.
Has the way you think about beauty changed during the pandemic? How so?
Completely. Beauty has been exploratory and experimental, with building my brand and coming out with new products. It's been really exciting to work with artists to create something really disruptive. It's also been fun playing with eyebrows, getting lash perms or lash extensions, and changing up the skin-care routine, since there is nowhere else to go. For me personally, my skin is so textured, and I have a lot of hyperpigmentation, so I've been experimenting a lot more with essences, and under-eye creams that I love.
Do you believe eye cream is "worth it"? And which one is your favorite?
My gosh. I do believe in hydrating your under-eyes, especially if you happen to be drinking or have super-dry skin. One that I love is the Tatcha Silk Peony Melting Eye Cream. I was with [Tatcha CEO] Vicky Tsai in Japan while she was creating it. She is a good friend and fellow founder. And it snatches our under-eyes to perfection. And to people who say it's just moisturizer in a tiny jar — you're wrong. There's way more hydration. The cream is more dense for the under eye.
What, in your opinion, is the best affordable beauty product or products? Why?
I get my tools at the drugstore, so tweezers, eyelash curlers, and lash glue. I even look for sponge wedges there and get drugstore lashes for my bottom lashes. Those have really come through — I've been wearing bottom lashes every day.
Fill in the blank: Unfortunately, _______ is worth it. 
Well, in my own line, the Ultimate Blurring Setting Powder. That little jar will snatch your skin, and it is super blurring. It sets your under-eyes well, and is definitely usable for the novice but also made for beauty lovers and drag queens who want to take their skin to the nines.
Other than that, facials are underrated, and they're good for you. Work with a professional who knows your skin and can customize a routine for you. I love Yoliglo, and Sarah Ford is my new go-to girl. They identify things in my skin that I don't even see myself.
What's the wildest luxury beauty experience you've ever had?
I was in Rjakevik, Iceland, at the Blue Lagoon Hotel with a brand, and they offered massages while floating in the water. It was bizarre and bougie. I am a plus-size, around-250-pound Filipino man with a tiny Icelandic woman massaging me while I'm on my back with a towel on my face. She's in a little scuba outfit behind my head, putting mud on my body. It was a bizarre massage. I couldn't stop laughing. The combination of the super-cold mud, which is great for your skin, along with the hot springs, was interesting and different.
Every product is independently selected by our editors. Things you buy through our links may earn us a commission.