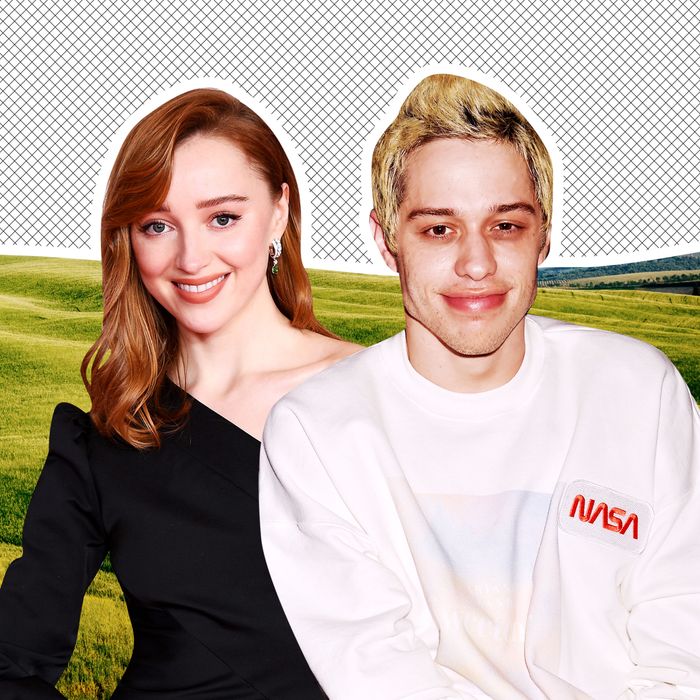 Congrats!
Photo-Illustration: by The Cut; Photos: Getty Images
Well, dear readers, the rumors are true. Actress Phoebe Dynevor, known to many as Daphne Bridgerton, and tall rascal Pete Davidson have confirmed what you may have suspected for weeks — months, even (I don't know, I can no longer process the passage of time) — they're dating! How did they confirm it, you ask? Not in any sort of formal announcement, such as an Instagram post, but by publicly grocery-shopping together and then having a little romp in a field. Ooh la la!
The Daily Mail published a gratuitous 57 (by my count) paparazzi photos of the pair out and about in the "greater Manchester area" over the weekend, smiling and being medium-handsy and generally looking like two people who are probably involved. According to the tabloid, they enjoyed a "countryside stroll," during which they "appeared unafraid to show their affection" for one another — good for them — and then later visited a supermarket, "where they headed inside armed with a bag for life, before leaving the shop with a bag of goods." Hmm yes, classic couple stuff.
Meanwhile, People's sources asserted last week that Dynevor and Davidson are "really into one another" and "Pete is telling friends he's serious about her." He is apparently spending his midseason break from SNL hanging out with her in London and was first spotted loping around Manchester — where Dynevor spent quarantine — last month. In late March, someone also saw them "holding hands and hugging while walking" and told Entertainment Tonight all about it, fueling rumors of a potential romance. In February, Dynevor visited New York, and maybe also her roguish BF, who was still living in his mom's basement at the time — fun for everyone, I'm sure. And! Last week, both Dynevor and Davidson reportedly wore "identical" necklaces bearing their shared initials — PD — during interviews. According to another tabloid informant, this helps them "feel like they're together when they're not." They live across the pond from one another, so "any time they're feeling a bit lonely and missing each other," the source explained, "they look down at the PD." Or they can look at the Mail's dozens of photos from their pastoral romp! Options abound.