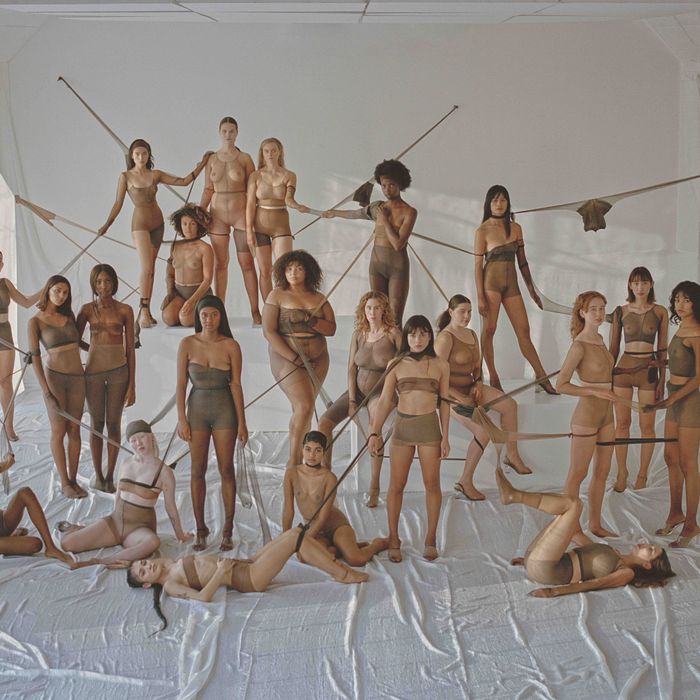 Nuevo organismo formado por mujeres
, L.A., 2018.
Photo: Carlota Guerrero
You may not be familiar with Carlota Guerrero's name, but you've seen her work — certainly her 2016 portrait of Solange, which serves as the album cover for the artist's A Seat at the Table record. An instantly iconic image, it's what ushered the then-23-year-old Spanish photographer onto the global stage.
Before Solange, Guerrero, a self-taught photographer, had been working on her craft for over a decade. Now, she's documented her creative journey in her debut book, Tengo un Dragón Dentro del Corazón ("I Have a Dragon Inside the Heart"). The monograph does include some of those Solange photos, but they're hidden between some of Guerrero's less famous works, like her 2018 project documenting the Cuban transgender community, or her 30-person performance piece at Art Basel Miami in 2019. Text contributions from some of her collaborators, including singer Rosalía and poet Rupi Kaur, are threaded amongst nearly 300 photographs.
Many of these are from her early days, often featuring nude women in nature — on the beach or in forests, straddling trees. As Guerrero writes in the intro, she sees the nude female form as "a spiritual force," and in the book there is a marked evolution in how her nude subjects are presented. "At the beginning I thought, I'm going to portray women as goddesses," says Guerrero, explaining that when she first started photographing women, she had preferred a simple, almost virginal aesthetic.
"I guess it was a safe space that I wanted to create. A lot of harmony," she recalls. "Then I realized that was a reaction to the male gaze … that I was projecting incorrect themes, because it felt like the only woman that I respected was that type of woman. I'm not that type of woman. I wanted to put the hypersexualized woman — prostitutes, openly sexual women — at the same level, so [the audience] understood that I am saying they deserve the same type of respect."
The resulting book is a dreamy collection of Guerrero's headiest images and "obsessions," as she tells the Cut. Themes she's relied on in the past — femininity, gender, and nature — recur throughout it, often through what might be called the artist's signature subject — groups of ethereal, naked women.
Below, an exclusive look at Tengo un Dragón Dentro del Corazón.
Tengo un Dragón Dentro del Corazón: The Photographs of Carlota Guerrero is published by Prestel and will be available on May 4, 2021.