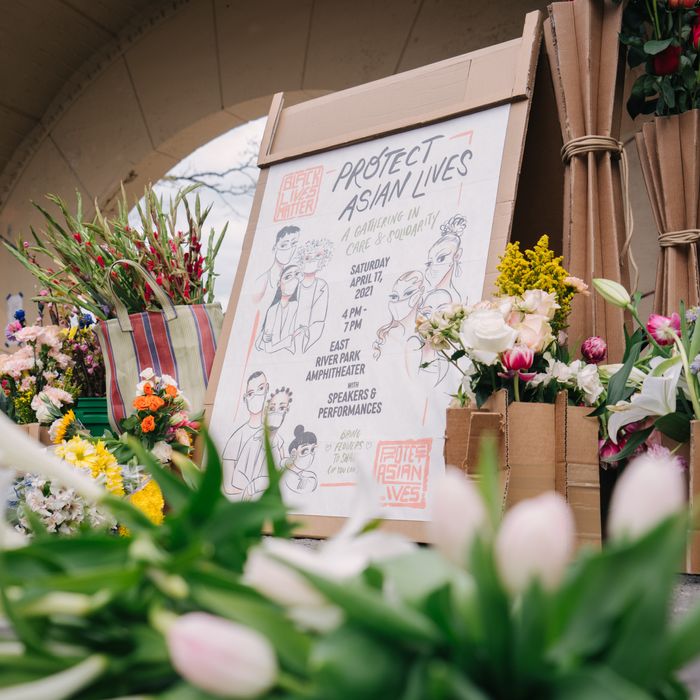 Photo: Jutharat Pinyodoonyachet
The antidote to suffering is care. So what do love, care, and solidarity look like for Asian people, who are grieving in response to the nonstop violence the community is facing? On Saturday afternoon, at the East River Park Amphitheater, it looked like a gathering of queer, trans, and gender nonconforming people of color embracing each other, handing out flowers, feeding each other, listening to one another, sitting in stillness, and dancing with each other.
They all showed up for "Protect Asian Lives," a gathering that emphasized communal healing and celebration. It was the love child of a group of organizers who are queer Asian, Black, and Latinx: QTPOC (queer and trans people of color) collectives Bubble_T and Papi Juice, artist and sex worker Sammy Kim, artist and model West Dakota, chefs Angela Dimayuga and DeVonn Francis, "Blasian March" founder Rohan Zhou-Lee, and writer Jezz Chung.
Although plenty of protesters have come together in cities across the country to demand an acknowledgment of and end to the attacks against the AAPI community in the last two months, Kim still did not feel wholly represented. "As a queer, nonbinary sex worker, I felt like the intersections of my identities were not included in some of the recent #StopAAPIHate rallies and protests I attended," they told the Cut. "So I wanted to bring friends together to create a space that was for queer Asians by queer Asians."
At the center of Protect Asian Lives was also acknowledging intersectionality and creating solidarity among all BIPOC folks. "It was born from a sentiment that the movement to stop the acts of hate and harm towards Asians weren't always considering those who have been the least protected and most historically harmed," Chung said.
The group agreed that the fight for liberation of all marginalized people must center learning about each other's different, layered struggles in order to connect and move forward. "The systems that oppress you are the same that oppress me, so your liberation is also my liberation," said Kim. "We are following the footsteps of the ongoing Black Lives Matter movement, crediting the momentum for social change to our Black peers who laid down a lot of the framework for advocacy work."
Performers and speakers represented a wide range of ages and Asian backgrounds: actor and community organizer Carolina Đỗ, model and activist Geena Rocero, drag poet Pearl Harbor, a collective of women and nonbinary singers called the Resistance Revival Chorus, Chinese American planning council director Don Kao, Red Canary Song's Yves Nguyen, activist and organizer Thanushka Yakupitiyage, writer Mimi Zhu, comedian and SNL cast member Bowen Yang, and artist and community organizer Clara Lu, who performed songs on the guzheng, a traditional Chinese instrument. LoAn Nguyen, member of the PFLAG API Rainbow Parents coalition, also spoke of her experience as an immigrant and parent of a queer trans daughter, which left listeners teary-eyed, as many queer Asians have fraught relationships with their families.
"It felt like this paradise of possibilities of what it can look like when queer, trans, and gender nonconforming people of color come together and look out for each other in a way where we haven't been looked out for by bigger societal structures," said Chung.
Zhu added: "It was beautiful to witness togetherness and joy in ways that may have felt unfamiliar to some of us in a long time. We were seeking belonging with each other in our grief, and I'm glad we were able to express it in our own ways."
Below, view Jutharat Pinyodoonyachet's photos from the day.