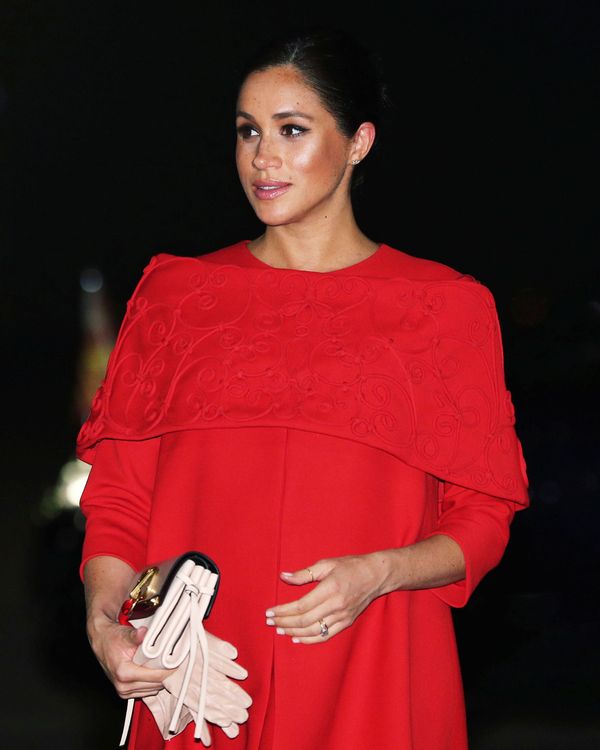 Photo: WPA Pool/Getty Images
Buckingham Palace announced that Prince Philip, the husband of Queen Elizabeth II, "passed away peacefully" last Friday at the age of 99. While most outlets covering the news struck an appropriately solemn tone, it took very little time for a number of them to effect standard procedure — that is, to somehow involve Meghan Markle.
This pattern is so predictable by now that it has become a joke on social media. In fact, the question of how the conservative press and tabloids would figure Meghan into Philip's death was immediately meme-ified in the wake of the news, with Twitter and TikTok joking about the tabloids' readiness to blame Meghan for the passing of a man who was nearing his centennial birthday.
Indeed, it took less than half an hour for a Fox News commentator to draw a clumsy connection between Philip's passing and Meghan and Harry's recent tell-all interview with Oprah. "There are reports that he was enraged after the interview … Here he is trying to recover and then he gets hit with that," Brian Kilmeade droned on Fox & Friends, adding that the interview "definitely added to stress." He was followed by Fox contributor Miranda Devine, who took the same line of reasoning in her comments on Philip's death, calling the interview — specifically the accusations of racism against the royal family it surfaced — "terribly destructive and selfish" and "a cruel thing to do."
And, of course, it didn't take long for the Daily Mail to trot out a story bemoaning Philip's difficult final year of life, "marred" as it was by "Megxit" and "the bitter fallout from Harry and Meghan's decision to quit 'the firm.'" Meanwhile, Piers Morgan's tribute to Philip, also in The Daily Mail, reads like a thinly veiled criticism of Meghan and Harry, whom he mentions by name when he advises future royals to "stay off Oprah." The Herald later speculated in a piece ostensibly about royal leadership that, had Philip been younger, he would have tried to "head off the calamity that was Megxit," naming the couple as responsible parties in a looming "monarchical shipwreck."
Now, it appears that the media's preoccupation has moved from Philip's funeral plans to the fact that Meghan — who is now in her third trimester of pregnancy — will not be attending, following advice from her doctor. Since then, the Sun has quoted "pals" who said she made the decision because she "didn't want to be the centre of attention," while the Herald published an especially cruel piece saying that Meghan's presence would be "embarrassing," writing, "standing by [Philip's] grave would invite the world to compare what we're burying with what's left behind"
Given their hysterics over Meghan, it wouldn't be surprising if the tabloids found a way to blame her for every unhappy event that takes place in the royal family for the next decade — a fixation that says much more about them than the latest woman they won't stop attacking.