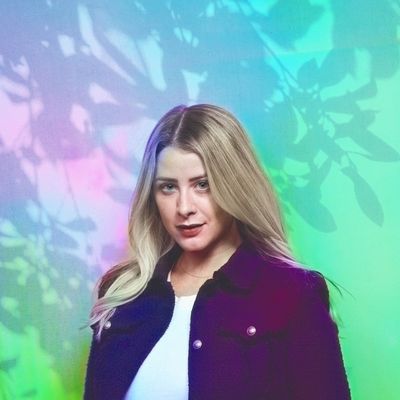 Photo-Illustration: by the Cut; Photo Sara Jaye Weiss/Shutterstock
Lo Bosworth hated being on TV. That's right: Every single time you saw Bosworth in her eight years on Laguna Beach and The Hills, she fervently wished she were someplace else. The time she had to confront Audrina Patridge in a guest house about how she wasn't pulling her weight in their friendship? Hated it. Any time she had to put on a going-out top, go to a nightclub, and listen to Lauren Conrad and Patridge "fight"? Hated it. The time she arched her eyebrows and quipped, "So you don't want us to call you Justin Bobby?" Hated it. (Well, maybe she liked that — a little.)
"For a certain period of time, being young, having access to certain things, and getting a nice paycheck from time to time was enjoyable," Bosworth tells me. "But people staring at me — I don't like it. And I didn't like not being in charge of my narrative." When asked about doing more reality television in 2018, she responded: "Fuck no. I don't want to be associated with those people."
We're sitting together for breakfast downtown, and she's several degrees less bleached blonde than she was on MTV. Bare-faced, wearing boot-cut jeans and small gold hoops, she looks like a New Yorker with a desk job — which she is. These days, Lo's spending her time selling vitamins, probiotics, and an improbably popular boric-acid suppository through Love Wellness, her women's-health company.
The brand focuses on girl-next-door supplements: glittery fiber pills (Sparkle Fiber), de-bloating pills (Bye Bye Bloat), melatonin (Sleeping Beauty), cranberry extract pills (UTI Don't Think So), and probiotics (Good Girl Probiotics). When lined up all together, they form a pretty pastel rainbow, a Instagrammable tower to female anxiety, wellness, and capitalism. But if this sounds like another case of vagina jade eggs nonsense — at worst, harmful; at best, a waste of money — there's a little more to Lo's story.
Bosworth's brand seems beloved online, with nearly every item getting rave reviews on multiple sites. One of her best-sellers, The Killer, which offers a boric acid-based solution to vaginal discomfort, has close to 6,000 five-star reviews across Target, Ulta, and Love Wellness' own sites. How did Lo Bosworth convince an entire Hills-watching generation to trust her with their most intimate physical needs?
It started after Bosworth left the cocoon of Laguna Beach and its spinoff shows and podcasts, in 2010. She was the only one of her former colleagues who tried to puncture the reality-TV bubble, and like a lot of 20-somethings, she found herself experimenting with different life paths. She worked for a production company. She went to the French Culinary Institute, training to become a professional chef. She started a blog called The LoDown. She made a YouTube channel. She moved back and forth between L.A. and NYC. She co-founded a party-in-a-box start-up, which failed.
The natural next step for a reality TV star is becoming an influencer. But, Bosworth says, laughing, "my Instagram sucks." (800,000-ish people follow her there anyway.) "I realized early on that working with brands was not a sustainable way to approach my future. There's a handful of women doing it successfully, and it's difficult to get to that point. Otherwise, it's a fruitless exercise for a couple of extra paychecks."
"You don't understand the long-term effects of participating in something like [reality TV]," she adds. "If you've done something that makes you uncomfortable and allows people to form an opinion of you, how do you escape it? You cannot."
Then in 2015, Bosworth stopped feeling like herself. She was dizzy all the time. She had panic attacks that lasted for days and days. She was depressed. "Imagine you're pouring a glass of water and you just keep pouring and pouring and it starts to overflow — that was the experience of being in my body," she said. She saw doctors, nurse practitioners, naturopaths, and ob-gyns — a different person every week. She visited drug stores looking for OTC cures. "They thought I was too stressed, I needed more rest, and should go to therapy. I did all those things." She knew stress had an effect, but she felt there was an underlying cause.
Finally, a doctor told her that she had severe vitamin deficiencies across the board. It was bad enough that when they received the results, the doctor wouldn't let her leave until she immediately got a vitamin injection. Bosworth started getting the injections once a week for two years. She also found another way to add vitamins to her life: In 2016, she sat in her living room and created a company. She bootstrapped Love Wellness and was its sole and first employee for a while, doing everything from building the website to figuring out manufacturing, logistics, insurance, and marketing.
Her entertainment background was an undeniable initial asset. "I was fortunate to be able to talk about the brand on my own channels for free for the first two years and create that initial brand success, awareness, and customer base through my own network. There is no denying that I had a leg up when it came to launching the business." By 2019, the brand was doing more than eight figures of revenue, and sales have remained healthy throughout the pandemic.
But is the hype actually real, or is it more like semi-scripted-reality-show real? The reviews for The Killer, by women plagued with recurring vaginitis (vaginal inflammation, like yeast infections or bacterial vaginosis), are almost all ecstatic. "I have no idea why this works, but it's fantastic and I love it," says one. While DIY women's-health groups online tout The Killer's main ingredient, boric acid, as a cure, some doctors worry. In 2016, Dr. Jen Gunter, the gynecologist best known for wanting to protect vaginas from Goop, told the Cut, "You can easily damage the mucus in the vagina, if you use it chronically."
Still, multiple studies conclude that it is an effective treatment that "acidifies" the vagina and "discourages the growth of organisms that lead to the infections," explains Dr. Jane Minkin, a clinical professor in the Department of Obstetrics, Gynecology, and Reproductive Sciences at the Yale University School of Medicine. According to Dr. Brandye Wilson-Manigat, an ob-gyn based in Pasadena, California, the problems come when people wrongly self-diagnose and use it to treat something that's not vaginitis. When used with a doctor's guidance, both agree that boric acid is effective. (Though they're both inclined to recommend a product called Rephresh Probiotics first.)
Nowadays, no one seems to be aware that a Laguna Beach alum is behind Love Wellness. You can find photos of the brand's wellness advisers (all doctors) on the homepage, but Lo's photo isn't on there. If you want to find it, you need to really search for it, in the site navigation at the very, very bottom where legalese is usually found, in the "About Us" section.
Although her TV job was to react to other people's drama, Bosworth doesn't worry about what any of her former castmates think about her new business. "I don't care, to be totally honest. People have been talking shit about me my entire life. But now we're in Ulta and are changing the category," she says, laughing.
"I knew from the beginning with my entertainment background that it would be important to have a wellness advisory board with practitioners who are skilled at guiding what we do," Bosworth explained. "This is not an influencer brand, it's a community. It's incredibly important to tell our brand story through our actual customers. In my opinion, putting my face on the homepage would be doing a disservice to our community."
People have also stopped recognizing her from the context of the Laguna Beach universe, she claims. "Interestingly, people now come up to me and say, 'I love your vitamins, I use the Killer.' It happened to me in the Minneapolis airport. And then I was outside my bodega, and I could tell some people recognized me. They came up to me to talk about Love Wellness."
The pandemic hasn't hurt her business. "People are prioritizing wellness even more now, because instinctually, when you deal with a pandemic, you are confronting your survival head-on," she says matter-of-factly. But it has compelled her to surrender more to the unknown. "I've always had questions like, Who am I going to be with? Can I support myself? But now, I've been forced to deal with bigger forces in the world. I've realized all these concerns I have are, to a certain degree, irrelevant. We only have what we have right now."
Her health has become even more of a priority. A few months after our interview, Bosworth posted on Instagram that she has been undergoing a nearly year-long recovery from a traumatic brain injury caused by a large door in a NYC restaurant (which she won't name, because accidents happen) falling on her head in 2019. Then she got mono. "A few years ago, I learned that talking about things that hurt you — emotionally, physically — helps you to heal and move forward. My accident was terrifying and I still experience side effects almost every day. I was a bit hesitant to talk about it because as anyone who has gone through this knows when you look okay on the outside but you aren't okay on the inside, it can be challenging to get the support you need. But I found a community from sharing this experience and I'm relieved that I did," she writes in an email.
"I moved to New York nine years ago to create a new life for myself. I always feel like I'm looking over my shoulder to some degree. But in reality, I'm the only one still hung up on being labeled  as 'that girl from that show.' Nobody else cares anymore, but when you've lived in an altered reality, getting outside of yourself can be a challenge."
Her TV stint has made her even eschew watching reality TV. Her mom and sister tried to get her into the Bachelorette franchise, but Bosworth says, "I can't invest in a story, since I intimately understand how TV shows are made."
Last week, Lo's former castmates reappeared in a breathless, glossy trailer for season two of The Hills: New Beginnings. A title card read: "They're facing their fears and embracing new challenges" as we see Heidi and Spencer together, Brody possibly hooking up with someone in the group, Kristin Cavalleri in click-clacky heels. "Can they begin again?" But beginning again means you actually need to let go of the past.
"I own and operate a business, go to work every day, and have built a normal life for myself," Bosworth tells me. "It's better than what I experienced before. I can never take back being in the public eye. I can only manage it on an ongoing basis by being the best person for myself and other people." She smiles hugely, almost giddy. "My life is so much better now."