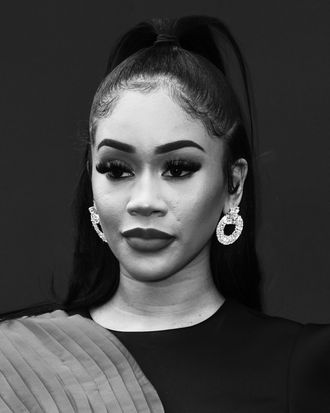 Photo: Jon Kopaloff/Getty Images
On Tuesday, footage of rappers Quavo and Saweetie having a physical altercation in an elevator surfaced. The video, obtained by TMZ, shows the former couple grappling over what appears to be an orange briefcase. Saweetie attempts to leave the elevator with the case when Quavo drags her back in, throwing her to the ground. She remains on the ground for nearly a minute, after which she appears to limp out of the elevator after Quavo. A source for TMZ claims the incident occurred in 2020 at Saweetie's North Hollywood apartment complex.
Saweetie began dating Quavo, who is one-third of Migos, in 2018. A GQ feature about their relationship last summer painted a sweet, wholesome portrait of their love. "I feel like I'm growing and I'm maturing because of him — not the music, not Saweetie, but Diamonté … I don't know how I would be as a person if I would have never met him," Saweetie told the magazine at the time.
Rumors of a split surfaced some weeks ago, and last week Saweetie confirmed them, suggesting infidelity. "I've endured too much betrayal and hurt behind the scenes for a false narrative to be circulating that degrades my character," she wrote on Twitter. "Presents don't band aid scars and the love isn't real when the intimacy is given to other women." Quavo has denied the accusations, claiming false narratives himself.
Update: On April 1, Saweetie issued a statement in response to the video, telling TMZ, "This unfortunate incident happened a year ago, while we have reconciled since then and moved past this particular disagreement, there were simply too many other hurdles to overcome in our relationship and we have both since moved on."
On April 2: Quavo responded, telling TMZ, "We had an unfortunate situation almost a year ago that we both learned and moved on from." He added, "I haven't physically abused Saweetie and have real gratitude for what we did share overall," despite the fact that the video shows him throwing Saweetie to the ground.
TMZ also reported that LAPD detectives "want to meet" with both parties involved in the incident, although an investigation has not yet been launched.
This post has been updated.