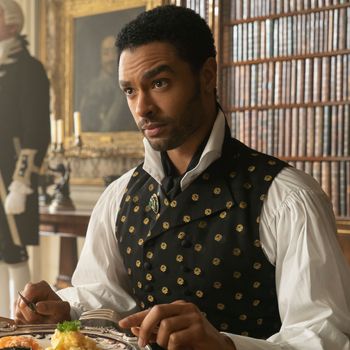 Good-bye, Hot Duke.
Photo: Liam Daniel/Netflix
With apologies to the spoon-sensualists among you, a bracing update in the Bridgerton casting drama: Apparently Hot Duke Regé-Jean Page never planned to return for the second installment of Netflix's horny period dramedy. Although news of his departure (announced Friday) stung fans like a silk glove snapped across the cheek, Page told Variety he only ever agreed to the first season. Sorry you got attached!
Page said that the show's producers pitched the Duke of Hastings role to him by explaining: "It's a one-season arc. It's going to have a beginning, middle, end — give us a year." This set-up interested him, he continued, because "it felt like a limited series. I get to come in, I get to contribute my bit and then the Bridgerton family rolls on." Page went on to explained that, in the bodice-ripper genre, "the audience knows the arc completes. They come in knowing that, so you can tie people in emotional knots because they have that reassurance that we're going to come out and we're going to have the marriage and the baby."
Bridgerton is based on a series of romance novels, each of which focuses on a different member of the eponymous family: The plot of the first book, and also the first season, primarily follows Daphne Bridgerton's relationship with Simon Basset; season two will focus on her sideburned brother, Anthony, and his marriage quest. So, yes: People who read the books may have come in expecting this. But the rest of us? Who did not do the homework and simply assumed that, given that whole married-with-kid thing, obviously the Hot Duke would now be a part of the Bridgerton family forever? Shocked, appalled, blindsided et al.
If it is any comfort, though, Page himself was always prepared for this. He confirmed to Variety that he was contracted to do the job for one season, and is content with that. He does, after all, have a lot of other projects on his plate.
"I have nothing but excitement for Bridgerton continuing to steam train off and conquer the globe," he said. "But there is also value in completing these arcs and sticking the landing."
Hm. If you say so! At least we will always have the spoon.