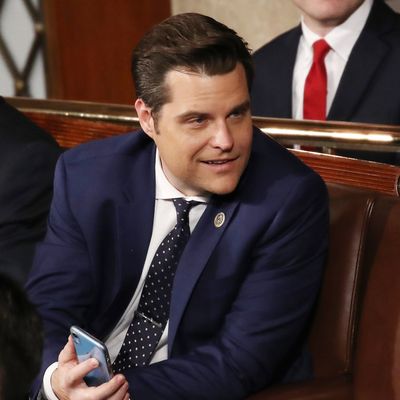 Photo: Drew Angerer/Getty Images
Is it a news item about a sitting United States congressman, or a plot from the early works of Seth Rogan? Unfortunately, it's the former — yet another twist in the Matt Gaetz news cycle that alleges even more gross and disturbing behavior from the Florida representative, famous for calling Alexandria Ocasio-Cortez "attractive" multiple times at their workplace.
Gaetz is reportedly the subject of a federal investigation into whether he and another Florida political figure provided cash or others things of value to women they had sex with after connecting with them on the website "Seeking Arrangements," according to the New York Times. The DOJ is also looking into whether multiple "encounters" Gaetz allegedly had with a 17-year-old girl two years ago violated sex-trafficking statues. In response to reports, Gaetz made bizarre claims that he was the subject of an extortion plot, and that the Justice Department was "trying to criminalize my sexual conduct, you know, when I was a single guy."
Now the creepy floodgates have opened, and reports of all kinds of piggish and wildly inappropriate misconduct are pouring in. The latest is right out of a raunchy teen comedy — per ABC, "sources said Gaetz was part of a group of young male lawmakers who created a 'game' to score their female sexual conquests, which granted 'points' for various targets such as interns, staffers or other female colleagues in the state House." It gets even worse: "One of the targets of the scoring system was a group the lawmakers had heard were 'virgins.'"
The scoring system by male Florida lawmakers was previously reported by the Miami Herald. State Senator Debbie Mayfield told the Herald in 2017 that during her freshman year as a House member, "a group of freshmen male legislators lived together and ran their rented session home 'like a frat house.'" The men reportedly "created a scoring system to rank female legislators and lobbyists … One of them was asked what he wanted to do in Tallahassee, and his answer was 'to sleep with as many women as possible,'" according to Mayfield.
Gaetz did not respond to the ABC report.