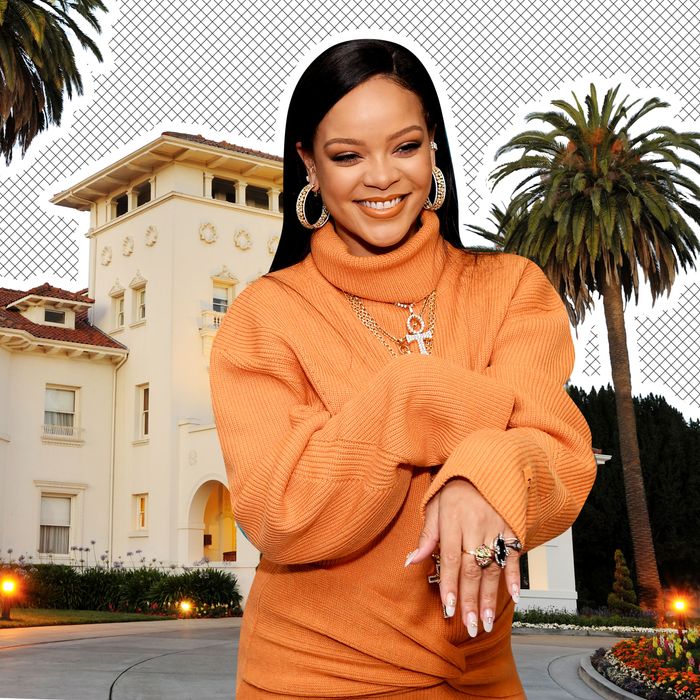 How does she do it?
Photo-Illustration: by The Cut; Photos: Getty Images
A real mixed bag, neighbors. Sometimes they're good and helpful, watering the plants when you leave town or offering a friendly morning greeting when you pass in the hall; other times, moving the sofas around at 2 a.m. and clomping around on their hooves-for-feet or peering conspicuously over your shared fence. This is a reality with which many of us must simply deal: You are (probably) a neighbor! I am (certainly) a neighbor, and an upstairs one at that — arguably the worst kind. There will always be neighbors … unless of course you are Rihanna. Rihanna is her own neighbor now.
According to The Hollywood Reporter, Rihanna has just purchased a $10 million home in Beverly Hills, right next door to the $13.8 million mansion she bought three months ago. While the Reporter rudely describes her most recent acquisition as "decidedly luxurious, if not exactly thrilling," its 3,549 square feet includes four bedrooms, 4.5 bathrooms, and a pool. Meanwhile, the flashier home she bought earlier this year has five bedrooms, seven bathrooms, another pool — just think of the pool-party possibilities — and an outdoor setup that reminds me vaguely of the villa in the most recent season of Love Island U.K. What will Rihanna do with her cumulative nine bedrooms?? Fuse them into a super-mansion, I hope.
Between these two houses, Rihanna presides over more than an acre of land in this area alone; her other luxury real estates include a Hollywood Hills estate, a home in her native Barbados, a condo in L.A.'s Wilshire Corridor, and a $5.5 million penthouse, per Dirt. So, yes, it does appear that there are potentially a few other neighbors in Rihanna's orbit. Congrats to them, and congrats to Rihanna on this latest achievement in property and privacy. Sounds like a perfect place to eat a giant hot dog in peace.