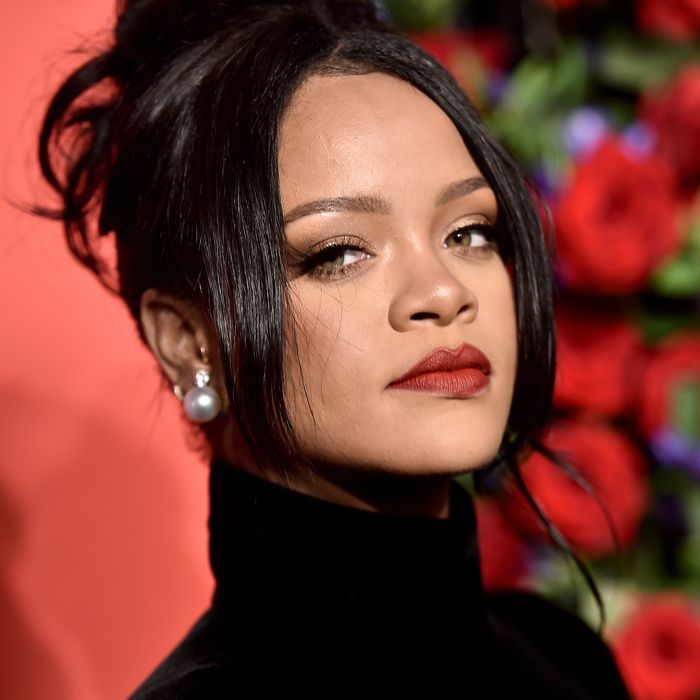 Amid a surge in hate crimes against Asian Americans, Rihanna showed solidarity by attending a Stop Asian Hate march in New York City on Sunday.
The pop star joined her longtime assistant Tina Truong, who documented the protest via Instagram. Before taking to the streets, Rihanna was photographed preparing by making a neon-green poster reading "Hate = Racism Against God!" While dancing and mingling with fellow marchers at the march, she revealed the other side of the poster, emblazoned with "#StopAsianHate" in hot pink.
The Fenty founder remained mostly undetected in a gray hoodie, a vintage leather bomber jacket, and leather pants paired with a black baseball cap, mask, and sunglasses. At one point, however, a fellow protester asked for her Instagram handle to tag her in a photo. She proceeded to type it into his phone with her knuckles, revealing her identity. "That's you?!" he asked in disbelief.
Reports of violence against Asian Americans have surged over the past year, in part because of Donald Trump's racist coronavirus rhetoric. Between March 2020 and February 2021, the nonprofit social organization Stop AAPI Hate received almost 3,800 reports of anti-Asian discrimination and violence, 68 percent of which involved Asian American women. Sunday's protest followed months of vicious attacks on elderly Asian Americans, many of which have been captured on camera and gone viral.
It wasn't the first time Rihanna has spoken out against Asian hate. Following the Atlanta spa shooting, where eight people, six of whom were Asian women, were murdered, the singer took to Instagram. "What happened yesterday in Atlanta was brutal, tragic, and is certainly not an isolated incident by any means," she wrote. "AAPI hate has been rampantly perpetuated and it's disgusting! I'm heartbroken for the Asian community and my heart is with the loved ones of those we lost yesterday. The hate must stop. #ProtectAAPILives."