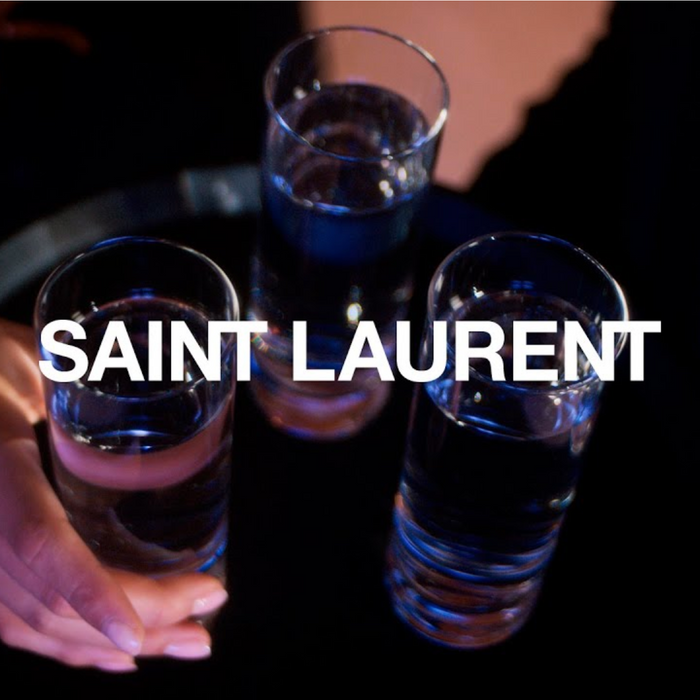 Photo: Courtesy of Saint Laurent
French people are proud of many French things: their wine, their fashion, and, apparently, their water. If you did not know this, look no further than the latest fashion film from Saint Laurent by Anthony Vaccarello, French Water.
As the film fades in, you'd think you are about to watch a Dario Argento flick. It's immediately moody and neon-lit with an eerie yet dreamy soundtrack. A waiter, played by the famously mustached Leo Reilly, stands with a platter of water while observing some guests — Chloë Sevigny, Julianne Moore, and Indya Moore — hanging out after a dinner party. They can't seem to find Charlotte Gainsbourg, whom they have been searching for for hours. But Gainsbourg was there all along, dressed like a chic rock star on a bender while teleporting around — changing into different outfits, causing a ruckus, and avoiding her friends.
This plot, however, is a red herring. The star-studded cast is merely the supporting cast for the main character: the platter of water resting in Reilly's hand. This poor waiter, who probably has to wait until all the guests leave before he can go home, graciously offers each woman water when they approach him. "It's from France," he makes sure to tell them. "I love water," they all reply.
In the end, Julianne Moore thanks the waiter for the water. "Delicious French water," Sevigny adds. Then, while exiting the building, Julianne Moore asks Indya Moore where she has been since they were looking all over for her, to which Indya cryptically responds, "French water."
There is a lot of symbolism in this film, but one thing is clear: French water is obviously superior.