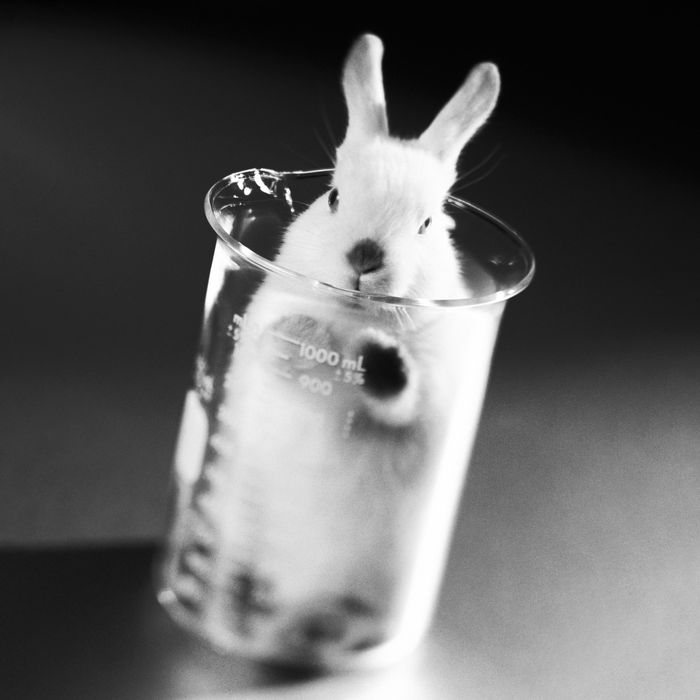 Photo: Comstock/Getty Images
Sadly, cosmetic testing on our furry friends is still very much a thing in 2021, which is why the celebrities are now joining forces to raise awareness and help save bunnies worldwide.
Taika Waititi, Ricky Gervais, Zac Efron, Olivia Munn, Pom Klementieff, and Tricia Helfer have lended their voices to the Humane Society International's new stop-motion short film, "Save Ralph." Released today, it shines a disturbing light on the suffering animals endure for cosmetic testing and calls for a global ban of the practice once and for all.
To spur action, the documentary-style short takes you through the harrowing daily routine of a tester rabbit named Ralph (voiced by Waititi). As Ralph and his one good eye, one good ear, and chemically burned back clock in for another day at a toxicology lab, we see him greet his fellow neck-clamped co-workers before getting his eyeball jabbed with ingredients so a human somewhere can have a lipstick to eventually misplace at the bottom of a crusty makeup bag.
Although cosmetic testing on animals is banned in 40 countries, including India, Taiwan, New Zealand, South Korea, Australia, and every country in the European Union, it's still legal in most of the world, and that's where the #SaveRalph campaign hopes to reach. In the U.S., the practice is only banned in California, Illinois, Nevada, and Virginia, with Maryland set to be the fifth state to follow suit. New Jersey, Rhode Island, Hawaii, Oregon, and New York are currently considering similar bills, while the Humane Cosmetics Act, a federal bill that would not only end animal testing for both beauty products and ingredients, but prohibit the import of cosmetics tested on animals elsewhere in the world, is anticipated to be reintroduced in Congress this year.
You can officially meet Ralph below, and help save him by contacting your legislator here about the bill. The bunnies thank you in advance.