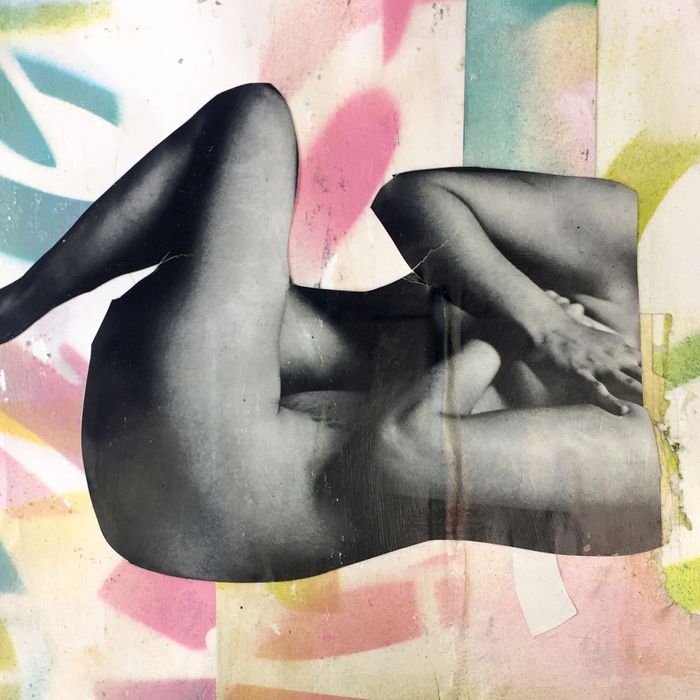 Photo-Illustration: James Gallagher
This week, a woman getting over a relationship by swiping, dating, and getting a hotel room on the beach: 28, single, Hawaii.
DAY ONE 
7:30 a.m. I'm in the San Diego airport. Somehow I convinced my graduate program back in the Midwest to give me money to do research in Hawaii for two months. I'm feeling unbearably lonely. The pandemic, and then grad school, seem to have distanced me from all of my friends. Now, about to fly to a remote island where I know nobody, I'm painfully aware of how alone I am. I open up my preferred dating app and start swiping.
10:00 a.m. On the plane. I feel malnourished from eating only airport food for 24 hours. However, looking over the endless ocean makes me feel hopeful. After spending a blissful, romantically exciting summer on the Big Island during college, I have always dreamed of moving to Hawaii for good. However, I've only been able to manage a couple short trips, until now. I take a selfie in my mask.
3:30 p.m. Touchdown in Honolulu. It looks hot and industrial out there.
4:15 p.m. In my Airbnb. I change into a sundress and examine myself in the mirror. I look pale and fleshy from all the winter months back home. I walk to a supermarket nearby, feeling exposed and vulnerable.
10:00 p.m. In bed, on the dating app. There are lots of beautiful people here to match with.
I broke up with my girlfriend over the summer, when the pandemic had me depressed and triggered my escape impulse. I left my life in the Pacific Northwest to move inland, trying to outrun my sadness. I loved my girlfriend very much; we had been close friends for years, united by our mutual obsession with pursuing a huge variety of men. One day I realized I was in love with her, and we — two mostly straight women — added monogamous sex into our already deeply intertwined friendship. Being with her was earth-shattering, and so comforting. But ultimately, I felt like I needed to escape.
Graduate school was my ticket out, but it was incredibly isolating and lonely. I coped by going on walks, finding comfort in small things like the changing leaves. Here in Hawaii though, I'm in the land of sensory overload. I choose a match, Adam, and ask if he wants to hang out tomorrow.
DAY TWO 
6:50 a.m. Before I get out of bed I masturbate to a guy I recently matched with. I can't wait to start meeting up with people here.
12:30 p.m. Meetings all afternoon with my cohort and advisers in my grad program. I feel self-conscious about being in Hawaii, so I'm using a background filter on Zoom. I'm supposed to be doing research, talking to people who live here. I really should start emailing people … after I get a little more settled.
7:00 p.m. Adam invites me over to his place to watch a TV show called Alone in which ten contestants try to survive 100 days in the Arctic wilderness. It's very entertaining to watch the survivalists catch trout and build shelters out of trees. Adam's from New York, and has handsome wrinkles around the creases of his eyes. As we talk, we realize we have a lot in common. We both left dissolved relationships on the mainland and convinced our superiors to let us work remotely from Hawaii. It's comforting to meet someone else who is in the same lonely, slightly heartbroken state of mind, escaping to the beautiful Technicolor world of Honolulu.
9:30 p.m. As we sit on the couch, Adam casually presses one side of his bare foot to mine. So much is communicated in that simple touch. I accept the wordless invitation. I haven't had sex in six months, and I haven't seen a penis in two years. I'm nervous, but he seems very kind and safe.
I follow him to his bedroom. I love the way his dick looks, and we give each other oral for a long time. It's been so long since I had sex with a man that I feel like I'm out of practice. When I tell Adam this, he says, "No worries," as if I apologized for something. What I meant is that I feel like a teenager again; it's nice.
DAY THREE
5:50 a.m. Adam wakes up for a Zoom meeting on the East Coast. I luxuriate in bed, enjoying the post-sex morning feeling.
7:45 a.m. Adam drops me off at my place, and I spend the day trying to do work but end up lying in bed, reliving the sex of the night before. I masturbate thinking about him at some point.
5:30 p.m. I am being useless at planning out my research. Instead I'm texting Justin, a handsome med student from the dating app. I ask him what he's up to tonight and he says, "Hanging with you, want to join?" I appreciate his casual spontaneity and agree to meet.
6:00 p.m. We find each other at the beach. After a quick swim, we walk down the main strip by the beach and eat at an udon place. While waiting in line, Justin tells me that he started this thing called "NoFap," which is like an online program for curing porn addiction.
As Justin eats his soup, I size him up. He is fit and wide-shouldered, young but has some gray hair. He says that NoFap has completely turned his life around, and I am super intrigued.
9:00 p.m. Justin and I part ways. I thought he was hot and loved asking a thousand questions about his NoFap program, but I tell him I want to be friends.
DAY FOUR 
8:00 a.m. I send a few more messages this morning, trying to manage my growing list of contacts here.
3:00 p.m. Adam invites me surfing.
4:00 p.m. Wow there are SO many gorgeous women out here surfing. They are killing it. I really want one of those cheeky swimsuits.
6:30 After Adam and I eat Korean BBQ standing on the sidewalk, I catch a bus home. I'm exhausted but my new favorite dating-app match, Carson, is actively messaging me. I send him my number and ask if he wants to hang out tonight.
9 p.m. A tall, beautiful guy picks me up at the gas station outside my Airbnb. He takes me to a sparse, sad apartment in the middle of the city. "Can you tell guys live here?" he asks me, and I think, Yes, I really can. The window in his room is completely boarded up, and a massive TV overlooks his bed. He gives me a hard seltzer and I sit down. I realize partway through our conversation (he's playing house music from his TV) that I really dislike him; he's coming off as a self-satisfied and emotionless cool guy. The upside of this is that I can now sleep with him guilt-free.
11:00 p.m. He puts on a Netflix cartoon and throws me down on the bed. There's something about the way I dislike him that makes me super wet. We are soon naked, but there are no condoms. I tell him we can't have sex, and he's an asshole about it; after trying to negotiate with me for several minutes, he goes to the bathroom for a long time. I figure he is getting himself off in there. Good.
He gets back in bed, and against my better judgement I spend the night there, sleeping restlessly. In the morning, Carson will good-naturedly drop me off at my Airbnb, but neither of us will reach out to each other again.
DAY FIVE 
10:00 a.m. More Zoom meetings. My adviser wants to know how it's going, and I slightly exaggerate how much I have been reaching out to scholars here. I had to complete several elaborate safety forms to get approval from the university to use their funds to travel during the pandemic, but it was worth it. I am lucky to have such supportive advisers.
3:00 p.m. I text Adam to see if he wants to hang out. I missed him last night.
8:00 p.m. I go over to Adam's. We watch a couple episodes of Alone and hook up. I don't come, but it's short, sweet, and I can focus on our conversation. After my run-in with Carson I feel extra appreciative of Adam.
11:00 p.m. I take the liberty to open up one of Adam's bedroom windows so I can feel the night breeze. As I get back into bed with him he rolls over and puts his leg over mine. I feel like I am in a dreamworld that I could not have imagined a week ago. In fact, I feel like a starving person sitting down at a buffet, unable to stop indulging.
DAY SIX 
6:55 a.m. I have a Zoom meeting with some collaborators in my program. I have bedhead and it's sort of thrilling to sit on the couch with no pants on and have a professional conversation.
8:00 p.m. Adam drops me off at my place, even though I could have taken the bus. We never kiss or show physical affection outside the bedroom. I like it: I keep thinking of him as "my pal."
4:00 p.m. Justin the med student texts about hanging out tonight. I tell him I'm going surfing; I'll meet him by the beach at sunset.
6:15 p.m. Paddling in from surfing, feeling very vital and alive. If only we could live in a world when time was still told by the arrival and departure of the sun.
7:00 p.m. We meet up on the meandering sidewalks by the beach parks. He is looking clean and well-dressed, in an understated, sporty, med-student kind of way. We hug.
He just got off another date (!!!) with a girl who was young and flying solo here in Hawaii. He tells me the other girl smelled nice and looked like "a princess," so I'm suddenly a little self-conscious of my post-surf look. I apologize for looking "like a drowned rat." He says I look great. I'm having a lot of fun. Justin and I can be open with each other.
9:00 p.m. After eating fish tacos at a hole-in-the-wall place, we are walking around beneath the beautiful trees and Justin says, "What should we do now?" I jokingly say, "We could get a hotel room!" But before I know it, he's pulled out his phone and booked a room at one of the hotels towering around us.
We check in. Justin doesn't know my last name (nor I his) so he has me register myself at the front desk. I like that we look like a respectable couple (except for my wet swim suit hanging off the strap of my backpack). Feeling like we're doing something risky and a little wrong, we get into the elevator.
The room is small and dark. We could be in any low-end hotel in the world. I open up the windows and curtains and take a shower.
Justin has a much different sexual style than Adam. Much more aggressive! There are certain images I won't be able to get out of my head for days.
10:30 p.m. Justin has class early tomorrow, so he apologetically leaves. I tell him it's fine, I will enjoy the hotel room to myself. As I lie down to sleep, I see a text from Adam. "My bed smells like you :)." I reply, "I hope that's a good thing!," knowing that I am side-stepping his romantic intent.
DAY SEVEN 
7:30 a.m. I leave the hotel room with a sinking feeling of guilt. Time to buckle down and really get started on my research. Luckily the sunlight and the birds outside give me a slightly more optimistic view on life, and by the time I'm back at my Airbnb, the night before feels like a grand adventure.
5:00 p.m. A satisfying day of researching and emailing. If I'm going to justify my self-serving trip to Hawaii, my work is going to have to be very hardcore. I sign up for a free-diving class for some "embodied research" of the ocean. Over the next two months I plan to (ethically, and safely) continue pursuing my adventures. After all, how many times in life can you live so anonymously, without any friends, roommates, advisers, or partners to report to?
7:00 p.m. I sit on the lanai of my Airbnb and watch the sun set. I am looking forward to a night in.
Want to submit a sex diary? Email sexdiaries@nymag.com and tell us a little about yourself (and read our submission terms here.)