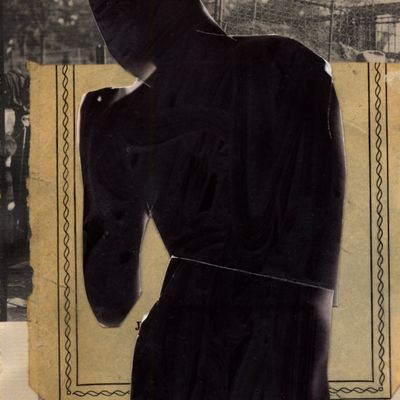 Photo-Illustration: James Gallagher
This week, a woman who briefly sees her on-again, off-again lover after months of silence: 31, single, New York. 
DAY ONE
9:30 a.m. For the last 13 months, I have been involved in an on-again, off-again situation with F. We met on FetLife, when I was in search of an older man and desperate to escape the news about COVID. In my inbox, I found a long, dirty, smart email from a person who seemed perfect for me. He was older, into kink, and was in an open marriage. Aside from the open marriage, he seemed perfect. (I'm typically "monogamous.") The wide age gap didn't bother me; I'd had similar situations in the past, and he was exactly what I wanted. Now over a year later, our relationship — if I can even call it one — is complicated, frustrating, and driven by sex.
F and I technically stopped talking in December. However, the state of our situation changes as quickly as the weather. Like a slow clock, after a few months of no contact, he always comes back around. Part of me finds it alluring but ultimately, his holding pattern is always upsetting.
10:30 a.m. There it is — the email I have been waiting for. My heart pounds and I can feel the pit in my stomach. I open it. "Hello baby, here I am. It's been some time and I wanted to reach out. How are you?" He tells me he just had his new baby and is not sleeping because of it and asks me to respect his new life.
12 p.m. I am still in bed and am desperately trying to forget what I read. I put on "Fresh Air" on public radio and try to get some work done.
2 p.m. I reread the email again, searching for some hidden message within it. I have so many questions: Is he gloating? Why would I care if he had the baby? He knows I don't want kids, plus we stopped talking months ago.
7 p.m. In a wine-induced state, I am furiously swiping on a dating app. I want to match with anyone to make me forget what I have done over the last year. There are so many good-looking people on here and as I swipe, I imagine what my relationship with them would be like. Surely not every 50-plus-year-old man in NYC is in an open marriage? There has to be someone out there for me.
12 a.m. I keep rereading the email. More questions fill my head — do I even want to engage with him again? Why is he reaching out? What does it all mean? I finally fall asleep.
DAY TWO
10 a.m. Wake up feeling energized. I have my day planned and it includes a therapy session in which I intend to discuss the email — I've decided to not reply.
10:30 a.m. I drink my coffee and read the email for the 40th time. It's just there in my inbox, taunting me.
12 p.m. Fully caffeinated and with a looming deadline, I go back to my room to write. I take out my favorite vibrator and masturbate thinking about F.
12:30 p.m. I masturbate a second time and reread his email. In my post-orgasm state, I shoot off a quick email to him. It is very cool and mentions none of what he has said. I briefly talk about my new writing gig and how great I am, hoping he doesn't see through my attempt to be strong. I hit send and try to forget about what I just did.
12:55 p.m. I check my email. He's already responded and I can feel my heart racing. He asks more about how I am. I make a joke about my pussy and know that is just enough to get him going.
1:10 p.m. F is lighting up my inbox like a Christmas tree. I know he still has feelings for me and his dirty messages prove it. We email like this for the next several hours between his work calls and Zoom meetings. I am astounded at how he is able to keep up with it all given his job and with a wife and new baby at home.
4:45 p.m. In therapy, I bring up the email. I explain the context and the new baby. I feel too guilty to tell her that I emailed back and am back in it.
6 p.m. I try to put my guilt aside and turn on my vibrator and reread my favorite dirty email from that afternoon from F. I come hard and snap a picture of how wet I am and send it off.
F responds with how hard it made him and he's sent a picture to show me. He surprises me when he says he wants me to download the messaging app Telegram. I do so immediately and he sends me a voice memo. I listen to the message and feel myself getting wet: "Hello, how I've missed you, you dirty filthy little slut." We go back and forth like this for a while.
10 p.m. I am ecstatic, overwhelmed, and tired from the groundswell of messages from F. I make myself come and go to bed.
DAY THREE
8:30 a.m. I wake up to a good morning message from F. It's thoughtful and it reminds of why I like him.
10 a.m: We're going at it. His messages are always exactly what I want and sexting with him is always so intuitive and hot. It's so hard to find someone that shares the same kinks and can talk about art the way he does. I decide to be bold and suggest meeting for lunch.
2 p.m. I know he's gotten my message. I am impatient and try to busy myself with work.
2:30 p.m. Still no response. I think I played it all wrong with the lunch suggestion.
3:40 p.m. F responds. He wants to get lunch. I am floored. I don't know what to do, but the idea excites me more than I thought it would. I tell him I'm horny and we start sexting.
4:15 p.m. I am in bed edging myself as we text back and forth. We haven't spoken on the phone in months and I am feeling brave after my lunch suggestion. I tell him I want him to phone-fuck me.
5 p.m. He calls. We talk like no real time has passed. This reassures me and we chat about this and that. I take out my toy and start using it on myself. I don't tell him what I am doing and he quickly picks up on what is happening. He starts to talk dirty and I rub faster; I come and let him hear me. He just listens and tells me how bad I am and how much he wants me. He is sitting somewhere outside and I can hear birds chirping in the background. I try to imagine his house and how he is able to do this in the middle of a workday.
10 p.m. I fall asleep watching reruns of Parenthood on NBC.
DAY FOUR
7:30 a.m. F texts good morning and follows it up with a dirty message. I start to play with myself but decide to hold off.
10 a.m. We are back on Telegram and every time I think he can't say something dirtier, he ups the ante. I go for a walk and get coffee.
4:30 p.m. F calls and we have phone sex again. I get off really hard but it's a little more rushed than yesterday. I like how filthy he is on the phone and only gets me off and not himself.
7:30 p.m. I am making dinner and pour a glass of wine and message him and tell him I'm thinking about how hard he made me come.
9 p.m. F says he wants to meet and tells me to pick a place in Brooklyn to meet and gives me a time he has free. I am panicked but say okay and try to keep it moving.
DAY FIVE
8 a.m. He texts good morning. We message for a bit, then I get up for the day.
12 p.m. I leave to go meet L for brunch for the first time in months. It's a gorgeous day out. We order cocktails outside and I get her up to speed on the situation with F. I let her listen to some of the voice notes. "Goddamn," she says.
1:45 p.m. I go to use the bathroom at the restaurant and take a picture of a bench next to the toilet. I send it to F and say, "I wish you were here to bend me over on it." He responds with a selfie of him in another restaurant bathroom and says he wishes I was there so he could fuck me right now.
6 p.m. I am home and totally buzzed from the day drinking. I want to text F but know he's busy. I am really good about respecting when he has time to talk, but at this moment I am pissed at how complicated his life is. And pissed at myself for being enticed back into the station. Nothing ever changes.
9 p.m. Fall asleep early.
DAY SIX
8:00 a.m. Wake up to a message from F. I am mildly hung-over and need water and my vitamins. He wants to confirm our lunch plans for today. I feel a sense of dread and wait to text back for a bit.
8:45 a.m. I text F and ask if he is really serious about lunch and play it cool for a bit. I gave him the name of the place the day before and he asks for the address. I get annoyed and tell him to Google it.
11:15 a.m. Take a shower and pick out an outfit. I am nervous but know I look good.
12:30 p.m. I get to the restaurant and find a good spot to sit outside. There are various outdoor spaces, and it's not busy for lunch on a weekday.
12:57 p.m. F arrives. I recognize him instantly. He's taller than I remember, and I'm mad at myself for thinking how handsome he looks. He says I look great.
1:40 p.m. After a while, he's moved over next to me and we are all over each other. I know it's bad to be making out with him and in general because of COVID, but we've both been vaccinated and I have been wanting this for months. He's kissing my neck and practically groping me in public, but there's no one around and I don't care.
2:40 p.m. It's almost time for F to leave and I try not to think about it. He gets up to use the bathroom and I know what he really means. I wait a few minutes and find him in the larger stall with the door open. He immediately pushes me against the wall and kisses my neck and lips. He holds my right hand above my head and I tell him to slip my panties to the side and touch me. We stay like this for while and I moan into his ear. He unzips his pants, rubs his dick, then rubs me again then he makes me come. Then he kisses me and leaves. I stand there bewildered. I hear him wash his hands and I wait a few minutes to make sure he's gone. I feel high and walk to the subway.
3:30 p.m. I feel like I am in a haze. I try to concentrate on the book I am reading while I ride the train and promise myself I won't message him first.
4:30: F messages and says, "Oh my I am home and distracted and had so much fun, did you?" I try to downplay it and say, "What's your takeaway?" when in reality I want to know what this means and where he stands with me but I know I can't ask that question.
9:30 p.m. Go to bed.
1 a.m. I wake up and see that F messaged me at 11:30 p.m. to say good night. That's nice, I think.
DAY SEVEN
9 a.m. I wake up knowing something has shifted. There's no morning message from F and I try to ignore it.
1 p.m. F sends a long email telling me that yesterday was exhilarating and that he wants to see me but now isn't the time. I screenshot and delete it instantly. I promised myself I wouldn't get sucked in again.
3 p.m. I'm gutted but trying not to message friends because they all warned me this would happen and I knew they were right.
5 p.m. Still haven't responded to his message. I take an edible.
8 p.m. Open a bottle of wine, rent my favorite old movie (Love in the Afternoon), lick my wounds, and try to forget what happened.
10 p.m. I take a shower and get ready for bed. I also think about how good it is that I haven't responded and how I plan not to.
11 p.m. I read the screenshot of the email, get even angrier, and fall asleep.
Want to submit a sex diary? Email sexdiaries@nymag.com and tell us a little about yourself (and read our submission terms here.)