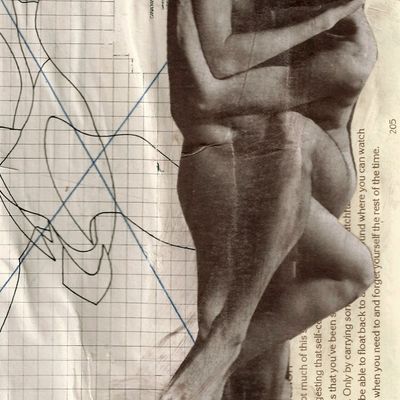 Photo-Illustration: James Gallagher
This week, a newly divorced woman who can't stop sexting her lover in the military: 29, in a relationship, the South.
DAY ONE
4 a.m. I wake up to a call from Noah. He's deployed but can't tell me where. All I know is that he's eight hours ahead of me. His voice comforts me even at these hours of the morning. He tells me he misses me, my touch, my lips, my skin. As soon as I hear him say that, my stomach drops and I feel like I'm in a haze.
10 a.m. Even though I'm off today, I still have to be productive, otherwise I'll feel guilty for not doing anything. I go to the gym, lift, run. There are so many good looking people at the gym — some married, some not.
It's still weird being single, not wearing my wedding ring. My marriage was very toxic. My ex was unfaithful a few times. I forgave him, but eventually I cracked. I was also talking to others while married, mostly looking for validation and to defeat loneliness at the time. The last few years were better, but the relationship was so damaged that it ended up not working out anymore. We had grown apart and I decided to end it for good last August.
11 a.m. I go grocery shopping. I don't buy many things since it's only me at home this week. My son is with my ex. My friend Vee texts that she's coming over tomorrow to study together for a promotion test we have next month. I'm also in the military; that's how Noah and I met. I work an admin job at my base.
12 p.m. I get home from the gym, hop in the shower, and debate with myself if I should send a picture to Noah while I'm all lathered up in soap. I don't. I finish showering and prepare myself something to eat.
2 p.m. I clean the house and finally get to sit down. I turn on the TV just to have background noise. I text Noah and tell him I miss him very much; he replies to say the same. Every time he says that I feel a rush of emotion. It's more than infatuation but not love, yet. Or is it? I honestly can't tell.
9 p.m. Noah texts me that he's really horny. I immediately get soaked, again. I ask him what he wants to do to me, and he sends me a long, detailed text about how he'll tie me up, blindfold me, and gently fuck me until I can't take it anymore and come all over his dick. I want to faint at the thought of him tying me up and blindfolding me. He drives me crazy.
10 p.m. I text Noah and tell him to call me whenever he wakes up. He works in the evenings so he normally wakes up around 2 p.m. his time. I don't care what time it is here, I just want to hear his voice. I can't wait for him to come back next month.
DAY TWO
4:40 a.m. I wake up to another call from Noah. I love his voice, so deep, so sweet. He calls me baby, and I melt in an instant.
3 p.m. Vee comes over with a million note cards. We have days of work ahead of us, but I don't mind. Maybe it'll take Noah out of my mind for a second. I didn't realize how much my mind always goes back to him until I started writing. When my son isn't home, Noah occupies 85 percent of my daily thoughts.
I tell Vee almost everything about Noah. She asks me if I'm gonna have sex with him when he gets back … I want to tell her we already had sex, a lot of it. But I resist the urge. I say I'll have to think about it. Little does she know I will fuck his brains out for days when he's back. I don't want people to know everything yet because of fear of judgment … it feels so "soon." I'm pretty sure most of my friends or acquaintances have an idea that I am dating him though.
9:30 p.m. I put on some sexy music and lay down. He always has the best timing when he texts me. He asks what I'm doing, as if he already knew. I tell him. He asks me to take a video. I do. I finger myself and record it for him. I send it and hope he plays with himself thinking of me.
11 p.m. I'm staring at the pictures Noah has sent me over the past months. He's so sexy — he reminds me of a lumberjack. So manly, so strong. I reread the sexts he sent me over the last weeks. I rub one out to the thought of him picking me up in the air and fucking me hard and good against the wall.
DAY THREE
5:05 a.m. My alarm goes off. I hate waking up this early, but I have to be at work at six. I check my phone and see three messages from Noah. One of them is a picture. His body is amazing. The rest of his messages are sweet.
6 a.m. I arrive at work, sleepy and wishing I wasn't there. It makes me feel better to know I get off at 2 p.m.
9 a.m. I'm starting to get bored. My mind begins to go wild again. Boredom is my worst enemy right now.
2:30 p.m. Back at home, I let my two small dogs out in the yard. They sit on the grass and soak up some rays of sun. I go upstairs and lay down. I want to close my eyes and fall asleep.
4 p.m. I wake up to the sound of my phone pinging. A message from Noah. I've missed him. My nap was amazing and I am full of energy now. His message says he's laying down and he'll probably go to bed in a couple of hours. I wish he was back already. I want to hold him.
7 p.m. I'm going to see my son tomorrow for dinner. I miss him. He's such a sweet and smart boy. It hurts me to think this is going to be our life from now on. I get to have him one week and the next he's gone. It comforts me to know we live five minutes away from each other. At least that's something to be thankful for.
DAY FOUR
11 a.m. Noah has been texting me nonstop this morning. I love it. It's mostly sex driven; we have so much anticipation built up I can barely get through the day. I want to tell him I get wet every time I think about him, but I don't. I feel like a teenager!
2 p.m. My ex is coming for dinner with our son. I'm happy and can't wait! I'm making them dinner and we're hanging out for a while.
6 p.m. We finish eating. Our son goes upstairs to play video games online with his friends. My ex and I are left downstairs, alone. We still get along. He asks me for a hug and tells me he misses my hugs. We hug for a few seconds, but I pull away. As much as I want to continue holding him, I don't want to give him the wrong idea or the hope that we will get back together. I love him, but I don't want to be with him in a relationship. It's time for both of us to move on.
12:30 p.m. Why am I still awake? I check my phone, Noah texted me good night. He's so cute. I'm horny and look at some porn. It's been weeks since I last did this. I search some kind of orgy amateur film. I play with myself watching it and then start imagining Noah's rock-hard body; I come in an instant.
DAY FIVE
12 p.m. I get a text from G, an old high-school acquaintance. A couple of years ago he confessed to me that he had always had a crush on me. He's pretty handsome, but I was "happily" married then. Now that I'm single, I could have a little fun with him. But I think of Noah and remember we're exclusive even if we aren't in an official relationship. I'm somewhat disappointed, but I don't want to sabotage it.
6 p.m. The house feels so big, but I don't mind it. My dogs are the only ones keeping me company. I like owning my time. I often say I won't ever have another marriage or even a relationship, but then Noah texts me and I'm not so sure.
9:40 p.m. I don't want to have any more kids. I'm quite happy with my only son. The financial and emotional stress that comes with having children gives me anxiety. I was sure about this until Noah came along. He told me he would like to have kids one day and now I am wondering if I do too … with him. He clouds my judgement. I feel like I'm losing control; my feelings for him are getting dangerously strong. I need to pump the breaks before I make him my future mistake.
DAY SIX
5:30 a.m. Wake up late this morning. I sit on my bed for a few minutes imagining Noah deep in me. My alarm goes off again.
7 a.m. I get a text from my ex; I dread reading it. He always tells me something sweet or sends me memories or pictures of a year or two ago. I read the text "Hey, I miss you. I hope you're having a good day at work." I feel bad but I don't answer.
2 p.m. Working out. I snap a picture of myself in my workout clothes to send it to Noah. He responds almost immediately with a drooling smiley and he sends me one of himself lying down, no shirt. Goddamn. "I can't wait to fuck you," I text him. He sends me another picture of his hard dick.
3 p.m. My ex calls me when I'm on my way home. He asks if we can do family dinner again tonight. We're still trying to give our son a sense of normalcy and show him we still get along and that we're always there for him. I'm afraid he's going to be confused about why mom and dad still hang out but don't live together. But we decide to do it and make spaghetti.
7:30 p.m. I scarf my food down; I hadn't eaten since ten this morning. My ex and I talk for a bit, he's talking to some girl, I feel happy for him. I hope it works out. I constantly check my phone for new messages from Noah; nothing yet because he's on some special mission. I miss him so much already.
DAY SEVEN 
7 a.m. I wake up slowly. My bed feels so big; I fantasize about being able to share it with Noah. Maybe one day I'll marry him.
9:40 a.m. I call up one of my friends to hang out. She wants to do dinner at her place, I immediately agree. She's vegan and her cooking skills are amazing.
12:00 p.m. My phone goes off and I immediately grab it. Noah's got me wrapped around his finger.
We talk for over an hour. He seems tired, but doesn't give me details about what he's been up to. He asks me for a sexy video or picture. Of course I say yes, and as soon as we hang up, I rub one out and record it for him. He's going to come to it, I know it.
4:00 p.m. I get to my friend's house. I help her finish making dinner and we feast! My friend asks me about Noah, she's one of the few people who know I'm with him. She's supportive and gives me encouraging words. It feels good to be able to talk to someone about him. I feel like he's my best biggest secret.
8:00 p.m. Noah tells me he played with himself and came to my video. Just like I thought. I love hearing him say that. I want to record us fucking when he gets back in a few weeks. It's going to be wild.
Want to submit a sex diary? Email sexdiaries@nymag.com and tell us a little about yourself (and read our submission terms here.)