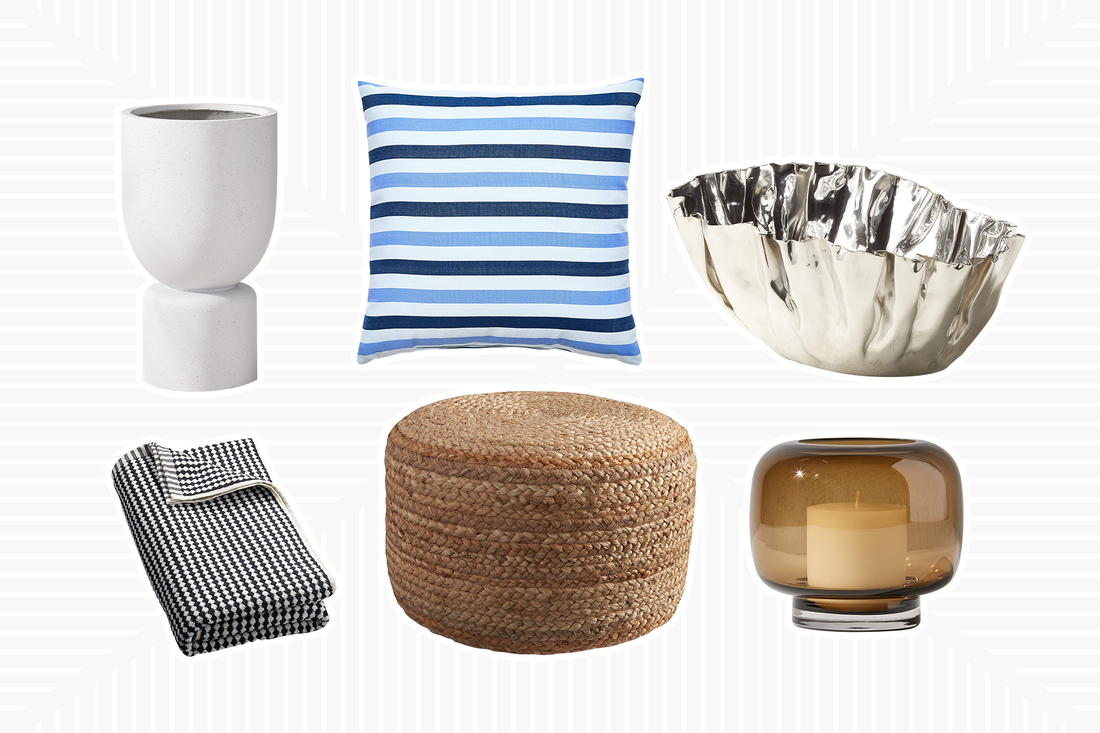 Photo-Illustration: Ashlie Juarbe
If you're at all up-to-date with Fashion Things, then you've most likely spotted Chloe King's neat blonde tresses and playful patterns on social media and in street style roundups. With a penchant for bright hues and blouse adornments (like ruffles, fringe, and glossy fabrics), King has secured her place in the industry with stints at luxury retailers, ready-to-wear brands, and now thrives as a digital fashion lead at a high-end department store — continuously making sense of an ever-changing landscape.
For King, the "best home never feels too perfect, and that goes for any outdoor space, too!" To find those super-special outdoor pieces, Chloe set her eyes on CB2's range of contemporary patio furniture. We asked her to probe the site for her most-coveted buys, and she brought us an eye-popping assortment of funky, colorful, and sculptural statement pieces from the outdoor collection. Read on for one very stylish woman's guide to the CB2 picks she'd want to make her New York stoop spring-ready.
"An easy way to add charm is with mismatched chairs. I love the complementary colors and contrasting shapes available with the Sophia chair. What happy colors!"
"Space in NYC (and Brooklyn, where I live) is still minimal, so when you want extra seating, this raffia cushion is a great idea. I love the natural texture. When you're not using it for entertaining, stack some books and magazines on top. Tada! Now it's a little side table."
"Anyone who knows me knows I'm a total print freak, and normally there are at least four (different prints) on my body. That bleeds into my interior space, too. I will be popping these two-tone striped pillows on [all my] outdoor seating to make them more comfortable."
"Stemless champagne flutes are the practical choice for outdoor hanging. Pack these for a park, beach, or wherever your socially distanced activities take you. I also love these sleek martini glasses, which I'd use for spicy margaritas. Because they're the best."
"This sculptural marble-like table looks serious enough for a broody apartment but perfectly sturdy for an outdoor space. I think contrast and unexpected combinations keep a space (or outfit!) interesting."
"One of my friends is an interior designer, and he's taught me that lighting is everything. I would use these amber glass votives to create soft, warm, and flattering light — it's been a long year."
"A sculptural planter that would look great with or without a plant."
"Warmer weather means being able to see friends and family a little easier, and that's a reason to celebrate. A totally over-the-top champagne bucket feels oddly necessary! I love the wavy hammered steel — it evokes some sort of fabulous sea-creature vibes."
"I've tried to make small changes to my consumption habits, and switching to cloth napkins is a must."
"Bring this woven jacquard towel to the park, or leave it in your outdoor area for when the temperatures dip at night. For me, a graphic black/white print is more or less neutral."
This advertising content was produced in collaboration between Vox Creative and our sponsor, without involvement from Vox Media editorial staff.