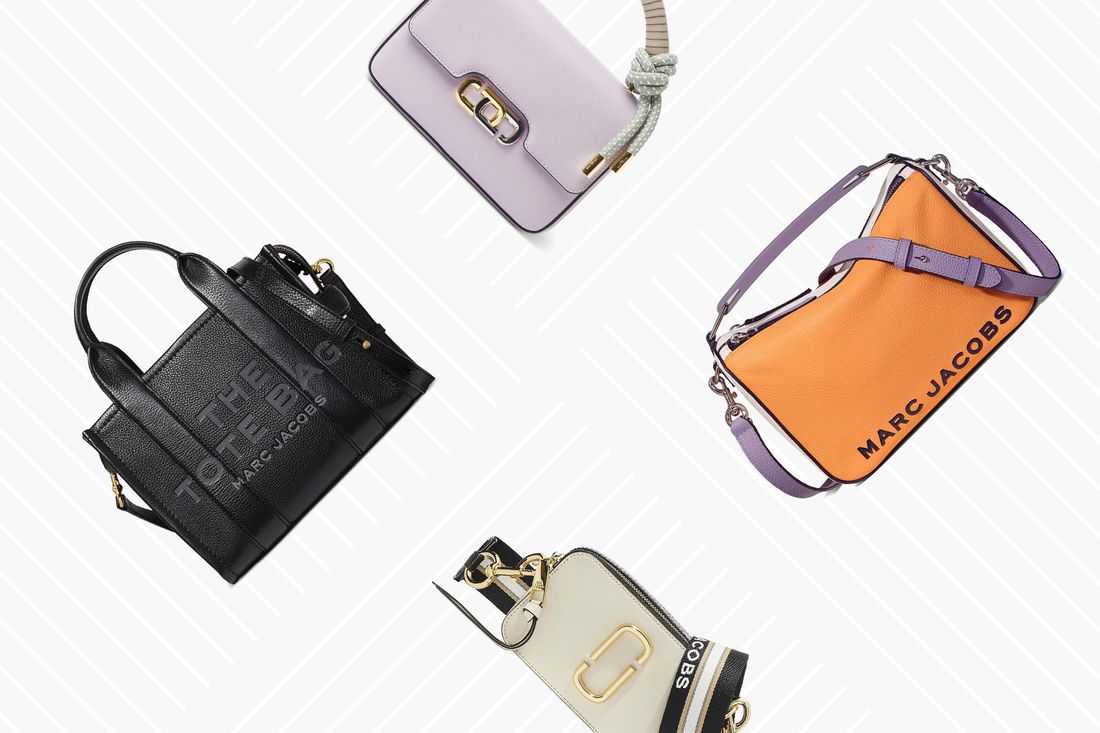 Photo-Illustration: Ashlie Juarbe
After months of padding around in the same unsightly winter gear, purchasing a new handbag for the new season (and our newfound sense of hope) can feel liberating — especially for those of us who've been tossing the same overused totes over our shoulders for the past year. It's time for a seasonal shift, and THE Marc Jacobs handbags offer a fresh start. From THE Tote Bag to THE J Link and THE Snapshot, these four classic-with-a-twist designs (available in sleek neutrals or springy pastels) provide an emerge-from-hibernation boost. Gird your loins and wallets, and shop them below.
THE Totes
If you, like many, are obsessed with the canvas version of this tote bag — those cool-girl carry-alls embellished with three recognizable words — you'll be over-enthused to know there are different varieties. From jacquard styles to leather minis, these bags are just small enough to be unobtrusive yet big enough to store all your daily essentials. Plus, they all have zipper closures that are perfect for face masks, lip gloss, sunglasses, and more. Think of it as the ideal bag for an afternoon of leisurely Brooklyn gallivanting.
THE J Link
If you're the cosmopolitan type who never has a hair out of place (or, if you're striving to be this ungodly level of polished in 2021), then look to THE J Link — a refreshed-but-classic shoulder bag with a tinge of edge. Once you check out the bungee cord knot detail, you'll discover striking mixed metals and the signature double J. Imagine slinking around in a silk slip, but instead of high-heeled pumps, you've opted for lug-soled combat boots and a bag that says, "I'm not that innocent."
THE Softbox
Take a walk on the softer side and let your brawny spirit rest with THE Softbox bag — a classic Jacobs box-style that's deconstructed into a relaxed silhouette. Available in a wide range of colorways — from orange and purple to pale blue and sage green — there's a Softbox for every personal style, whether that be a maximalist or a neutral-only enthusiast.
THE Snapshot
You've probably spotted this style on the likes of supermodels and their supermodel friends, all over the streets of London and New York, or featured in shopping roundups on the inter-webs. Why? Well, it continuously evolves with the seasons. The lineup boasts everything from stark whites, pastels, printed greens, and Saffiano leather adorned with spray paint. Two zip sections will store tiny everyday must-haves, while the removable (and adjustable) strap gives a comfortable, customizable fit.
This advertising content was produced in collaboration between Vox Creative and our sponsor, without involvement from Vox Media editorial staff.