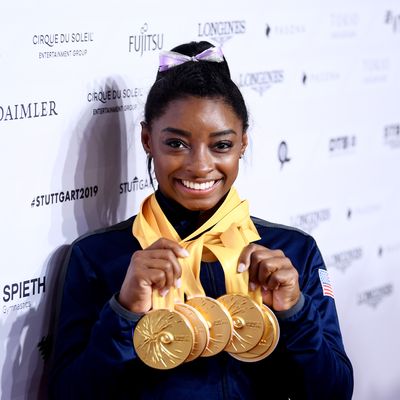 History's most decorated gymnast, Simone Biles, is leaving her partnership with Nike for an endorsement deal with Athleta, the women's athleticwear division of Gap. Biles, a five-time Olympic medalist, will have her own performancewear line with the brand.
Biles has been sponsored by Nike for five years, but her move to the smaller, female-focused brand seems to have been motivated by a better alignment of values. "I felt like it wasn't just about my achievements, it's what I stood for and how they were going to help me use my voice and also be a voice for females and kids," she told The Wall Street Journal. "I feel like they also support me, not just as an athlete, but just as an individual outside of the gym and the change that I want to create, which is so refreshing."
She's the second major female athlete to leave the footwear giant for Athleta in recent years. In 2019, the women's brand signed a deal with U.S. sprinting champion Allyson Felix, a former Nike athlete who had openly criticized the company for its treatment of pregnant athletes. One of them, Alysia Montaño, an Olympian who once competed while eight months pregnant, revealed in a New York Times opinion piece that Nike said it would pause her contract and no longer pay her if she wanted to have a baby. After the public outcry and congressional inquiry that followed the article, the company announced a new maternity policy for all sponsored athletes.
Biles's news comes only a few days after it was announced that Vanessa Bryant, the widow of late basketball player Kobe Bryant, would not renew her husband's contract with Nike. While the details of the decision were not made clear to the public, Bryant hinted that Nike's terms may have been unfavorable and that she plans to find other avenues to make Kobe's products available. As she wrote in an Instagram Story a few days ago: "I was hoping to forge a lifelong partnership with Nike that reflects my husband's legacy. We will always do everything we can to honor Kobe and Gigi's legacies. That will never change."