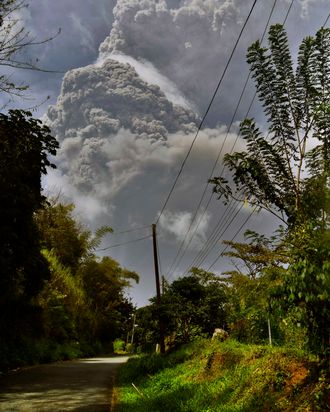 Clouds of volcanic ash over St. Vincent.
Photo: Orvil Samuel/AP
On April 9, La Soufrière volcano on St. Vincent began a series of catastrophic eruptions that have downed vital infrastructure on the Caribbean island. According to NASA, the active volcano — which has not erupted since 1979 — is among the most troubling to volcanologists due to its "explosive and erratic eruption style," which flings ash and hot gas into the atmosphere. In this case, the explosions also triggered landslide-like currents of superhot volcanic material — pyroclastic flows — that charged into the island's valleys to drain toward its river and coasts.
Thankfully, residents were evacuated 24 hours ahead of time, so no one was injured or killed by the event itself. But now, an estimated 20,000 people have been displaced from their homes, and the island faces a growing humanitarian crisis. With residents crowding into government shelters in the midst of a pandemic, basic necessities such as drinking water, food, clothing, PPE, and hygienic supplies are desperately needed; water and electricity services are down in many areas.
The island, as Prime Minister Ralph Gonsalves put it to the U.N. Security Council, is "in its midnight hour of need" and faces "a monumental challenge of humanitarian relief."
"Across our land, the faces of men and women are strained and anxious," he said Monday. "They're hurting badly."
Meanwhile, Didier Trebucq — U.N. co-ordinator for Barbados and the Eastern Caribbean — expects the ash explosions to continue for weeks, affecting not only St. Vincent but also neighboring islands including St. Lucia, Grenada, and Barbados. "This is a crisis that is going to last certainly more than six months in the sub-region," he said, per the BBC. Right now, Trebucq added, water and shelter are top priorities.
Here are a few organizations to consider if you have the means to make a donation:
• St. Vincent and the Grenadines Red Cross has volunteers on the island helping with aid and relief efforts. Information on how to donate is available here.
• The International Federation of Red Cross and Red Crescent Societies launched an emergency appeal for aid to help support those affected over the coming 18 months. Per a press release, "The Red Cross actions will be focused on the distribution of major household items, and providing health care, psychosocial support, essential household items and access to water, sanitation and hygiene. Protecting people's livelihoods will also be a priority." The IFRC is seeking to raise 2 million Swiss francs, which comes to more than $2,185,000. Information on donating to the IFRC can be found here.
• UNICEF started sending water and sanitation supplies to St. Vincent within 24 hours after the crisis began. It seeks to raise at least $925,000 for continued humanitarian support to children and families in the area over the next six weeks. Donation information is available here.
• The Caribbean Disaster Emergency Management Agency is partnering with a number of other agencies, including the SVG Red Cross, to provide direct assistance on the ground. Donation information can be found here.
• The World Food Programme has been providing assistance to the CDEMA in delivering food and supplies to evacuees. Donation information is available here.