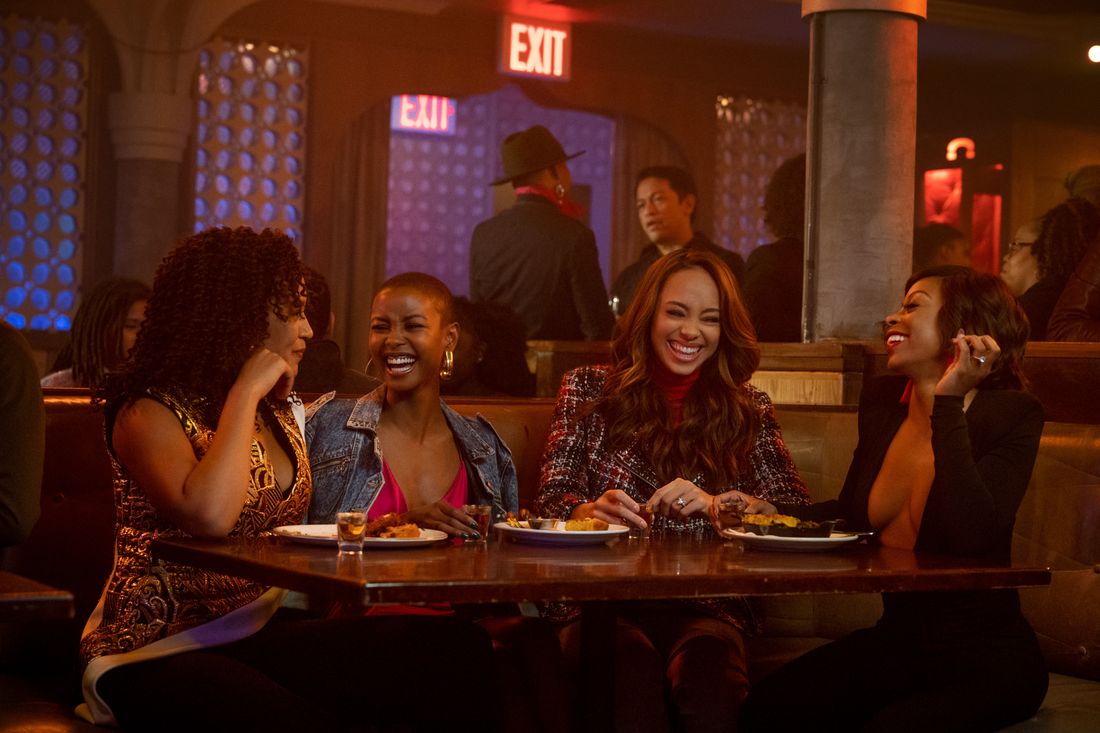 Photo: JOJO WHILDEN/2019 Starz Entertainment, LLC
Harlem nights have always been magical. I've spent many days and nights bar-crawling up Malcolm X Boulevard then back down to grab a bite from Sylvia's before heading over to Corner Social to meet another group of friends. Beyond that, the literature and film I've consumed about Harlem instilled in me a deep love for and connection to the iconic neighborhood. It is the Black cultural mecca, and once I experienced it for myself, I knew Harlem was special and that my time spent there would always be unforgettable.
It's been over a year since my girls and I have gathered for brunch at Barawine then ended up dancing in the basement at Shrine, but when I saw the trailer for the new STARZ series Run the World, it had me texting all of my group chats — because it's the new show that will fulfill our Black girlfriend needs.
Set in Harlem, Run the World is a love letter to Black women. The story is about a group of four best friends in their late 20s and early 30s who are thriving in their careers, strengthening their friendships, and navigating their love lives. The eight-episode series, which premieres on May 16, takes us on a journey of Black female friendship that's funny, dramatic, and authentic to the lives of professional Black women living in NYC. "Our show is about women and how they relate to their friendships with each other and their sisterhood and their careers and their ambitions and their quest for world domination," says Leigh Davenport, the series creator and executive producer.
Alongside Davenport, legendary Living Single creator Yvette Lee Bowser serves as the showrunner and executive producer. Bowser was the first and youngest African American woman to create and run her own television series with Living Single. Excited to continue telling the stories of Black women that are authentic she welcomed and embraced the opportunity to be a part of the creation of Run the World.
The series is loosely inspired on Davenport's life as an ambitious 20-something living in Harlem after she graduated from Spelman in 2005 and began working in media. After living in the city for a few years, she felt like the narrative of successful and fabulous Black women was nonexistent in television, so she decided to write it into existence.
"We are a show about enviable female friendships and striving to be complete and whole whether there's a man in your life. This series is really about reinvention and what it means to adapt and to evolve when you are in your late 20s and 30s," Davenport says.
Building strong friendships has been a huge part of my late 20s, and its something that's not reflected on television all that often. While there are numerous reality shows that try to tell the stories of Black career-driven wives and mothers, they usually don't capture Black female friendship in a positive way. Even in scripted series like HBO's Insecure, building long-lasting and loyal friendships doesn't feel like a main priority of the characters.
"Stories about women and friendship are timeless," says Bowser. "Every generation of women deserve to tell their stories and this is precisely that. For me being able to hand the sisterhood baton from Living Single to Run the World was a real opportunity and something that was needed in the world."
Run the World will air on STARZ May 16. Check out the trailer below.