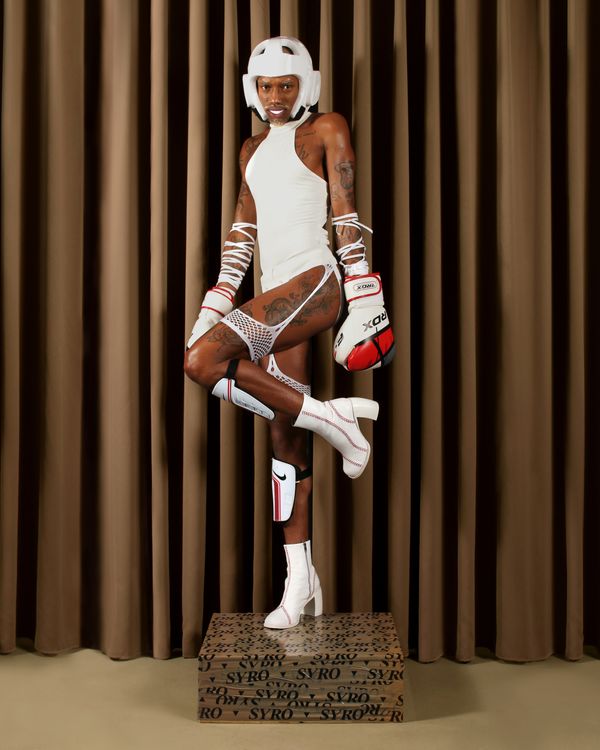 I'll never forget how much I dreaded gym class in high school. The fear of not being "manly enough" will always stick with me. The repercussions of being forced into a gender binary, a common experience among queer people, linger long beyond one's teenage years, and there are few places more gendered than a high-school locker room.
Brooklyn-based brand Syro is giving a middle finger to those cursed days. Founded by Henry Bae and Shaobo Han, two gender-nonconforming queers, Syro makes "femme footwear for everyone" with large feet (men's size 8 to 14). Their mission is to challenge heteronormative masculinity and celebrate the pleasures of being femme — "two things that are much easier to do while stomping around in a kickass pair of heels."
With that in mind, they're now reclaiming gym-class trauma with a photoshoot accompanying the release of their latest campy styles: the Wilson, a block-heeled shoe that looks like a literal baseball, and the Mitt, which resembles a baseball mitt. In one photo, model Jalen Dominique wears the Wilson with a white bodysuit, a white garter, boxing headgear, and soccer shin guards — an outfit that says, "My favorite baseball team just scored a touchdown!" Each photo is a queer — and fashionable — response to the toxic masculinity that can be ingrained in sports.
"I used to believe that I needed to assimilate into the framework of masculinity in order to exist, but now my entire existence is to destroy that exact framework," said Han in a statement. "I want kids today to feel their queerness so much that they can look straight into masculinity's eyes and say, 'Yes, I'm femme! What are you gonna do about it?'"
Both styles are available for $240 on Syro's website here.