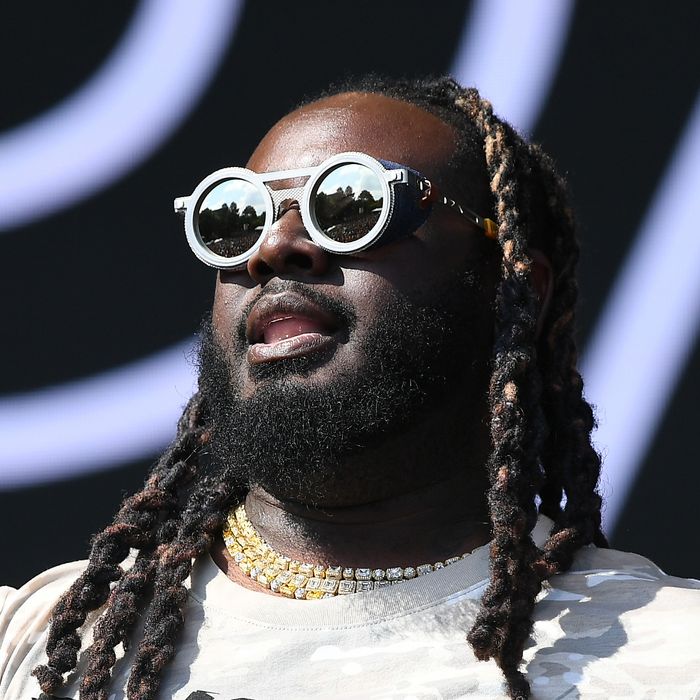 T-Pain, before discovering the Instagram request folder.
Photo: Getty Images
Last night, T-Pain made the kind of discovery that will haunt my brain forever: Turns out he's been unintentionally ignoring celebrities' Instagram messages for years. "I was today years old when I found out about the request folder on Instagram," he wrote over a screen recording of him scrolling through his in-box.
Unfortunately, T-Pain hadn't just overlooked messages from spam bots or accounts with seven followers saying, "Hello, beautiful lady." From the looks of it, he'd missed messages from celebs like La La Anthony, Pia Mia, Keri Hilson, NBA star Karl-Anthony Towns, British soccer player Daniel Sturridge, Bachelorette contestant Tyler Cameron, and Fergie. There was also a message from Viola Davis's account, though the message came from someone who works with the actress, not Davis herself. Still, imagine opening up your DM requests and there's a two-year-old message from Nicole Kidman like, "Hey, girlie! I've got a project I'd love to talk to you about!"
"I've been accidentally straight up ignoring all these people for like … years," T-Pain wrote. "I thought DM's are supposed to just show up in the normal folder and you don't have to go digging for all these." Instagram, Mark Zuckerberg, et al., what do you have to say for yourselves??
It appears that most of his missed DMs are just notifications that he was mentioned in someone's Instagram Story. However, there are a couple DMs of note, including one sent by Diplo 84 weeks ago that simply says "hey boss." My personal favorite is from an account called @Physics that says, "Lets [sic] make a science textbook please." Yes! Please!!
You may think this means T-Pain is bad at social media, but that would be wrong. T-Pain is, in fact, perfect at social media, as evidenced by this video of him dancing in a big floppy hat. Also, his comments section is filled with other celebrities like Ashanti saying, "Omg I literally just did the same exact thing like two days ago." An easy mistake.
"How do I super apologize?" he wrote in his caption. "Press conference? Town hall meeting?" More videos in floppy hats will suffice.