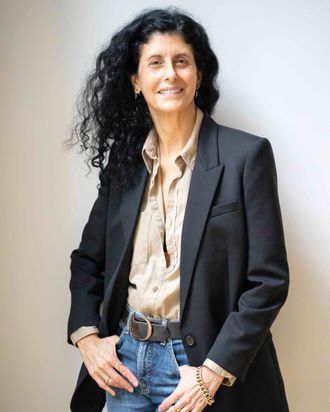 Photo: Courtesy of Nili Lotan
Ask just about any chic New York woman about her go-to brands, and chances are that she'll mention Nili Lotan, an Israeli-born, New York–based designer with a namesake label that she founded in 2003.
"My brand reflects my personal style." Lotan told the Cut. "[It's] timeless, effortlessly chic, nonchalant, sophisticated." Jeans are a staple of her business, but the brand offers wardrobing for all kinds of lifestyles — casual athletic clothes, loungewear, easy tailoring for work, and everything in between. A common thread, however, is the designer's '70s influence.
We spoke to Lotan about everyday staples, having no guilt, and her luxurious taste.
What's one piece from your spring 2021 collection that's especially meaningful to you?
The khaki Troy shirt is an everyday staple for me. It reminds me of growing up in uniform and the desert.
How do you thank someone for a gift?
I would call them or send a note.
What would you never wear?
A pink dress.
What's your dream vacation?
Anywhere in the Mediterranean.
What's a good book on your coffee table right now?
Marcel Breuer: A Memoir.
Last show you binge-watched?
The Crown.
What's your guilty pleasure?
I don't have any guilt.
Secret to hosting a good party?
Homemade food and good chemistry between guests.
What is a trend that you like right now?
Gold jewelry.
One you don't understand?
Bottega Veneta quilted bags.
Favorite restaurant in New York?
Bar Pitti.
What's the one thing you could eat every day for the rest of your life?
Fresh bread.
Shoes you wear most often?
Short boots.
What are five inanimate objects that bring you joy?
"Brings me to the beach."
"Timeless and casual for everyday life."
"The color and silhouette feel like a modern update to a classic '70s style."
"A gift to myself — elegant and sophisticated."