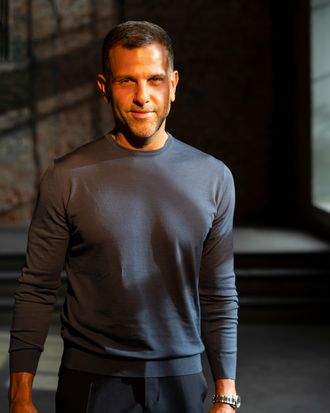 Photo: Marcus Leoni/Courtesy of Alexandre Birman
Alexandre Birman says being a shoe designer is in his blood. From an early age, he watched his father run his shoe business. "Being surrounded by that energy and craftsmanship was instantly embedded into who I am," Birman told the Cut. "After I was born, my father once said, 'He was born in a shoe box.'"
At the age of 18, he founded his first brand, Schutz, and 13 years later, he launched an eponymous label. Now, Birman continues to uphold his family's legacy as the CEO of Arezzo & Co., whose properties include Birman's two shoe companies, as well as the distribution license for Vans in Brazil.
Birman draws on his rich Brazilian roots to create classic and feminine silhouettes, while occasionally experimenting with materials and embellishments. "A perfect example is the 'campy' Vicky Crystal worn by Doutzen Kroes to the 2019 Met Gala, an extension of the Birman core collection," he said. "Whether designing new collections or my personal style, it is all about balance."
We spoke with Birman about his favorite shoes, Emily in Paris, and the post-pandemic return of high heels.
What's one piece from your pre-fall 2021 collection that's especially meaningful to you?
It's too difficult to pick just one style, so I have to go with two that are most special to me: the Clarita Sport and the Mia Sneaker. Since the start of the pandemic, we put so much effort into adjusting to the moment and designing collections to incorporate more comfortable constructions. The Clarita Sport is a new construction for us that exudes the craftsmanship and detail so true to the Birman brand, as well as comfort for daily wear. The Mia Sneaker is an expansion of a classic style for us, incorporating our namesake Clarita bow but with a completely new construction. On a separate note, I am very excited for the slow but mighty comeback of high heels! That's the construction that is most true to the brand and its DNA.
How do you thank someone for a gift?
A handwritten thank-you note goes a long way. In a world that is so digitally driven, a handwritten note truly does stand out. For special occasions, I like to show my gratitude with a pair of Claritas — a gift for a gift.
What would you never wear?
I personally tend to steer clear of loud and colorful and prefer neutrals. But I do enjoy playing with different colors and materials when it comes to my designs.
What's your dream vacation?
The Maldives. Before the pandemic, my most recent vacation was to the Maldives with my wife, so I have very fond memories and would love to go back once it is safe to travel again.
What's a good book on your coffee table right now?
My Gio Ponti book.
Last show you binge-watched?
Emily in Paris. I am a fan of Lily Collins and really enjoyed the fashion moments in each episode. Very excited to see what season two has in store for us.
What's your guilty pleasure?
Training. Whether I am training for a marathon, triathlon, or Iron Man, I stick to a very strict routine every single day. My training is a huge part of who I am.
Secret to hosting a good party?
Good people, good music, good lighting, and perfect drinks. I am very much looking forward to being able to safely host my friends again. There will be lots of celebrating.
What is a trend that you like right now?
High heels are hardly a new trend, but I am very excited at the chatter about heels resurfacing in a big way after a year of slippers or simply no shoes around the house.
One you don't understand?
As a creative and designer, I will never say never. I believe the interpretation of a trend is most important. You must make it your own and remain authentic to yourself and your brand ethos.
Favorite restaurant in New York?
Per Se is my go-to New York restaurant for dinner. It's a favorite of me and my wife. I also frequent Cipriani uptown for a more casual lunch with friends or business meetings.
What's the one thing you could eat every day for the rest of your life?
Cheese bread. I was born in Belo Horizonte, Minas Gerais — the cheese-bread capital of Brazil.
Shoes you wear most often?
I own over a hundred pairs of shoes. I am a shoe guy, but sneakers are my go-to. A few of my favorite sneakers include Fiever, a Brazilian sneaker brand under Arezzo & Co., and Vans, which Arezzo owns the distribution license for in Brazil. I also love my Common Projects sneakers and the simplicity of the design.
What are four inanimate objects that bring you joy?
"I love to wear sneakers, and Common Projects are a very understated and classic style."
"Classic T-shirts from Reserva are a staple in my wardrobe. In 2020, Arezzo & Co. acquired Reserva Group — a notably innovative Brazilian fashion e-commerce group recognized as one of the most influential names in the Rio fashion scene."
"My interior-design style is very much mid-century. Brazilian designers are very much seen throughout my New York apartment, especially in the main living room. One of my favorite pieces in my home is a bent rosewood center console by Jorge Zalszupin. This room is where I spend so much of my time with friends and family, so I spent a lot of time designing a space that felt authentic."
"Like I previously mentioned, training is a huge part of my life and who I am."