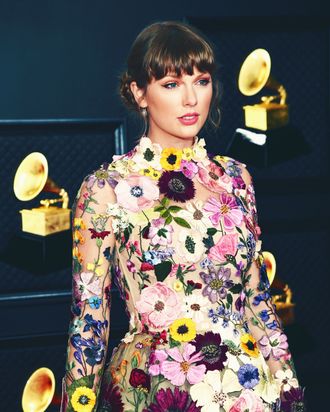 Taylor Swift
Photo: Kevin Mazur/Getty Images
Taylor Swift appears to have yet another stalker: According to police, a man named Hanks Johnson, 52, attempted to break into her Tribeca apartment over the weekend.
On Saturday night, a 911 caller notified police that a man had entered Swift's apartment building without the singer's permission, AP News reports. According to the criminal complaint against Johnson, a security guard at the building told police that this same man had shown up at Swift's building and rung the doorbell at least five times over the past six months, and that he had previously told Johnson not to step foot on the property again. Evidently, Johnson disobeyed the guard's orders over the weekend and was arrested at 8:30 p.m. He has been charged with criminal trespass.
While police have yet to speak to Johnson's motive or mental state, according to the complaint, he told police, "She knows that I'm coming here, we're friends," referring to Swift. The New York Daily News reports that outside the courthouse, Johnson sent DMs to Swift's Instagram account and insisted that the predictive texts his phone suggested were actually Swift's replies.
"She messaged me from her place, I think, and she invited me to come over, that's why I went there," Johnson claimed. He also apparently brandished what he claimed to be a restraining order barring him from contacting models Bella and Gigi Hadid. Per the Daily News, Johnson has a pending stalking case resulting from an arrest in October 2019.
Over the past few years, Swift has been plagued by many, many stalkers. In early 2017, a man was arrested after repeatedly showing up at Swift's Tribeca apartment, begging her to meet with him. (He was eventually deemed mentally unfit to stand trial.) The following year, a Colorado man was arrested outside her Beverly Hills mansion with rope and ammunition, as was a Texas man who threatened to "end" her entire family; both cases resulted in restraining orders. Then, in 2019, a man was sentenced to six months in jail after breaking into her Tribeca apartment, where he took a shower and a nap.
Swift addressed the stalkers in a 2019 column for Elle, writing: "Websites and tabloids have taken it upon themselves to post every home address I've ever had online. You get enough stalkers trying to break into your house and you kind of start prepping for bad things."