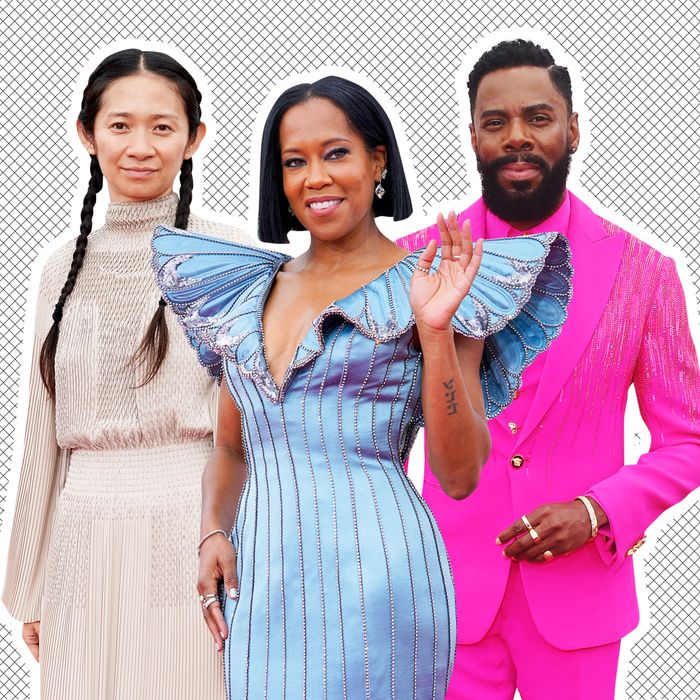 Photo: by The Cut; Photos: Getty Images
After a season of nontraditional pandemic award shows, the 93rd Academy Awards are finally here. This year's will indeed take place in person and without face masks in Los Angeles. And unlike the Grammys and the Golden Globes, where all the nominees had uninhibited freedom to wear whatever their hearts desired, the Oscars' producers had some strongly worded suggestions about the dress code. "We're aiming for a fusion of Inspirational and Aspirational," the letter to nominees read. "In actual words, formal is totally cool if you want to go there, but casual is really not." Whether or not this puts a damper on creativity, it's still nice seeing celebrities return to the IRL red carpet all dressed up.
Below, the best, worst, and most glamorous fashions at the 2021 Oscars.
Most Beautiful Butterfly: Regina King
This was the moment we realized how much we'd missed the red carpet.
Hottest Pink: Coleman Domingo
Our condolences to anyone else who tries to wear this color tonight.
Teeniest Thom Browne: Alan Kim
The best part is the little shorts. No wait, it's the bow tie. No wait, it's the socks!
Most Snatched Waist: LaKeith Stanfield
You could hear an audible gasp go up from Twitter when images of Stanfield (in custom Saint Laurent by Anthony Vaccarello) were released.
Best Interpretation of the Dress Code: Carey Mulligan
Is there anything more "Inspirational and Aspirational" than a giant gold dress?
Most Subtle Rule Breaking: Chloé Zhao
When told that casual is not cool, Zhao wore sneakers.
Coolest Clutch: Celeste Waite
Dressed in Gucci, she really brought her whole heart to this endeavor.
Best Sleeves: Angela Bassett
Dramatic sleeves that can keep up with the best arms in Hollywood.
Freshest Take on Old Hollywood: Amanda Seyfried
This is just the phrase "va-va-voom" in dress form.
Hottest Impression of the Oscar Statuette: Andra Day
Gleaming like a gold statue in custom Vera Wang and over $2 million worth of Tiffany & Co. jewels.
Breeziest Gown: Halle Berry
The wind was this custom Dolce & Gabbana gown's best friend tonight.
Best Channeling of Cher: Zendaya
Dripping in jewels? Check. Gown that shows off her chiseled core? Check. The attitude and unmatched star power? Check!