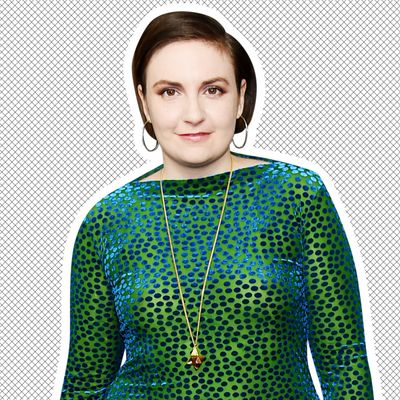 Photo-Illustration: by The Cut; Photos: Getty Images
When plus-size luxury retailer 11 Honoré announced its first celebrity partnership last week, the choice left a lot of folks scratching their heads. Lena Dunham? Were Danielle Brooks, Amber Riley, Gabourey Sidibe, Dascha Polanco, and Octavia Spencer unavailable? What about my personal vote, Queen Latifah? Is Lizzo not right there?
Surely, there were other contenders who would have been a better fit for the opportunity. Think of all the fat celebrities — predominantly Black women and women of color — who have paved a path in plus-size fashion, allowing so many of us fat folks to explore our personal style. The choice to collaborate for the first time with rich white Lena Duhnam, who flashes her privilege like it's a joke — who, judging from things she's said promoting this collection, does not even want to be in community with the folks who have afforded her the opportunity — speaks volumes. It's a reminder that plus-size fashion is still an exclusive club intent on keeping authority and power rotating in the same circles, desperate to do anything but give fat Black women their flowers.
11 Honoré is sometimes called "the Net-a-porter of plus-size fashion." It was founded by entrepreneur Patrick Herning in 2017 with a mission to give "more women the option to experience the best designer clothing and celebrate and honor their bodies, beauty, and style." In theory, granting more women more options would include an extensive size range. But the brand only carries sizes 12–24, a range that is not exactly inclusive to many influential voices in the space.
Compare that with the plus-size brand Universal Standard, which carries sizes 00–40 and presents their pieces on folks of every shape and size, Roxane Gay included. 11 Honoré, in contrast, mostly presents their luxe collection on models around size 14 and under — standard for straight-size clothing brands but a shame for bigger consumers wishing to see themselves in their shopping experience. (Some would also argue that a brand can't be inclusive if few can afford to shop there.)
Working with Lena Dunham really puts the brand's mission to "honor" women's bodies in question. The collection itself was lackluster — it feels like a nod to the matronly, shapeless, scalloped designs of fat fashionistas' past, instead of the vibrant colors, sharp tailoring, and hot-girl vibes we've been demanding for over a decade now. But many of the critiques of this partnership were directed toward Dunham herself. The actor, writer, director, and producer has frequently been the subject of body-shaming on the red carpet and in Girls. She has talked about having an eating disorder and struggling with body image. But in trying to express her thoughts about venturing into plus-size fashion, she has made comments that are alienating to the very communities she's attempting to represent.
Even in the New York Times interview announcing the partnership, Dunham had some choice words for her own body. Explaining that she is navigating both disability and weight gain, she describes the changes she has witnessed as "not the cool kind that make you muscular" but "just the kind that make your face fat."
"I'm trying to roll with that," she adds, "Trying to be chin positive. I can deal with anything, but a triple chin is a hard place to land."
In this jaw-dropping statement alone, Dunham outs herself as the kind of person who deems fat faces — more commonly seen on midfat to infinifat people, and not necessarily small fat people like herself — undesirable and hard to accept. These are size-exclusive statements, coming from someone whose collection is itself size-exclusive. What exactly are the fat people who read them supposed to feel? We are all entitled to navigating personal dysphoria with grace and in our own time. We are not, however, guaranteed a platform to share internalized fatphobia. It's Dunham's responsibility to avoid inciting further shame in the members of her audience who share similar histories with body dysphoria.
Later, Dunham complains about the language around plus-size fashion, arguing that descriptors like "plus," "curve," and "body-positive" are used to describe a community of "curvy bodies that look like Kim Kardashian has been up-sized slightly," who "want big beautiful butts and big beautiful breasts and no cellulite and faces that look like you could smack them onto thin women."
It sounds to me like she's fumbling to describe the erasure of certain body shapes, compositions, and signs of life most women experience as their bodies change even within allegedly size-inclusive media. In the plus-size fashion world, clothes are still most often created for, and modeled by, women who are size 14, heavy on top and bottom, tiny in the middle, with a thin, heart-shaped face. But while I understand where she's coming from, she doesn't really present as someone on our team, as much as she does a bully to herself and the rest of the community. "Plus" and "curve" are not only descriptors but actual identities resulting in real lived experiences. Dunham has yet to earn the trust of people who identify with these terms, and she's trying to turn a profit, so she's not in a position to criticize.
There are plenty of examples of brands and influencers working together to expand the plus-size market in a way that promotes a more accessible, inclusive landscape. The plus-size brand Eloquii has used its name and resources to collaborate with beloved tastemakers of color within the community, like Fenty Beauty global makeup director Priscilla Ono, plus-size model and author Leah Vernon, and Nabela Noor, founder of clothing line Zeba. Or look at bloggers Cece Olisa and Chastity Garner Valentine, both of whom are women of color above size 14. Denied access to celebrate their identities elsewhere in fashion, they launched CurvyCon, "a three day event that brings plus-size brands, fashionistas, shopaholics, bloggers, and YouTubers into one space, to chat curvy, shop curvy, and embrace curvy." These influential voices are not just making clothes and demanding people in fat bodies love themselves, but actually providing equitable resources and spaces for them to do so.
Social media has become a tool for creative sovereignty in fashion by fat people, and Black fat people specifically, because they haven't had a choice. When only select retailers and fast fashion brands like Fashion Nova and Forever 21 were carrying sizes over 14, fat Black women online relied on the kind of ingenuity that comes with lack of representation. They made outfits that looked like a million bucks and built audiences of their own to cheer them on because the media wouldn't. This movement has since been packaged for consumption by thinner and whiter influencers, celebrities, and brands as nothing more than a mandate to love yourself. But making body positivity for and by folks with wealth, race, and size privilege — like Lena Dunham — means bypassing a chance to level the playing field.
Dunham seems committed to vindicating herself against hurtful comments made about her in the past, rather than working to liberate other fat bodies from systemic violence and oppression. Imagine if, instead of being the face of another brand's line, she used her celebrity connections and money to start her own fashion company and hired people who were already doing the work. Doing so would require decentering herself, which would be extremely un–Lena Dunham.
This goes much deeper than a capsule collection at 11 Honoré. In Sabrina Strings's book Fearing the Black Body: The Racial Origins of Fat Phobia, she explores how the modern veneration of thin, white women's bodies became a tool for the subjugation of the "voluptuous" Black woman. Prior to the Enlightenment era, fatness was celebrated as a symbol of wealth and fertility — that was, until colonialism and the transatlantic slave trade. At that point, unfounded comparisons between Black and white bodies were used to justify violence, and the narrative around visibly bigger bodies flipped to describe something closer to savagery and racial inferiority. The consequences of racialized attitudes toward fat bodies, of course, reach beyond fashion toward medical bias, workplace discrimination, class consciousness, and gender prejudice. But our biases can show up in something as simple and fun as clothes, and they have to be interrogated. These are the origins of fatphobia, and subsequently, the origins from which the modern fat-positive spaces seek liberation.
During the summer of 2020, the fashion industry substituted anti-racism work with black squares on Instagram. Magazines threw the image of late Breonna Taylor — a fat Black woman, who most assuredly would never have been granted access to these same spaces in life — on their covers for sales. In May of 2020, by way of black square, 11 Honoré made promises to "stand with those fighting to dismantle the systematic racism that oppresses the Black Community," and then threw money at the problem by making donations to Black Lives Matter and the NAACP Legal Defense Fund.
This, alone, is not the work. The work is doing more than the bare minimum. The work is including us when you're not being forced to. The work is paying fat Black women for creating impact in this industry while we're alive. 11 Honoré, which still has the repost of Breonna Taylor's magazine cover up on its Instagram grid, has done what all of us in the community feared brands would do when the protests stopped: It exploited the Black woman who served their inclusive agenda in death — when she can no longer be paid — and conveniently forgot about the roars for inclusion when it was actually time to cut the check.
The reality is that we will never find liberation in an industry built on consumerism, but we can certainly ask for more than what we're getting. No brand or storyteller in the media can speak to every experience all the time, but there is an expectation to do what you say you're going to do. After spending four years promising to serving us, 11 Honoré should know better and do better. So should the majority of designers and brands, who simply refuse to cater to the huge market that is the plus-size community. As for Lena Dunham, she has a history of waving her privilege around like a trophy and blaming us for being critical while she does it. She grifts. It's our move.