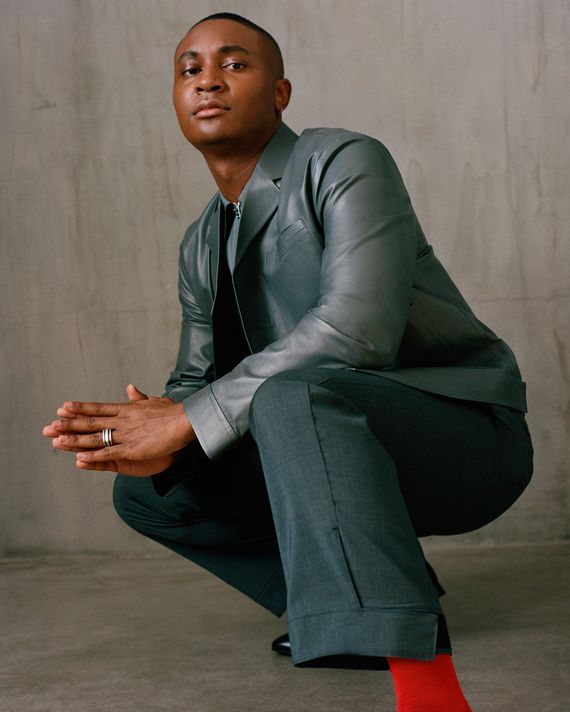 At 23, Chi Ossé is young to be entering politics, but he points out that his heroes — activists and leaders like Fred Hampton, Marsha P. Johnson, and Alexandria Ocasio-Cortez — have shown you can make a difference to your community at any age. Ossé is the son of the late, legendary hip-hop lawyer and podcast host Reggie "Combat Jack" Ossé. He grew up in Crown Heights, where he co-founded the activist collective Warriors in the Garden, and now he's running for City Council in Brooklyn's 36th District.
"My community is Black, queer, and Caribbean, and it raised me to be who I am today," says Ossé. "It moves me to watch people come together as New Yorkers to help one another, and I feel like it's my duty to contribute to those communities as well." He spoke with the Cut about Haitian food, his skin-care routine, and breaking down barriers.
What does cool mean to you? 
Being cool is about being your authentic self without giving a fuck about who cares. When I was growing up, I never cared about the people who thought I was too fat or not fat enough, too queer or not queer enough, too Black or not Black enough. I believe showing up as myself and not caring made me pretty cool.
What three creative people have had the most impact on you and why?My late grandfather Teddy Vonn — he was proud about being a Black man in America and that beauty bled through all his music. Jean-Michel Basquiat, because he was an artist in New York who inspired a whole new wave of artistry and he was of Haitian and Puerto Rican descent. And lastly, Audre Lorde, who was a queer poet and civil rights activist. Her poems about civil and social injustices reflect what we are still going through today.
What have you been listening to lately?
I've been listening to a lot of Sophie, RIP to her. She helped me come into my queerness and was an icon to me. I listen to a lot of music. Right now, Shygirl and Sister Sledge are in heavy rotation. I also listen to The Daily to keep me informed. And sometimes I listen to my dad's old podcast, The Combat Jack Show, just to hear his voice.
What kind of animal would you be and why?
I would be my family cat, Puff. My cat is super cute, chill, but a little crazy. It's a black cat with yellow eye,s which I find to be super mysterious.
If you could master any skill (that isn't related to your current job), what would it be and why?
Meditation. I would love to be able to center my mind, body, and spirit at any given moment.
Has the way you dress changed during quarantine? If so, what are you wearing now? 
Before quarantine, I was wearing what I like to call nighttime chic, which includes sneakers, jeans, and a chic graphic T-shirt. Now, honey, I am wearing sweatpants with a collared shirt and a sweater over it to all my Zoom call meetings. Purr.
Are there any causes or organizations you are supporting?
I am supporting Bed-Stuy Strong's Mutual Aid Community Fund. Please donate if you can! Also Towards Utopia, which is an organization that supports the Black trans community and sex workers. And lastly, SOS, which is helping save our streets from gun violence. I have so many others, but support, support, support if you can.
What are your favorite local businesses to support?
I love supporting Grandchamps, which is a Haitian restaurant in Brooklyn. I absolutely love Haitian food — shout-out to my folks from Haiti. I love The Ryerson restaurant because they have heated outdoor seating and they have the best hot toddy in Brooklyn. And of course, I must support my mom's bakery, The Bakery on Bergen. I also love the Richard Beavers Gallery because they have the best Afrocentric art.
What goals are you working toward at the moment?
I am working on winning this election to help our community on a broader scale. I am excited to continue to propel change for people who are Black, trans, poor, or sick — I want to help everyone I can.
What are you excited about right now? 
I am excited that I can run for City Council and break down the stereotypes about ageism, queerness, and education requirements to be in politics.
Do you have a self-care routine? If so, what does that look like? 
Yes, I most certainly do. It includes using Burt's Bees cream cleanser and then the Total Effects moisturizer and cleanser. Then I use the toner pad after I cleanse and apply the Glossier Futuredew Oil Serum Hybrid. Lastly, I do my eyebrows with Revlon ColorStay.
What piece of advice has had the biggest impact on you and why?   
One of my favorite quotes is, "Give people flowers while they are living." It reminds me to love my family, friends, and just the world — especially right now.
What is one item that has made your life better?
The one item that has made my life better is Polar seltzer water. Hydration is key.