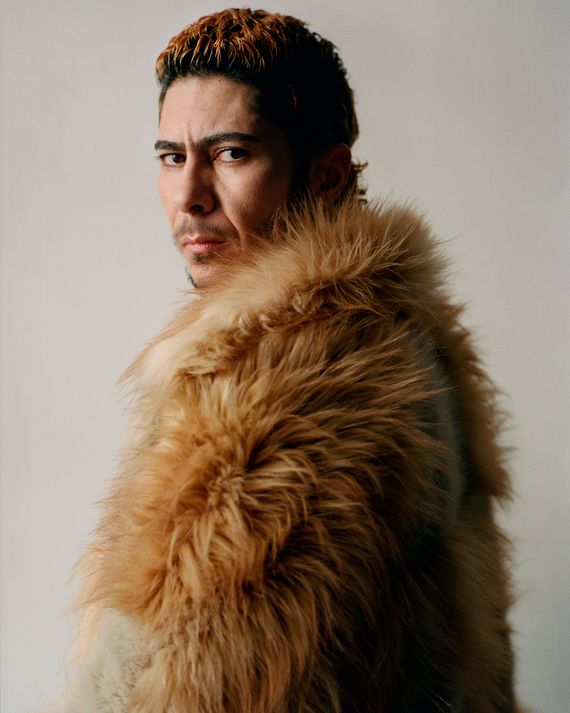 Stella McCartney
faux-fur jacket.
Photo: Lelanie Foster
Music has been a major part of Nar Angel Rokh's life since he picked up the guitar at the age of 7. Born in L.A., he's an Iranian American artist, music producer, and DJ. He has created tracks for Rihanna's Fenty Beauty campaigns, and last year, he dropped an EP called ROSE WATER, which includes sounds inspired by his Persian roots.
In addition to making music that nourishes your soul, Nar Angel Rokh likes to use his hands to make sculptural concrete designs, build custom furniture, weave rugs, and create planters. "My goal for each day is to create something new within different mediums," he says. "Whether it's with music, painting, or DIY projects, I'm always creating."
He spoke with the Cut about big cats, architecture, and Bjork.
What does cool mean to you?
Cool, to me, means someone or something truly authentic and pure. Kindness, respect, and vulnerability in someone is cool. To feel secure in your own skin and to not seek validation in others is cool to me.
What three creative people have had the most impact on you and why? Bjork, Arca, and Arthur Russell are three music pioneers who have had the most impact on me because they all have created their own lanes. I'm continually moved by the way they convey emotions through music.
What three fictional characters do you relate to most?
I feel like I'm a blend of Trent from Daria meets Arya Stark mixed with Winnie the Pooh.
What kind of animal would you be and why?
I would be a feline, like a jaguar — they're so majestic and feral. Big cats know how to survive on their own, which is how I feel at times.
What superpower would you have and why?
If I had a superpower, it would be to read minds. I'm always curious about what thoughts and ideas are actually going on in people's heads.
If you could master any skill (that isn't related to your current job), what would it be and why?
Being an architect. It has always been a passion, but music became my obsession. I love beautiful and abstract buildings and love to know how they're created.
Are there any causes or organizations you are supporting?
I've been supporting a couple of organizations that help uplift BIPOC trans/queer folks like @glits_inc and @blackxcollective.
What are your favorite local businesses to support?
I've been supporting a few local Black-owned businesses here in Brooklyn, like Bati Ethiopian Kitchen, Brown Butter, and El Jeffe.
What goals are you working toward at the moment?
I've been working toward evolving emotionally and spiritually as a person and artist. Also, working toward releasing my next body of music and the launch of my design project Concrete Angel.
Do you have a self-care routine? If so, what does that look like?
My self-care routine consists of eating healthy, moving my body by either dancing or going for long walks, and taking baths.
What piece of advice has had the biggest impact on you and why?
That you can't live for other people, and you have to do what's best for you. There were certain pivotal moments in my life where I held myself back to please others. But I realized that I couldn't live my truth if I didn't break down those walls and start living for myself. It changed my life forever.
What is one item that has made your life better?
My guitar.