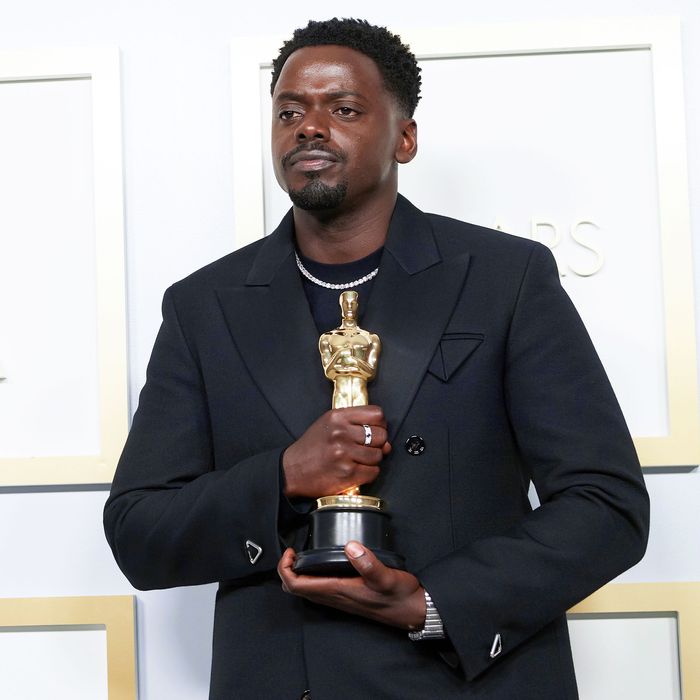 Daniel Kaluuya
Photo: Handout/A.M.P.A.S. via Getty Images
Last night, Daniel Kaluuya won Best Supporting Actor at the Oscars for his memorable portrayal of Fred Hampton in Judas and the Black Messiah. Accepting the award, he gave a standout speech, in which he spoke briefly, but to indelible effect, about his parents' sex lives. In short, it was an unforgettable occasion all around. But then came the media Q&A, during which one member of the Hollywood Foreign Press Association sounded conspicuously hazy on the details of Kaluuya's win.
Identifying herself as a longtime fan of Kaluuya's work, South African journalist Margaret Gardiner asked the actor a question apparently intended for another of the nominees in his category. After congratulating Kaluuya and noting that she had been "following [him] since the beginning of [his] career," she asked, "I was wondering what it meant for you to be directed by Regina — what this means for you at this time, with the world in the state that it's in?"
Regina King directed One Night in Miami …, a movie Kaluuya was not in, although his fellow Best Supporting Actor nominee Leslie Odom Jr. was. Kaluuya looked understandably confused as he asked Gardiner to repeat the question, which she did: "I was wondering what it meant for you to win, with the world in the state that it's in at the moment." The phrasing not being very specific, Kaluuya responded that "it's amazing to have this honor, and to be appreciated in this way." Then Gardiner came back with another question: "Does it mean something to the community, though?"
As the clip circulated on social media, many people who watched it felt they had just seen Gardiner mix up two Black actors, in the same breath as she commended one for his award-winning work. Indeed, judging by the change in Kaluuya's facial expression just after Gardiner said "directed by Regina" — when he turned his head to one side and blinked a beat; when his eyes widened in apparent realization — it certainly looked like he interpreted the question this way, too.
Gardiner, however, denies that was her intention. On Monday afternoon, she hopped on Twitter to address the backlash, writing, "#DanielKaluuya I did not mistake you for Leslie Odom Jnr. I'm sorry if it seemed that way. I had wanted to ask about Regina King not being nominated as a director for One Night in Miami, and your win for Judas and the Black Messiah for the community at this time." In the replies, other users pointed out that the question she had asked Kaluuya was about his experience working with King as his director. Gardiner issued a follow-up tweet. "#DanielKaluuya There was a sound issue so I dropped the part about Regina King and restated my question," she wrote. "What does it mean for the community at this time. When I listed [sic] to the audio, I do understand, but there was no confusion."
And yet for many, confusion persisted. The HFPA has exactly zero Black members, and just last week, it emerged that the association's former president recently emailed his colleagues an article that described Black Lives Matter as a "racist hate movement." The HFPA connection was not lost on commentators. But when the Cut reached Gardiner for comment, she stressed that she had misspoken. She claimed she meant to ask Kaluuya how he felt about King being overlooked for Best Director, and how it felt to win "in the most diverse Oscars ever" for "a movie about race in America," but that "the sentence came out wrong."
Regardless, Gardiner emphasized, she wanted to apologize, "categorically" and "profoundly to Daniel, because I know that he thought that it wasn't a mistake in the question; that I had thought that he was Leslie," she said. "I know that he thought I had confused him. I did not. But I apologize."
But white people casually mixing up Black people who look nothing alike is a thing that happens all the time, which Gardiner said she understands; she also noted that she has "reached out to a DEI counselor" for guidance going forward.