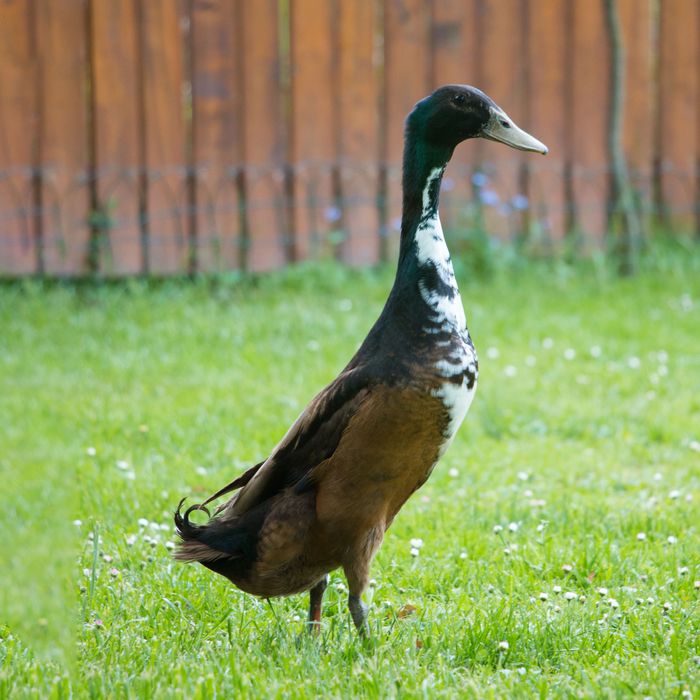 Photo: sestovic/Getty Images/iStockphoto
New duck just dropped! His name is Long Boi, and I love him already. Long Boi is a Mallard and Indian Runner duck hybrid. He's tall, British (!), and here to make you say, "Let me pet the tall duck."
By some accounts, Long Boi is three-and-a-half-feet tall. Realistically, he's just over 70 cm or about two-feet-two-inches tall. But who is to say how tall this duck may be should he wear heels or some very thick socks.
Long Boi has long been a legend at the University of York, where he resides with many average-length ducks. Though he was robbed of being named York's Big Name on Campus 2020, his legacy and international stardom will be recognized by the university this year. According to the York Tab, Long Boi is going to be awarded an honorary degree by Vice-Chancellor Charlie Jeffery. "The duck has done so much for the university," Jeffery told the Tab. "From encouraging freshers to attend York to keeping students' morale high during the pandemic, he is a perfect ambassador for York and is fully deserving of this."
So, that's Dr. Long Boi to you.
Long Boi joins the ranks of other infamous ducks like Hot Duck, a duck who was hot, and Goth Duck, who was also hot and lived in a sewage pond. If you'd like to profess your love for Long Boi, you can do so via his merch or by luring him to the U.S. with little bugs.