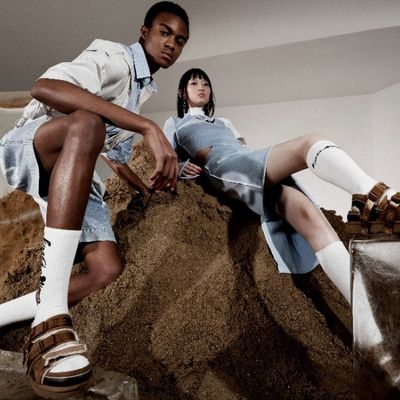 It's a boot! It's a sandal! It's a boot! It's a sandal! Ugg has teamed up with London-based brand Feng Chen Wang on a hybrid shoe that can be worn in all kinds of weather.
The high-concept shoe features two modular elements: a buckle-adjusted sandal and a sheepskin boot liner, which can be worn together or separately. It was created for Ugg by Feng Chen Wang, a menswear designer, but it's meant to be unisex.
Wang is known for her experimental approach to fashion. The designer describes her brand's vision as "future-modern" and says she deconstructed Ugg's timeless boot design to create a shoe that expresses harmonious contradiction.
"The clash of cultures, background and origins of both brands is exactly what makes this partnership interesting and meaningful. We're excited to see the combination of how our signature functionality and deconstructed design language can play with such an iconic footwear as UGG in a fresh new way," designer Feng Chen Wang said.
Accompanying the release is an ad campaign titled "WARMTH VS. COLD," which represents both the winter and the summer months through a combination of ice and sand aesthetics.