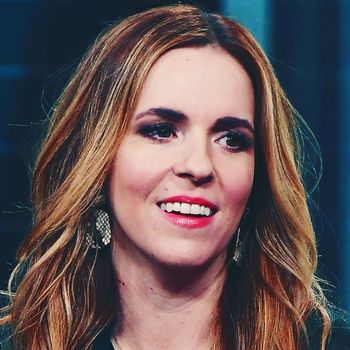 Rachel Hollis.
Photo: Nicholas Hunt/Getty Images
Since her book Girl, Wash Your Face became an immediate blockbuster in early 2018, dominating best-seller lists for much of the year, Rachel Hollis's profile has risen meteorically. The 38-year-old blogger turned self-help guru, motivational speaker, and author has amassed millions of followers, launched podcasts and conferences, landed prominent speaking engagements — including on Oprah's 2020 Vision: Your Life in Focus tour — and written a follow-up best-selling book, Girl, Stop Apologizing.
But she's also garnered significant backlash. Her brand — which is rooted in her belief that only you are responsible for your happiness — has been panned as the embodiment of "toxic positivity" and startlingly tone-deaf. She also tends to be egregiously lax when it comes to attributing quotes, which has led to numerous accusations of plagiarism, including of an iconic Maya Angelou line. Most recently, she came under fire for comparing her own struggle as an "unrelatable woman" to that of Harriet Tubman.
Let's unpack the phenomenon that is Rachel Hollis.
She's faced sharp criticism for preaching "toxic positivity" and ignoring systemic oppression.
At the center of Hollis's messaging is the conviction that if you simply "choose positivity," you can change the material conditions of your life to become a happier, more fulfilled being. She lays out this principle in the intro of Girl, Wash Your Face: "You, and only you, are ultimately responsible for how happy you are."
Published under a Christian imprint, Girl, Wash Your Face sold more copies in 2018 than books by James Comey and Reese Witherspoon, performing particularly well in the South and the Midwest. According to the Washington Post, which characterized Hollis as "Goop for red-state women," her "most ardent devotees are mothers and female entrepreneurs."
But Hollis's "pull yourself up by your bootstraps" messaging has faced sharp criticism — especially among those who call out her lack of self-awareness when it comes to privilege. As Laura Turner writes in a BuzzFeed feature, "Hollis doesn't address the possibility that for some people, obstacles to happiness are outside their control. And it is proof of her hard-earned privilege that she doesn't have to." Rather than acknowledge the myriad, often compounding structural factors that hinder women — and in particular, women of color — from attaining security and happiness, Hollis preaches a gospel steeped in self-reliance and self-determination.
It is a criticism that Hollis rejects. "One of the things the book has been attacked for is, 'You say that anyone can kind of pull themselves up by the bootstraps and go. That's just not true for everyone,' and I disagree," Hollis told the New York Times in March 2019. She went on to explain that "of course" she knows that not "everybody has the same opportunities" or resources. "But you, meaning the public, buying into the idea that it can't happen for you because of what your life looks like right now, doesn't serve you. It doesn't serve you!" She added: "That's the hill I'll die on."
She's been accused of plagiarism.
Hollis also has a history of reproducing quotes on social media with questionable or no attribution, which has resulted in numerous plagiarism accusations. In January 2019, BuzzFeed News reviewed a handful of Hollis's recent Instagram posts of stylized quote cards, many of which she attributed to herself. They vary in their degree of egregiousness. For example, Hollis attributed the following quote to herself: "When you really want something, you will find a way. When you don't really want something, you'll find an excuse." The quote is nearly identical to one of entrepreneur turned motivational speaker Jim Rohn: "If you really want to do something, you'll find a way. If you don't, you'll find an excuse." She also attributed to herself the quote "ambition is not a dirty word," a dictum that has been expressed by many thinkers using more or less the same words. In any case, Hollis is evidently not the first person to say it: The phrase is the title of a 2008 self-help book by psychologist Debra Condren.
(After BuzzFeed reached out to Hollis for comment, to which she didn't respond, some of the posts the outlet reviewed mysteriously disappeared from Hollis's Instagram page.)
It sure looked like she plagiarized an iconic Maya Angelou line.
Even after being accused of plagiarism, Hollis seemingly didn't learn her lesson. In April 2020, she posted a quote card to her Instagram with the words, "Still … I Rise." While the quote is widely recognizable as the title of an iconic Maya Angelou poem, it appeared to many that Hollis was suggesting the words were her own — especially given her habit of questionable attribution. After backlash mounted, she addressed the furor in a long Instagram caption, in which she emphasized that "obviously" that quote is "an immortal line from a Maya Angelou poem," and claimed that the absence of attribution wasn't all her fault. "While I didn't create or post the graphic, I am the leader of the team that did and so I accept full responsibility for their actions," she wrote.
She continued: "I can't imagine how deeply hurtful it is to the African American community to see the words of your heroes used without credit. This has happened to you far too often and I hate — I literally HATE — that anything produced by my company added to your pain … I understand that this post without credit is not a little thing to you … this is death by a thousand cuts. This is the millionth type of incident like this you've experienced."
And now, she's under fire for comparing herself to Harriet Tubman.
In a video posted to TikTok last week — that has since been deleted — Hollis recounted a livestream she did earlier, in which she referenced the "sweet woman" who cleans her house. In response, Hollis said she received a comment from a user about her privilege, which clearly didn't sit well with her. Eventually, Hollis did acknowledge that she's "super freaking privileged," and that she "works my ass off" to live a lifestyle where she can enlist someone scrub her toilet ("twice a week"). Then, she launched into an impassioned tangent about how it's not her goal to be considered "relatable," and how few people are willing to work as diligently as her. "Literally everything I do in my life is to live a life that most people can't relate to," she said, arguing that "most people won't work this hard." She continued: "Every woman I admire in history," briefly pausing for emphasis, "was unrelatable."
She then captioned the video with the names of a few women she considers "unrelatable AF," including Ruth Bader Ginsburg, Oprah Winfrey, Malala Yousafzai, and Harriet Tubman — a list that astounded many with its astonishing lack of self-awareness. In particular, it was the comparison of herself to Tubman — a Black woman born into slavery, who, after securing her own freedom, dedicated her life to liberating others bound by slavery — that was met with outrage.
On Sunday, Hollis tried her hand at a response. Characteristically, she laid much of the blame on her "team," claiming that they advised her against responding to the furor sooner. She then wrote it was "ludicrous" that people perceived her post the way they did, stressing that she cannot "now, or ever" compare herself to any of the aforementioned women. Unsurprisingly, her defensive tone only exacerbated the mounting outrage, and the post has since been deleted.
Hollis has since issued a second response that met more of the qualifications of an apology. In an Instagram post on Monday, she wrote: "I'm so deeply sorry for the things I said in my recent posts and the hurt I have caused in the past few days." She went on to acknowledge the "tremendous pain" she caused by implying she understands and relates to the struggles and experiences of the aforementioned "unrelatable AF women," concluding, "I know I have disappointed so many people, myself included, and I take full accountability."