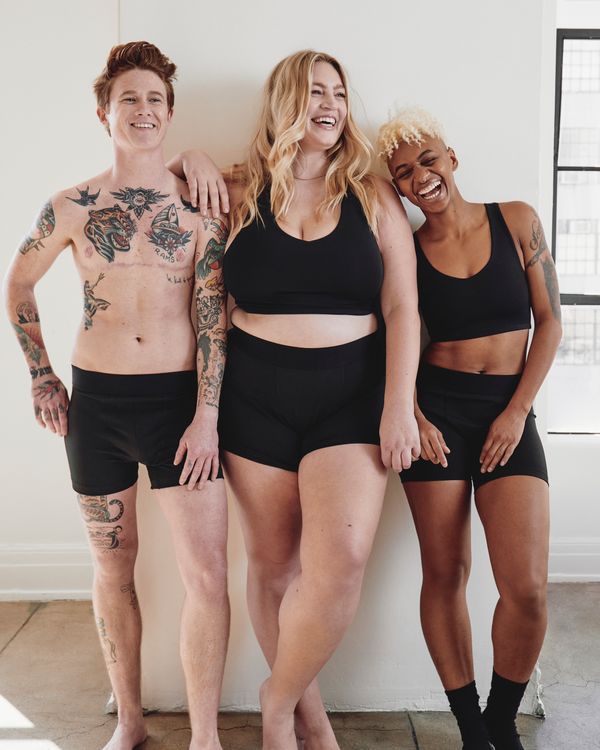 Photo: Courtesy of Urbody
For an industry that is always looking forward, fashion is still deeply rooted in the gender binary. Still, there's a wave of young millennials and zoomers in the industry who are advancing the movement to de-gender fashion. Lending a hand in the momentum is Urbody, a new brand that believes getting dressed for the day with confidence starts with what's underneath.
Urbody launched in March, but its founders, Mere Abrams (they/them) and Anna Graham (she/her) are longtime friends. After hitting it off in undergrad, the two kept in close contact — Abrams supporting Graham as she worked her way up in fashion, and Graham supporting Abrams as they explored their identity. "We were able to educate one another and connect around the ways that we felt like our bodies and the ways we presented didn't fit industry or society standards," Abrams told the Cut. "So we started to envision a brand that could address the things that we felt were missing."
One of Abrams's early memories is sneaking into their brother's room to steal his briefs — a treasured item that felt more natural to wear, but one they'd have to hide. Growing up in the Midwest, Abrams knew that buying boys' underwear was never going to be allowed. Still, they gravitated toward underwear and clothing that society said were not for them. Now, as someone who's worked in the LGBTQ+ community as a therapist and in the nonprofit world committed specifically to trans and gender health-related causes, Abrams can connect their childhood to the present. And when it comes to fashion, it has a major role to play in affirming and supporting people in the LGBTQ+ community.
When the two looked at the landscape of what was available from a gender-inclusive lens, they both felt like identity labels, although necessary, weighed far too heavily. The change that they want to create is grounded in people's whole selves being seen and celebrated — skills, talents, passions, and contributions that are beyond the labels that they might use to describe their gender. "By positioning trans, nonbinary, and gender-nonconforming folks as human first and foremost, we're opening up the conversation and expanding the lens of visibility to celebrate and recognize all of the things that they have to offer," said Abrams.
Sure, gender-inclusive underwear brands exist, but the offerings skew more influencer than everyday person. Urbody recognized that most people aren't living their lives like an Instagram aesthetic and that there was a hole in the market to cater to real human beings of all backgrounds and sizes. "It was really important that we created high-quality, functional garments that had a timeless and classic aesthetic," Graham said. "When we were developing Urbody, being inclusive in sizing was also super-important. Being in the fashion business and always surrounded by brands that didn't cater to my body size, I felt pressure to fit into industry standards that didn't actually fit me."
Urbody launched with seven undergarments that address the needs of people across the entire gender spectrum. Throughout the product-development process, it infused each piece with the community's feedback to find out how existing underwear has missed the mark and how Urbody can help them manage gender and body dysphoria. Its packing boxer brief, for instance, has a three-layer multifunctional pouch that allows the wearer to use the prosthetic or packer of their choice. And even if they jump around and do cartwheels, it's going to stay in place — close and secure to your body. It's also made with a wider reinforced waistband to help those who have hip dysphoria. It also created a legging with a built-in thong and power mesh with adequate space for those with external genitalia, which keeps everything secure and smooth. So now they can participate in the activities that they wanted to, such as yoga, without having to worry or adjust their day based on what they're wearing. "This allows trans and nonbinary folks to feel human first — to feel like they can live their lives without having to think about the ways garments don't account for their bodies, their safety, their security, and what they need to go about their day," said Abrams.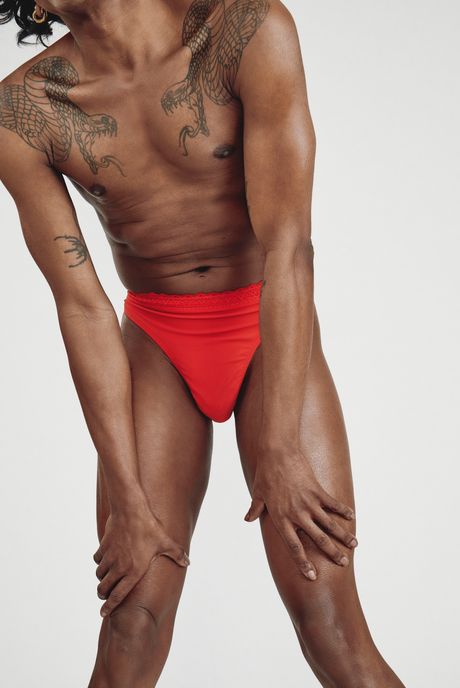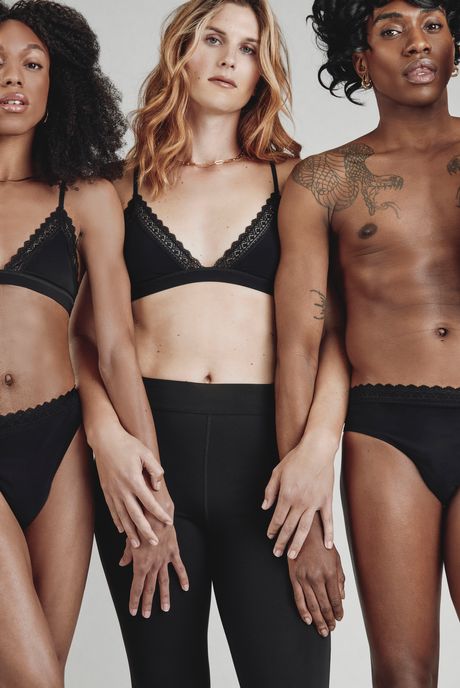 "In an ideal world, you'd walk into a store and there's no men's or women's section," said Graham. "You'd simply choose what makes you feel great, affirms your identity, and allows you to express yourself without a brand boxing you in. We're a part of this movement."