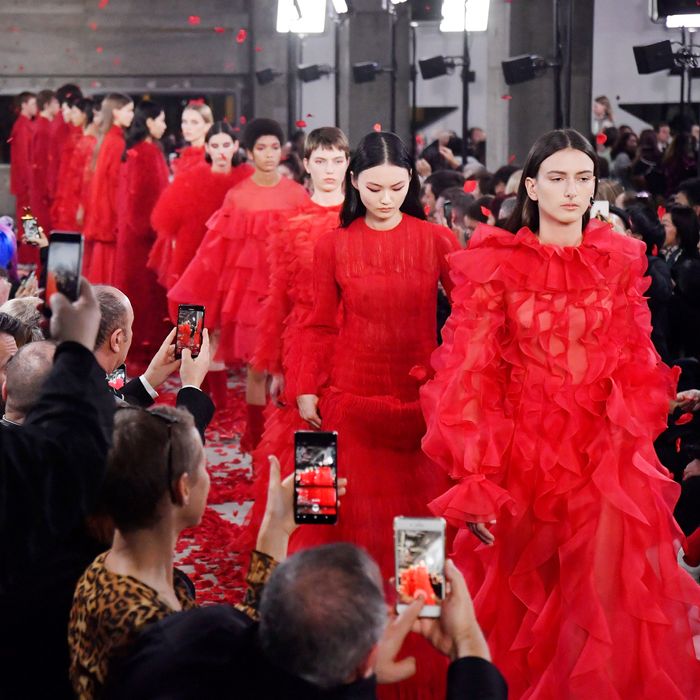 Photo: Victor VIRGILE/Gamma-Rapho via Getty Images
If that Valentino coat you and Cruella have been eyeing since March is a tad bit over budget, may the Maison interest you in a $30 lipstick in its iconic red instead? Today, the fashion house announced that it's finally joining its high-end luxury peers and launching a makeup line, which you'll be able to get your hands on this August.
The big product reveal isn't happening until the end of May, but the brand has already dropped a few hints as to what to mentally prepare for. The line will launch with a complete range of 50 (!) lipsticks, 40 foundation shades, (thanks, Rihanna), and "numerous eye products." The aforementioned are all described as being "versatile," "multiuse," and "multi-finish," with formulas that are "experimental, with a couture approach." The accessory-ready lipsticks and palettes will also be refillable, so you can dress up different shades and textures in sleek designer packaging, should you want to show it off (you probably will).
Vibe-wise, Valentino Beauty describes the makeup collection as "Human Beauty," a.k.a. "couture makeup open to all genders, ages, and cultures." Aligning with the times, the collection values freedom of expression and individuality most of all, "because everyone is beautiful in their own way," as the release so nicely put it. The accompanying campaign, shot by creative director Pierpaolo Piccioli, will feature 16 "eclectic talents," a mix of models and non-models that each express "a shade of Valentino" while altogether creating "a Valentino Chorus."
While you mull over what that might look like visually, revisit Lady Gaga's Voce Viva sing-along to listen to a literal Valentino chorus, and keep your eyes peeled for the official reveal of the cosmetics collection at the end of next month.