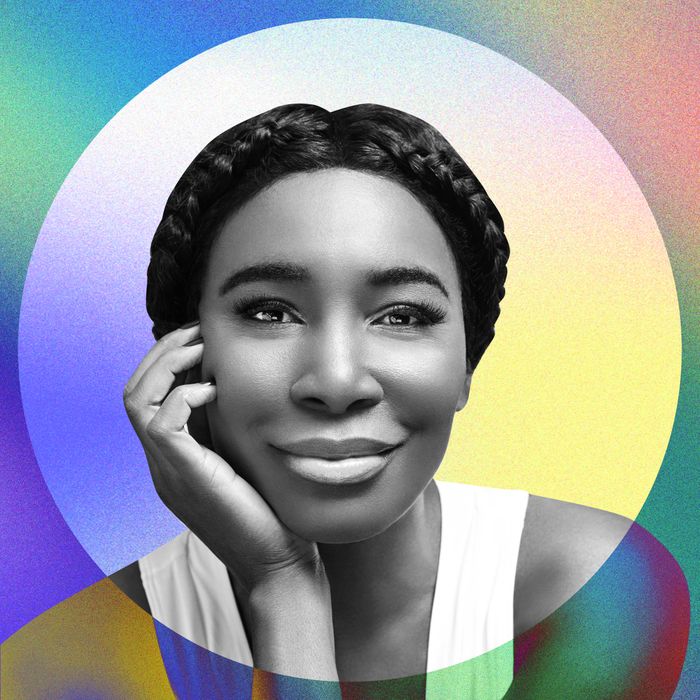 Venus Williams.
Photo-Illustration: by The Cut; Photo: Courtesy of Eleven by Venus Williams
Taking a tour of Venus William's multifaceted career requires a good amount of math. The pro athlete and entrepreneur has four Olympic gold medals, 21 Grand Slam titles, one lifestyle brand called EleVen by Venus Williams, one interior-design firm, part ownership of one NFL team, and two best-selling mineral sunscreen products. Last month, four silky SPF lip balms got added to the equation.
"If your worldview includes protecting your skin, you have to protect your lips as well. Lips don't get enough love; they really don't," says Williams while discussing her second collaboration with clean beauty retailer Credo. "We wanted to give an opportunity for everyone to take care of all of their skin." The end result is a quartet of Perfect Form Lip Balms, mineral-based, layer-able formulas that comfortably coat lips in a protective, softening sheen of berry (Game Day), pink (Power Player), red (Venus), or just straight-up shine (15 Love). The Cut caught up with Williams to talk self-doubt, ugly sunscreens, and apple pie.
Do you think of beauty as self-care? Why or why not?
Do I think of beauty as self-care? Oh, heck yeah. You definitely have to take care of yourself, and beauty is a part of it. But whatever your interpretation of beauty is, that's what should lead you and guide you; it isn't the same for everyone. I think today, we're led to believe it's the same, and it can be very homogenous, you know, the same clothes, the same makeup, the same … injections [laughs]. But self-care is really about taking care of who you are, and projecting that image of you, instead of being led by what other people might think is beautiful.
Has the way you think about beauty changed during the pandemic? How so?
I've always loved beauty and self-care. I'm a recovering product addict, and I didn't realize that I had a problem until I couldn't close my drawers in the bathroom anymore. And I was like, Okay, how did it get this far? Then I was talking to Serena and she's like, "Oh, my God, I have the same problem." So I've always been into beauty and self-care, and that's not just what you can put on your skin; it's what you eat, what you to your hair. So holistically, all around, I'm just as invested as I've always been. I wouldn't say the pandemic ever changed that. But I do think the perspective has definitely shifted. People are thinking about what else can they do, not only for that moment, but for the future. People are thinking more about prevention, more about aging, more about what will affect me in 20 years, 30 years, 40 years.
What was your relationship to sunscreen like growing up?
It didn't exist. I never had sunscreen growing up; I didn't even think it was necessary. And that's definitely a myth for African Americans, but we have to protect our skin just as much as anyone else of any different kind of skin tone and background. I didn't learn that lesson until I was about 35, so I wasted the first 35 years of my years in full sun exposure, you know, six or seven days a week. And I regret that. Hopefully people will read these words and realize it doesn't matter what your skin tone is, you have to protect your skin. I got wise, and it took too long.
In the beginning, my philosophy for choosing a sunscreen was always: the uglier, the better. So if it had a horrible cast on my skin, and wouldn't blend in, I figured, well, I'm getting even more sun protection … and that's not necessarily the truth [laughs]. But you know, once you've been a deviant for so many years, you're just trying to make up for lost time. What I love about our products at EleVen, the Unrivaled Sun Serum and the On-the-Defense Sunscreen, is that you do get that protection and you don't have to sacrifice the whole look because of it.
What do you wish more people understood about what you do?
I think people get mostly what I do in tennis, but people know you for one thing, and they may not always expect something else. But I'm definitely more than a tennis player. I'm grateful for tennis, of course, it's my first love, but there's a lot more to me than that. I love art, I love design, I love wellness, I love self-care. So, in a sense, I wish more people understood it's okay to remake yourself and become a renaissance woman, and that's what I'm doing.
Where would you like to see the beauty industry go from here?
It's already going there! Everything's going clean, and I love that. The more clean beauty opportunities there are, the more that will encourage even larger companies to clean up their products. There are so many issues that can arise from some of the ingredients in products. We're seeing a larger incurrence of sicknesses, illnesses, thyroid issues, endocrine disruptions, infertility, and it's definitely in our environment. The more we can reduce that, the better off we all will be. I love the pressure of the beauty industry and the pressure it can put on the giants of the industry to start to change.
What was the biggest "no" you heard in your career, and what did you learn from it?
The biggest no in my career would probably twofold. I think the biggest no sometimes comes from yourself, when you have self-doubt or think you might not succeed. The biggest challenge we face is often ourselves. So in that regard, there were some issues, especially with me and work I do on the court. You start at zero each and every match, no matter how much you've won, or how great you may have been the day before.
It's a little bit different on the business side of things. When you've established yourself, everyone is like, Okay, yeah! In a sport, it's like, Okay, no. Even if you're established, to hell with that. In my career in interior design, I've definitely been told "no" based on being a woman, based on being an athlete. There are all kinds of no's you might get, but there are always people who will say "yes," so you just keep knocking until you get that.
What's the wildest luxury beauty experience you've ever had?
I believe in all kinds of beauty and that beauty stems from so many different areas, especially what you consume. So I've gone to a spa called We Care, in in Palm Desert in California. You spend eight days there, and you're just juice fasting. It just gives you such gorgeous skin, and you look amazing afterwards, of course, but that was definitely my biggest splurge.
What, in your opinion, are the best affordable beauty product or products and why?
Oh my God, everything at Asutra. Everything is incredible and definitely affordable. The best part is that the ingredients are clean, organic, natural, smell amazing, and actually work. I don't think there are really too many other similar offerings that bring that kind of joy to the crossover of beauty and self-care.
Fill in the blank: Unfortunately, _______ is worth it.
At the moment, I'm thinking about pie, so, unfortunately, pie is worth it. I wish I had an apple pie right now. I'm thinking, like, how can I get one without having to make one … Oh man, it's been a week.