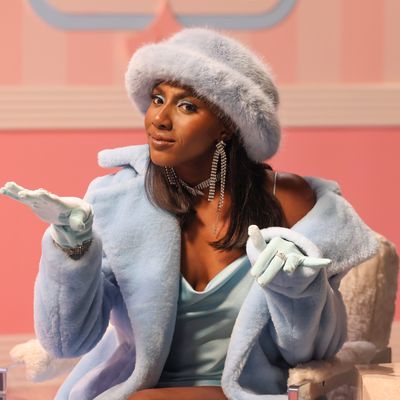 Photo: Greg Endries/SHOWTIME
In the dark early months of the pandemic, Ziwe Fumudoh's Instagram Live interview series was one of the few true balms. As the pandemic amplified preexisting inequalities in the United States, Ziwe confronted them directly and managed to make it funny. Her comfort with discomfort forced viewers, interviewees, and even herself to face the question we all need to ask ourselves: not "Am I perpetuating racism?" but "How am I perpetuating racism?"
If you've ever wondered how those legendary close-ups would translate to a produced TV show, we're all about to find out: Showtime will premiere ZIWE on May 9, and if this trailer is any indication, it will be MAGNIFICENT.
The lewks? As glittery and resplendent as ever. The format? It stays true to the Instagram Live series with discomfort-inducing-yet-productive interviews; I cannot wait to hear Fran Lebowitz answer the question: "What bothers you more, slow walkers or racism?" ZIWE will also include musical numbers (I look forward to follow-ups to "Universal Healthcare" and "Make It Clap for Democracy") and sketches. The trailer alone features Jane Krakowski and Cristin Milioti discussing whether American Girl dolls are for lesbians, Jeremy O. Harris advertising "Floss for Black women!", Bowen Yang apologizing to Patti Harrison for saying something racist, Ziwe smashing ukuleles with Phoebe Bridgers, and more. Clearly, this show has the range.
This is Ziwe's pink, furry, diamond-encrusted world, and starting May 9, we will truly be living in it. Until then, you can join me in watching this trailer on repeat.