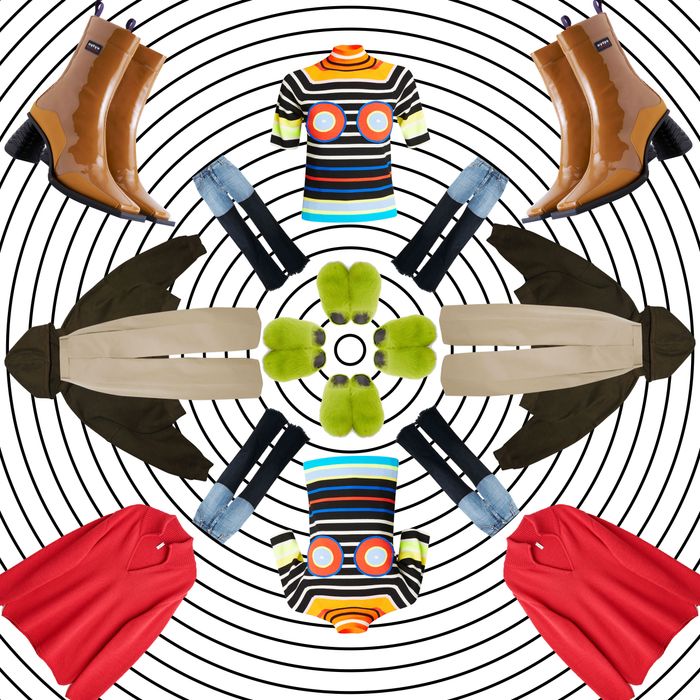 Photo-Illustration: by The Cut; Photos: Retailers
"Buy anything good lately?" It's a question I have been asking, and have been asked, more than ever lately. The prospect of warm weather and the world opening up again clearly has people shopping — or, at least, thinking about shopping. But the combination of fashion's never-ending search for newness and tons of pandemic-induced uncertainty has made figuring out what you want kind of overwhelming. How are we all supposed to dress these days? Are there even trends anymore?
Below, I asked eight expert shoppers what they want to wear for spring-summer 2021. Some of them are dreaming of big-ticket fashion splurges, some of them have more practical shopping in mind, but all of their answers provided me with some much-needed inspiration and guidance.
Harling Ross, creative consultant and writer
"I've been looking for the perfect fisherman sandals and finally found them at Sincerely Tommy. I think these will be the perfect replacement for my (beloved but very dirty) white Birkenstocks that I've had for years and years." Available in sizes 6 - 7.5.
"Even though I've made an oath to myself that I'll ditch my yearlong diet of pajamas and sweats as soon as I get the chance this spring, certain pieces make a very compelling case for landing somewhere in the middle — i.e., this two-piece set from Sleeper. Comfortable enough to function as loungewear but with enough silky structure to look put together, it seems like the best of both worlds." Available in sizes XS - L.
"I live in SZ Blockprints' cotton dresses every summer, so I got really excited when I saw this jumpsuit in their newest collection. Lightweight but with long sleeves, it's particularly suited for dressing in fickle spring weather." Available in sizes S - M.
Marjon Carlos, journalist, editor, and public speaker
"I don't think anything screams joy more than Christopher John Rogers's spring 2021 collection. These vibrant, Pop Art prints are the perfect way to breathe life back into our lives and wardrobes." Available in sizes XS - S.
"I've been having a love affair with JW Anderson recently — I just love his artful approach to life's essentials. There's something fun about wearing something super-complex in design for even the most banal of life's moments. I can't wait to click and clack around the city in these beaded sandals." Available in sizes 38 - 39.
"I think these Bottega Veneta trousers could help me sloooooowly get back into the idea of wearing actual pants again. I love the voluminous shape and cinched waist. Throw on a cute crop top and you can live your full post-vaccine life fantasy." Available in sizes 43 - 46.
Laia Garcia-Furtado, editor and writer
"I first saw these last summer and loved them immediately, but I felt like spending money on shoes when I was spending all my time barefoot and indoors was maybe not wise. But I couldn't stop thinking about them, so I finally I said, 'Fuck it, I'm buying them' — and of course they were sold out. I got on a waiting list and waited. In the meantime, different colorways of the shoe became available, but none of them worked me like that neon trim. So imagine my surprise when I got an email this week saying they were back in stock! I bought them immediately. I will wear them with everything." (Unfortunately, they're sold out again at No. 6, but you can either get on the wait list like Laia, or try to snag a pair at Alex Mill.)
"I had been wanting one of their skirts forever and literally gasped when I unpacked it. It's truly one of the greatest things I've ever put on. I plan on treating it like a pair of jeans and wearing it every time I leave the house, with whatever T-shirt is around, and, like, a pair of sneakers. Leaving the house has become, in itself, an occasion to dress up." Available in size XS/S.
"I have a new obsession with the color green, specifically the shade of these full-length pants. I would maybe buy them the next size up so they're a little oversized and drag around the ground when I walk, kind of like the way I would've worn them when I was a teen? But it's really more about this color than anything else." Sizes XS - XXL coming soon.
Corey Stokes, editor, stylist, and consultant
"I'm a big knit guy. This Judy Turner knit feels good on the body, so I don't need to wear an undershirt. It really just feels like a heavy T-shirt. No fuss. And the bright-red colorway is perfect." Available in sizes S - XL.
"Okay, to be completely honest, I've been looking for my size in these for the past two months. I'm a 42.5, which means I always have to act fast. I'm still crossing my fingers and refreshing The RealReal so I can wear these all summer." Available in sizes 35 - 40.
Photo:
"I literally buy at least one hoodie a month; I kind of consistently hunt for them and silhouette is very important. I love the cropped body and drop shoulders of this hoodie from Sebastien Ami, a new designer in L.A." Available in sizes XS - XXXL.
Mecca James-Williams, stylist and creative
"This HOT number is a seasonal refreshment after a long winter. The bold color with the texture is truly breathtaking. I bought this dress immediately after finding out that Mara only made a select few!" Waitlist available for sizes XXS - 3X.
"Swimwear has been at the top of my summer list. It's something to look forward to, especially after working to lose my COVID quarantine weight. Riot Swim has such a great fit, and this punchy yellow is a dream!" Available for pre-order in sizes XS - XL.
"I plan to explore nature more this season, so comfortable fashion sandals are my go-tos." Available in sizes 35-41.
Emma Zack, founder of Berriez
"I want a new pair of jeans because none of my old ones fit anymore. So I am having House of Tame make me a custom pair. She turns vintage denim into the coolest remade jeans that are perfectly tailored to your bod. I swear by her designs!" (Unfortunately, these are sold out, but you can find a similar pair here; Gia Seo also recommends a similar style below.)
"I just bought a knit set from upcycling genius Syd Brisco. As soon as she posted it, I knew it would look killer on my curves and I had to have it. I love the pattern, and how it works so well worn together or as separates."
"I was looking for an oversized button-down with some pizazz … and what has more pizazz than a vintage upcycled shirt with lace ruffles and a tittie piercing?!"
West Dakota, artist and model
"My two favorite things about spring-summer in New York are biking everywhere and going to the beach. This tee looks and feels lux but I wouldn't be afraid to get a little dirty in it." Available in sizes XS - L.
"They're not new, but I live for a chunky heel and a square toe. Crossing my fingers for a restock of these dreamy boots in my size." Available in sizes 35 - 45.
Gia Seo, creative director and 'sock-fluencer'
"I am not a traditional jeans wearer, but more recently (hello, quarantine) I have started to appreciate and admire the many different styles the 'traditional jean' has progressed into since I was a kid. I love these Peter Do ones because they still feel like an everyday jean, but could easily be the most standout ever! A jean for a non-traditionalist! But also, would be totally cool for the traditionalist too." Available in sizes 32 - 38.